Your ability to take and edit high-quality photos and videos can be improved with the best tripod. Technical capabilities, such as low-light photography, traffic trails, extended exposures, panning pictures and panoramas are made feasible by a strong, stable leg set and a ball head.
Continue reading for our selection of the top tripods, which includes models for DSLRs, mirrorless cameras, and smartphones.
How to Choose a Perfect Tripod?
When choosing the  best tripod, you have a ton of awesome options to choose from! Check out these considerations and determine which of them are most crucial for your interests before choosing the best camera tripod for your upcoming photography excursions.
1. Purpose of Usage
The style of camera tripod you will buy will be heavily influenced by the kind of photography you'll be performing and the kinds of photos you'll be shooting. To stabilize the equipment and maintain its stability and sturdy while performing close-up macro photography, you could use a tripod with a low minimum height such as the tabletop tripod.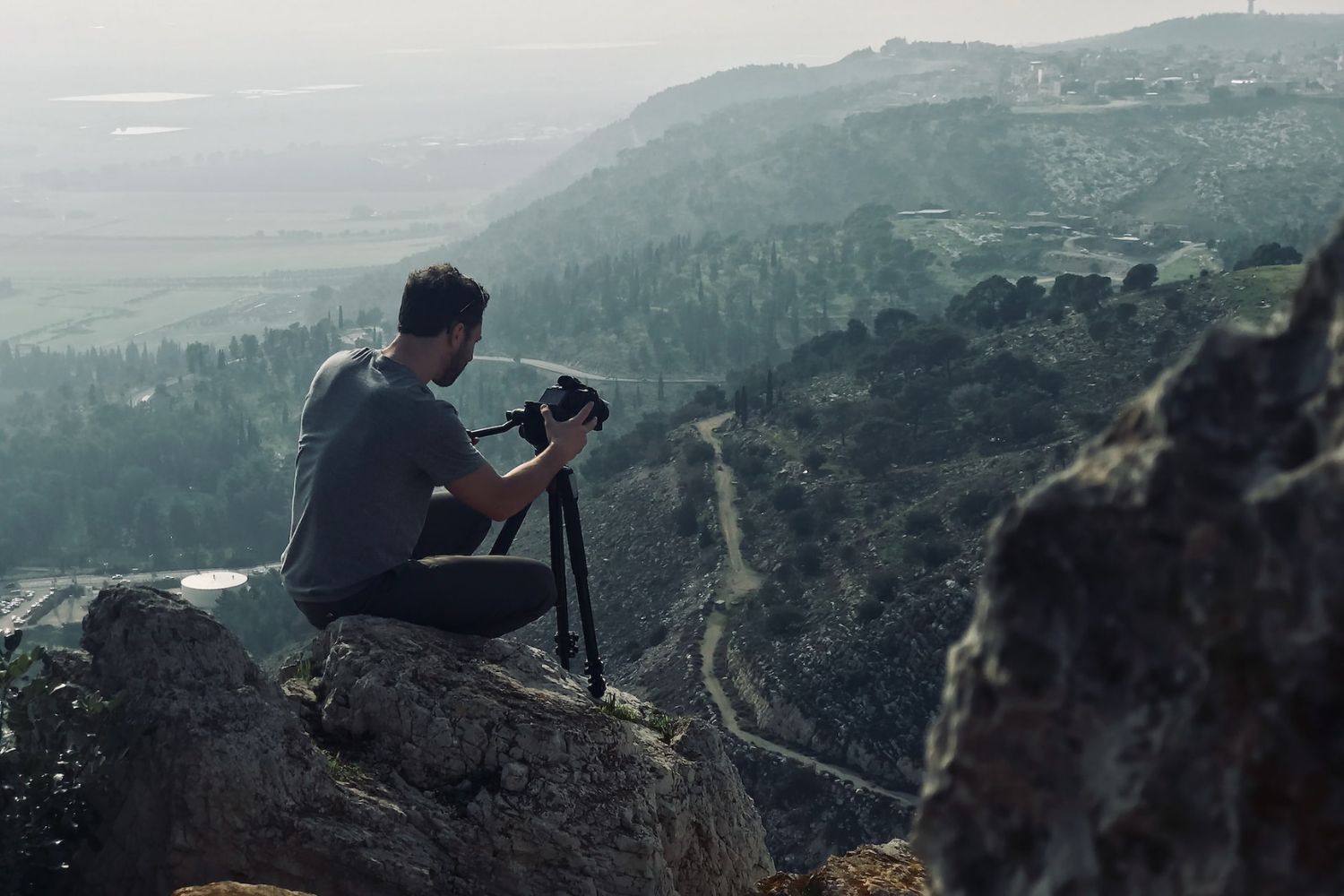 Photo by Connor Ellsworth on Unsplash
Also, if you enjoy hiking or shooting photography in the presence of nature, you could use a tripod to make your camera steady even at different perspectives and on uneven surfaces. A video tripod is also a crucial item for videographers. It makes the video produced to look more professional.
2. Load Capacity
Tripods are categorized according to the amount of weight they can support. Usually, this is expressed in pounds. Typically tripods can support between 6 and 22 pounds of weight, while certain types can support significantly more. Make careful you select a tripod with a greater weight tolerance if you intend to pair it up with a heavy camera.
3. Material
The weight and longevity of the tripod legs can vary significantly depending on the materials used to construct them. Tripods are frequently constructed from carbon fiber or aluminum.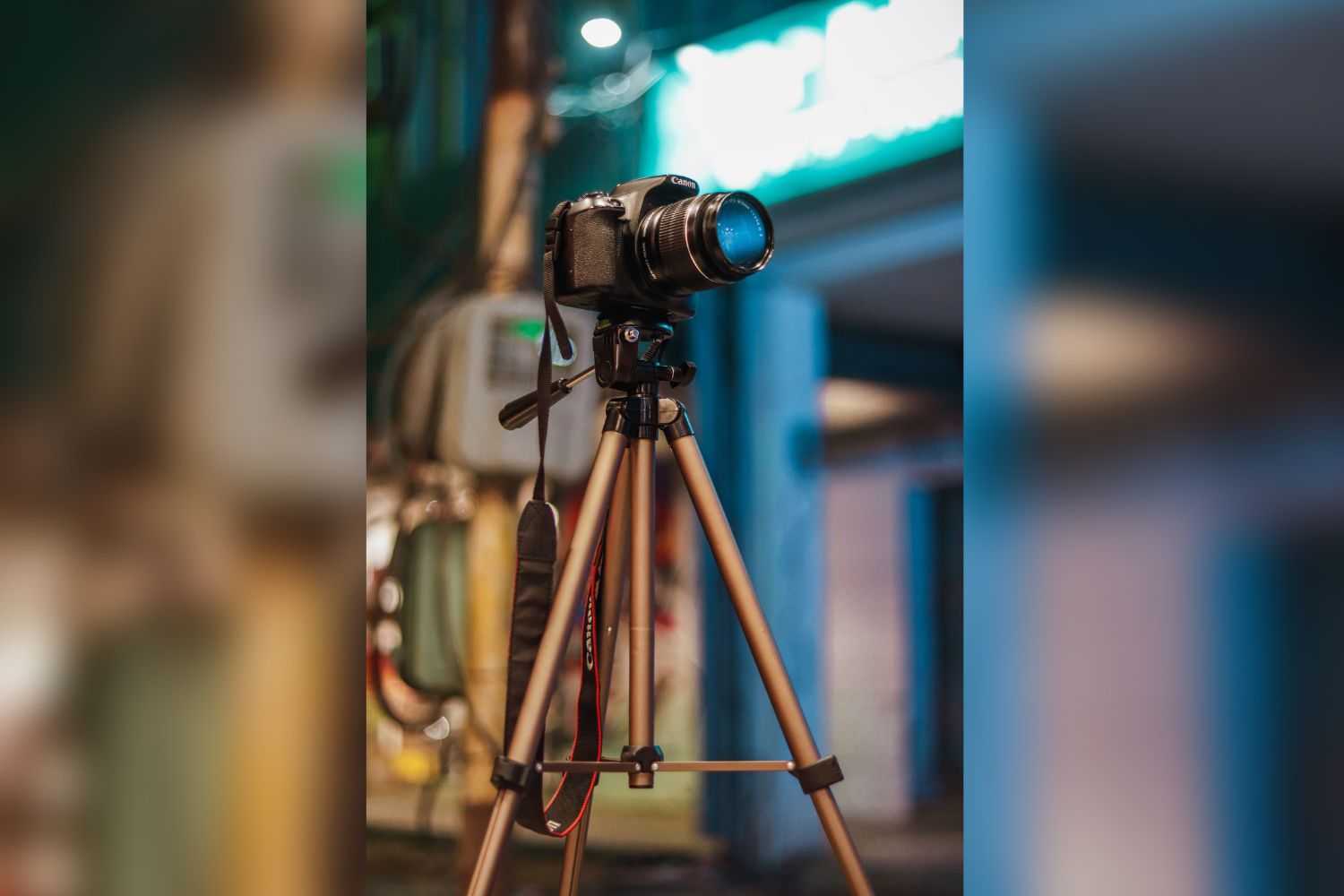 Photo by Dollar Gill on Unsplash
The more economical choice is an aluminum tripod, which is frequently found in budget-friendly models. The more expensive alternative is a carbon fiber tripod, which is frequently used in high-end versions. Steel and basalt are a couple of additional materials utilized to make tripods.
4. Sturdiness
If you're spending a lot of money on your travel tripod, you should anticipate it to last. Durability is affected by a number of variables, including lightweight condition, tripod load capacity, and leg parts.
However, the construction components of your tripod legs are the best predictor of its longevity. The cheapest portable tripod won't survive over a year or two, as its tripod feet get weak quickly, and you wouldn't want to put tiny cameras on it. This even if you don't anticipate sustaining bruises and bumps.
5. Height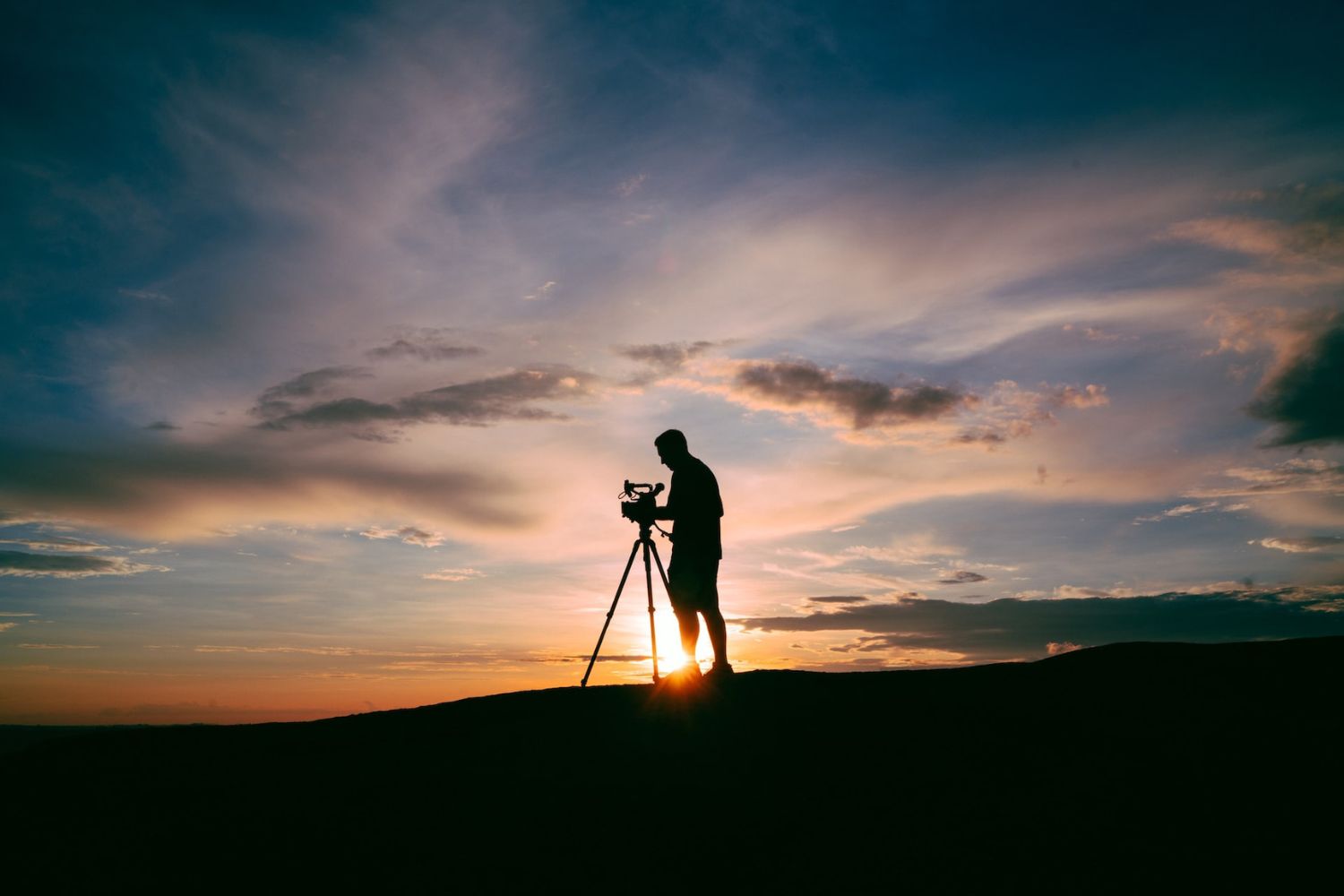 Photo by Roger Erdvig on Unsplash
Do you need the tripod to be able to reach high or low? Shooting at eye level doesn't always result in better shots; finding a comfortable working height is equally important. If you can, measure the height without extending the column.
6. Tripod Head Type
The tripod head is sometimes included and other times it is not. Depending on your preferred working style, you can switch one head for another. When photographing something that requires extremely precise positioning of a long lens, a geared head is appropriate.
Because of its simplicity and adaptability, a ball head is the most widely used kind of tripod head. Since they hold the camera's elevation while it is being moved, a pan-tilt head is the ideal video head. On the other hand, a gimbal head, since it provides the utmost steadiness and accuracy, is made for long, heavier lenses.
7. Horizontal Boom Arms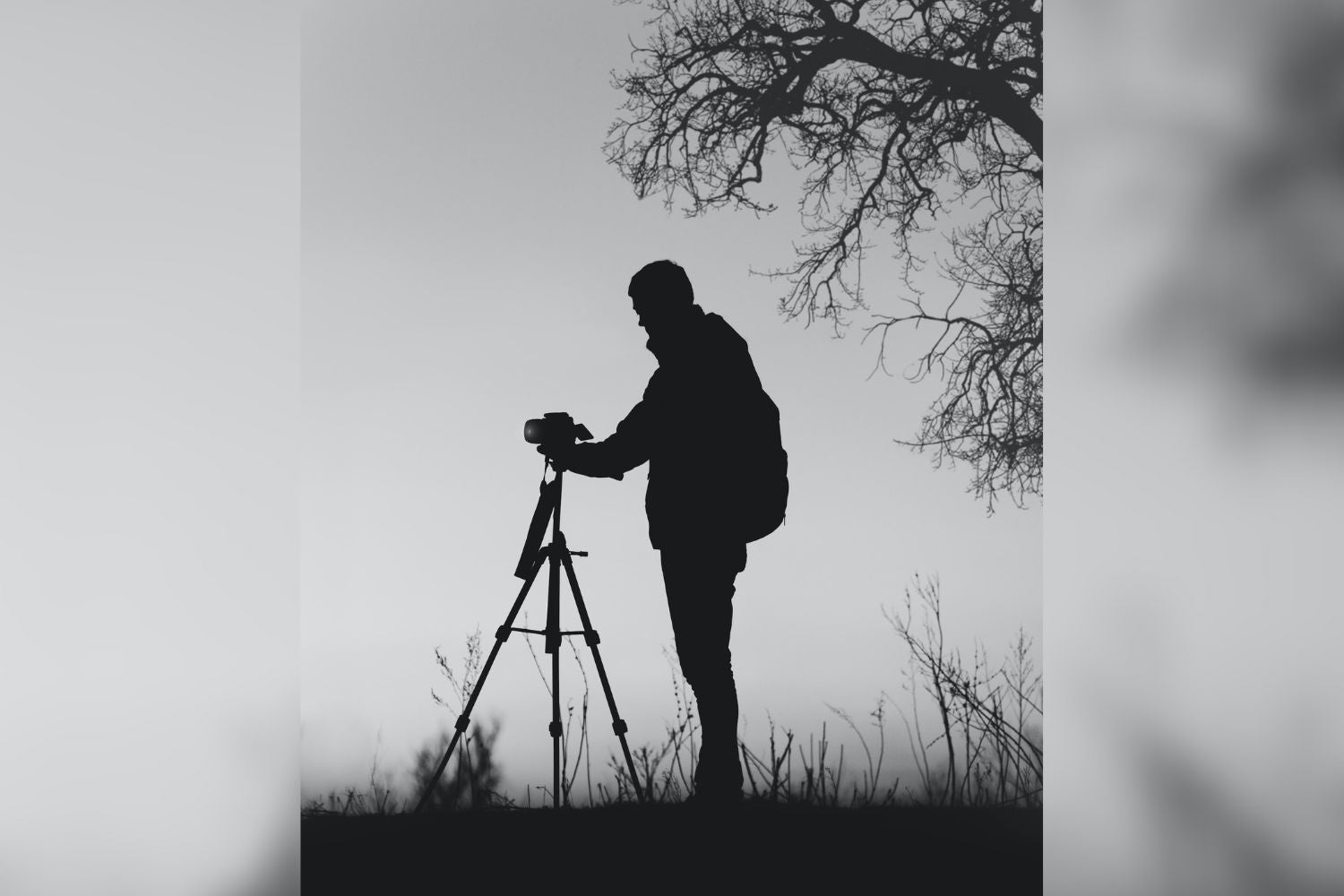 Photo by The Nigmatic on Unsplash
Some tripods allow you to take out the central post, which you can then use as a boom to hoist the camera underneath the tripod legs by flipping it inverted and rehanging it. This prevents the tripod legs from being spread out at an awkward angle while you capture very low towards the ground. Having the boom option gives you greater flexibility and range if you photograph near to the bottom or want to employ extreme shots to capture everything from panoramas to portraits.
8. Camera Accessories
Although they are not entirely necessary, many tripods feature extras that will make using one much simpler. A level is one of such accessories. It is frequently incorporated into the side of tripods. In order to mimic the elevation you are currently shooting at, the level is employed to represent the extent of the tilt. It will help you achieve a straight horizontal line when photographing landscapes with a lot less trial and error and nearly no effort.
Best Camera Tripod (include Tripod and tripod kit)

Image Credit: amazon.com
Specifications
Material: Technopolymer and Aluminum
Leg sections: Three Sections
Load Capacity (legs/head): 0.99 kg
Maximum height (with head): 13.5 cm
Folded height: 13 cm
Weight (with head): 0.19 kg
Compatibility: Can be used on iPhone, Camcorder, GoPro, action camera, mirrorless camera, selfie stick, etc
A Manfrotto Pixi tripod is a necessity for photographers. It provides great support when lighting conditions deteriorate or you want to be in the shot. It is small and light enough to fit into a backpack or pocket, assuming you aren't using a long lens.
Fortunately, the Pixi's legs form a beautiful, curved shape when they are closed, fitting into your hand to create a helpful grip when taking selfies or vlogging.
Pros
It is easy to use.
It is perfect for photographers searching for a portable and light-weight support.
The PIXI is excellent for obtaining challenging video shots while maintaining camera steadiness.
Cons
The load capacity of just 1 kg is inadequate.
The friction control is not offered.
It just has one leg angled.

Image Credit: amazon.com
Specifications
Material: Aluminum
Leg sections: Three
Load Capacity (legs/head): 6.8 kg
Maximum height (with head): 173.2 cm
Folded height: 73.7 cm
Weight (with head): 2.3 kg
Compatibility: Can be used on cell phone, Camcorder, GoPro, action camera, mirrorless camera, selfie stick, etc
Instead of minimizing folded size, the Vanguard Alta Pro 2+ tripod prioritizes a quick and simple deployment. It is simple to shoot at extremely low levels thanks to the three-section legs' four adjustable lock angles and the center column's full 180-degree pivot feature. A 3/8-inch threaded socket is available on this Vanguard tripod for add-ons like an LED light.
Pros
The central column can rotate 180 degrees, supporting limitless inventiveness.
It sets up quickly and simply.
It has a lock mechanism that allows for one-handed use, seamless smoothness, and quick action setup.
The middle column's distinctive hexagonal shape guarantees increased rigidity and stability.
You can get the ideal posture and balance of the tripod to suit any working terrain thanks to its leg angle option.
Cons
Even when folded up, it is still long.
The provided bag is not cushioned.

Image Credit: amazon.com
Specifications
Material: ABS Plastic, Stainless steel, TPE, Zinc-Aluminum, Aluminum
Leg sections:
Load Capacity (legs/head): One kg
Maximum height (with head): 25.5 cm
Folded height: cm
Weight (with head): 3.1 kg
Compatibility: Can be used on iPhone/ cell phone, action camera, mirrorless camera, selfie stick, Camcorder, GoPro, etc.
The Joby GorillaPod 1K mini-tripod has legs which can twist in any direction, giving it the flexibility to hold on to random items in various locations.  The GorillaPod enables you to steadily position your camera or smartphone in locations where it would otherwise not be practicable, giving you access to a variety of artistic possibilities.
Pros
Its legs are adaptable.
It is portable and light enough to fit easily in a pocket, handbag, or backpack.
It is ideal for live streaming, vlogging, and still photography.
It incorporates foot grips and rubberized grip rings that increase stability on rocky terrain.
Cons
It has a fairly minimal capacity.
The height cap is modest.

Image Credit: amazon.com
Specifications
Material: Aluminum
Leg sections:
Load Capacity (legs/head):4 kg
Maximum height (with head): 151.2 cm
Folded height: 40 cm
Weight (with head): 1.6 kg
Compatibility: Can be used on iPhone/ cell phone, Camcorder, mirrorless camera, selfie stick, GoPro, action camera, etc.
Lever locks are used to hold down the three-section aluminum legs of the BeFree Lever-Lock tripod kit. If you like, you can also purchase this kit with twist-lock legs. Since it can be folded up into a small bag, it provides the ideal weight, cost, and feature balance. The lack of a pan or tilt drag adjustment makes the ball head of lesser quality, yet it still produces fluid results.
Pros
It collapses nicely.
It is quick and simple to set up.
The maximum payload of 4 kilograms is sufficient for most devices.
Given that it is composed of aluminum, it is lightweight.
Cons
Pan and tilt drag cannot be adjusted.
There isn't any counterweight modification.

Image Credit: amazon.com
Specifications
Material: Aluminum
Leg sections: Five Sections
Load Capacity (legs/head): 9.1 kg
Maximum height (with head): 152.4 cm
Folded height: 39.1 cm
Weight (with head): 1.5 kg
Compatibility:  Can be used on GoPro, action camera, mirrorless camera, selfie stick, iPhone, cell phone, Camcorder, etc.
The Peak Design Tripod was developed after much consideration. The tripod includes a special ergonomic ball head by Peak Design with an Arca-Swiss quick-release plate. You can level the tripod by using the little bubble level included into the head. It is quick and simple to operate, and the ball head swivels easily.
Pros
It is relatively little in size.
For a portable tripod, it is remarkably stable.
The deployment process is quite fast.
Cons
To allow for full head mobility, the center column needs to be slightly extended.
The quick release plate must be attached and detached with a hex wrench.

Image Credit: amazon.com
Specifications
Material: Aluminum
Leg sections: 4 sections
Load Capacity (legs/head): 8.0 kg
Maximum height (with head): 160 cm
Folded height: 8 cm
Weight (with head): 2.1 kg
Compatibility: Can be used on GoPro, action camera, mirrorless camera, iPhone, selfie stick, Camcorder, etc.
Manfrotto 190XPro4 ball head set is a full-sized tripod with an XPro ball head. It is a popular Manfrotto model that has recently undergone a refresh, and thanks to a 90-degree pivot facility, it can quickly switch from vertical boom mode to horizontal boom mode. Additionally, the leg pieces include a brand-new, cutting-edge locking lever mechanism that enables them to be released from any side.
Pros
A bubble level may be added to the central column.
It may easily spin to get different points of view.
Cons
There are no swing-up legs.
When folded, it is heavy.
Frequently Asked Questions
Can I use a monopod to replace a tripod?
It wouldn't be advisable to replace a monopod instead of a tripod because they provide almost no stabilization to support the gadget. A tripod eliminates the unlikelihood of getting clear shots at slower shutter speeds. Also, a monopod doesn't really help you if you aren't recording videos while you are moving. Even while a monopod can be used for tilt moments, it is not as effective as a tripod.
When will you need a tripod?
To capture slow-motion and fast-motion videos while your camera is shuttering, you must use a tripod. In order to get optimum sharpness, a tripod should be used with a shutter speed slower than 1/250 sec.
Why should I buy a tripod/monopod?
For macro and long exposure photography, tripods are perfect. In sports photography, monopods are excellent for steadying heavy lenses while in motion. Both stability and movement may be required. If so, you can buy a tripod that can be used as a monopod to obtain both benefits without spending money on both.
What are the common alternatives to tripods?
In many circumstances, having a sturdy foundation for your photography is necessary to assure sharp photographs and maximize your capacity for creativity. Typically, photographers rely on their tripods, the dependable three-legged companions that keep their cameras firmly in place.
They aren't always the best option for the particular problem, though. A video monopod, magic arm, ground pod, suction cup, or superclamp are your options.
Conclusion
Every year or two, camera makers introduce a new model. The lenses also come and go. However, if there is one item that can outlast all of your camera equipment is a tripod. It could seem pricey to purchase a tripod for your DSLR or mirrorless. But the fact that it may be used for a long time without difficulty makes it a worthwhile investment.
If you like this blog, please share it! Be sure to join our FB Group: https://www.facebook.com/groups/Katebackdrops/. to share your ideas! You can also receive free articles, updates as well as discounts information from https://www.katebackdrop.com/ and our FB Group.