Have you ever envisioned capturing the vibrancy and joy of Holi through stunning photographs? Elevate your festival photography with these 25 Holi photoshoot ideas that promise to transform moments into unforgettable memories.
25 Holi Photoshoot Ideas for Brilliant Photos
In the Crowd
Photo by Anshu A on unsplash
Dive into a sea of cheerful individuals drenched in lively colours. Capture spontaneous instances of laughter and the feeling of unity that the event fosters. Consider prompting them to express their joy for more authentic shots.
Holi Colours on Face
Photo by Abhijeet Gourav on unsplash
Zoom in on faces adorned with a kaleidoscope of Holi colours, highlighting the intricate details and emotional connection with the celebration. Focus on eyes that radiate delight and cheeks blushed with vibrant pigments, conveying the lively spirit of the occasion.
Hands Full of Colours
Photo by Daniel Lincoln on unsplash
For a visually striking Holi photoshoot, instruct your subjects to cup their hands, filling them with vibrant colours. Capture the dynamic moment when some of the colours inevitably overflow, symbolising the exuberance and uncontainable joy of the festival.
Dancing in the Rain
Photo by Jeremy Stewardson on unsplash
Capture the dynamic energy of the festivities by photographing participants dancing joyfully in the rain of colours. Capture their lively moves and happy faces, freezing the moment they groove to the celebration's beat.
Aerial Shot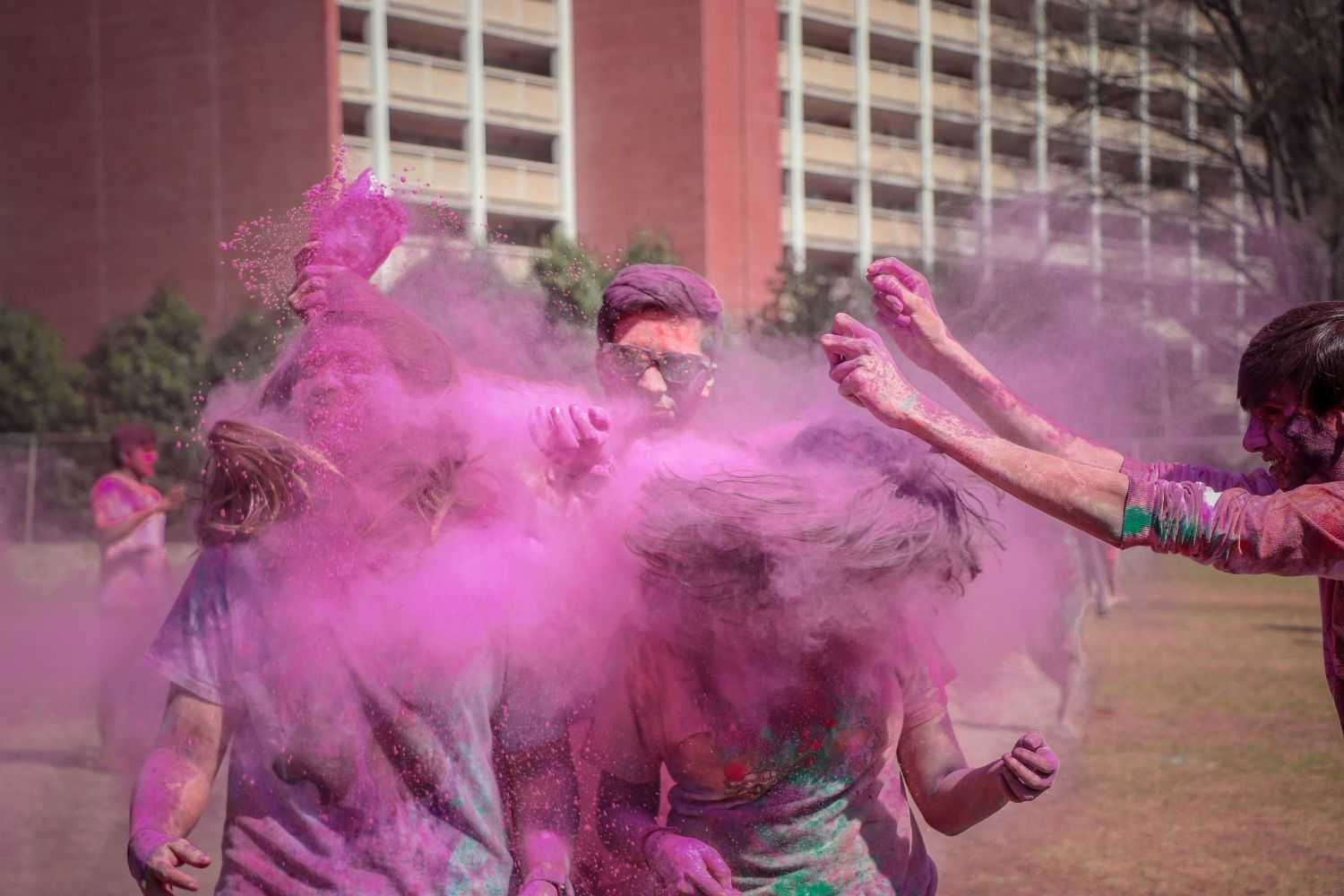 Photo by Darpan on unsplash
Elevate your perspective with aerial shots captured by a drone. Showcase the sprawling canvas of colours, bustling crowds, and the symmetrical patterns formed during the celebration. This unique vantage point offers a mesmerising glimpse of the festivities from above.
Portraits Using Holi Colours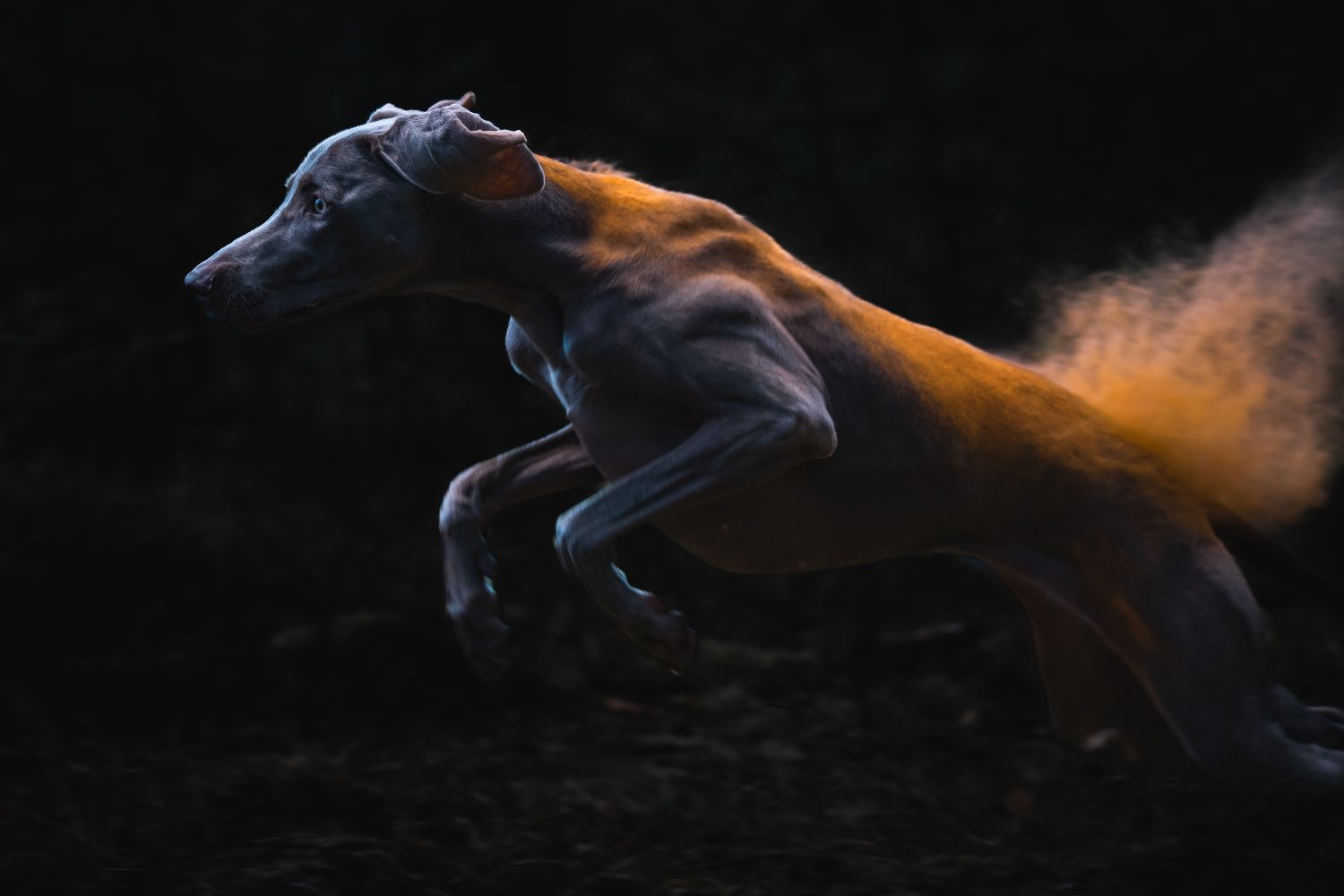 Photo by Dominik Kempf on unsplash
Take close-up portraits of your subjects as Holi colours are playfully applied to their faces. Encourage them to smile to capture their joy and excitement during this festive moment.
Above Angle Photoshoot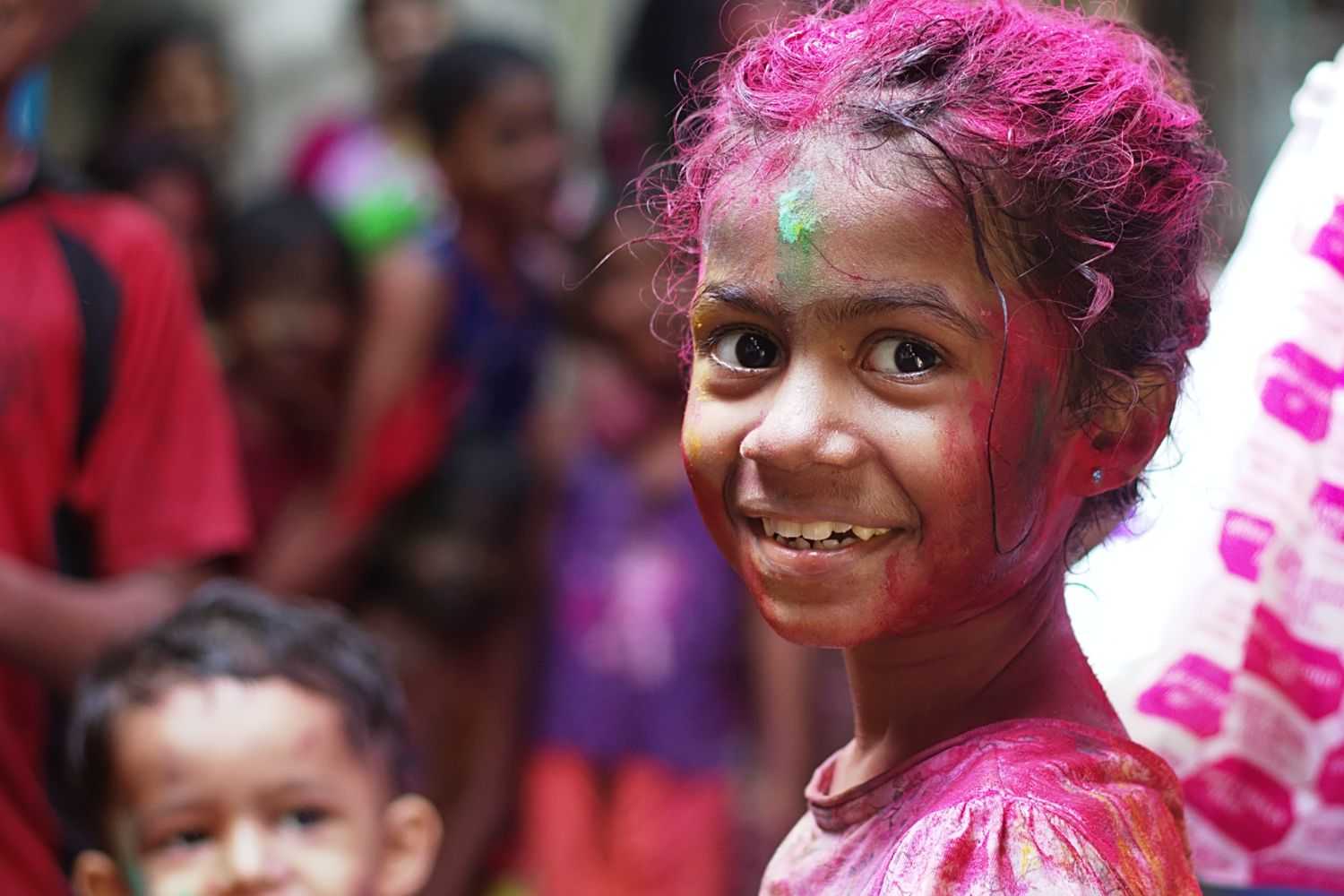 Photo by Himanshu Singh Gurjar on unsplash
Have your subject lie on the ground, facing upwards, surrounded by vibrant Holi colours. Capture the scene directly above, emphasising the colourful chaos below and the subject's interaction with the colours.
Close-up Face Photos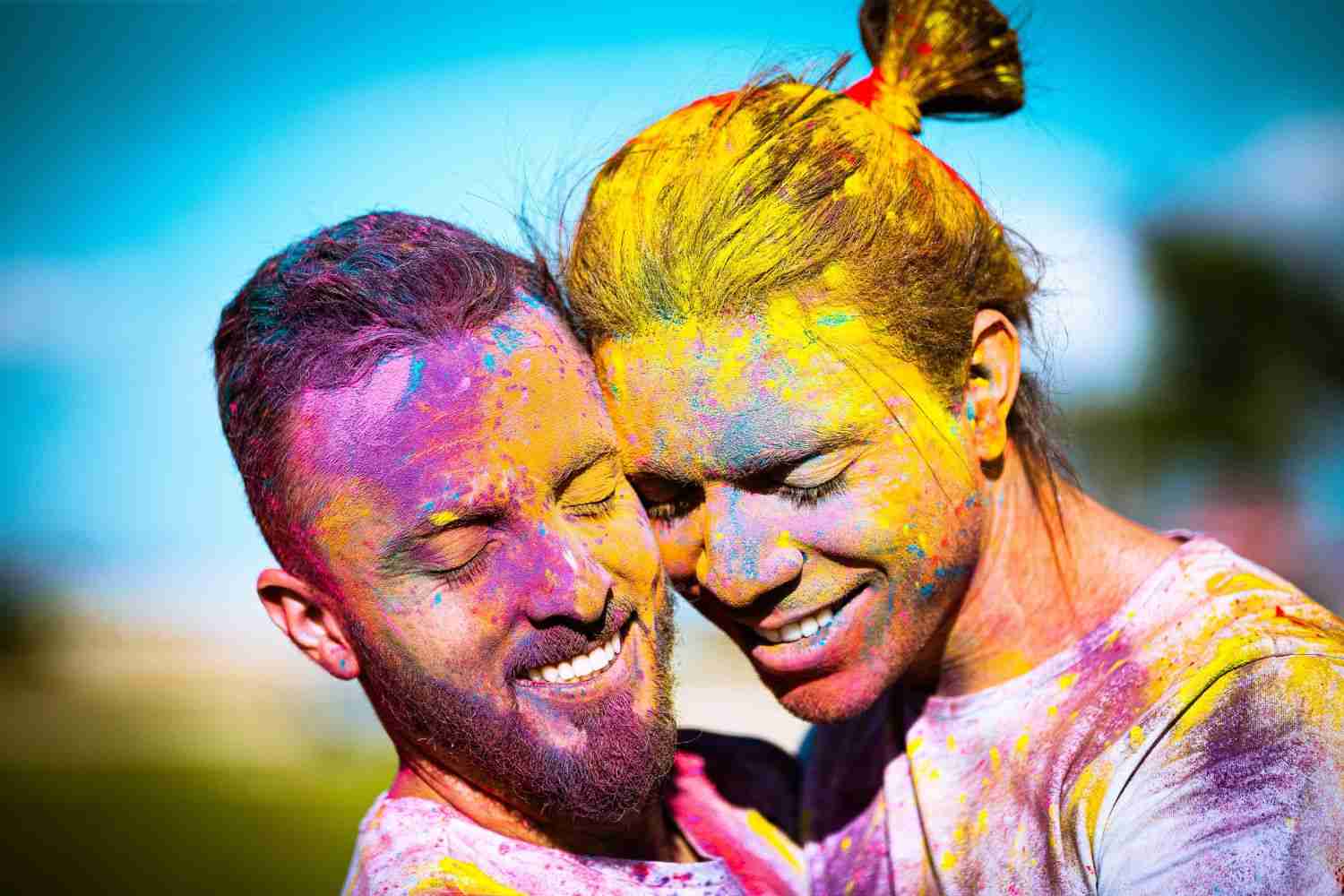 Photo by Rafael Leao on unsplash
Zoom in on the intimate moments, the joy and delight on each face. The close-up shots focus on the intricate details of coloured patterns on the skin, highlighting the genuine emotions and unique features.
Holi Photos With a Dark Background
Photo by Sonu Agvan on unsplash
Contrast Holi's bright, vivid colours with a dark background to make them pop. This technique adds depth and drama to your shots, enhancing the vibrancy of the festival.
Hair and Holi Colour Forming Semi-Circle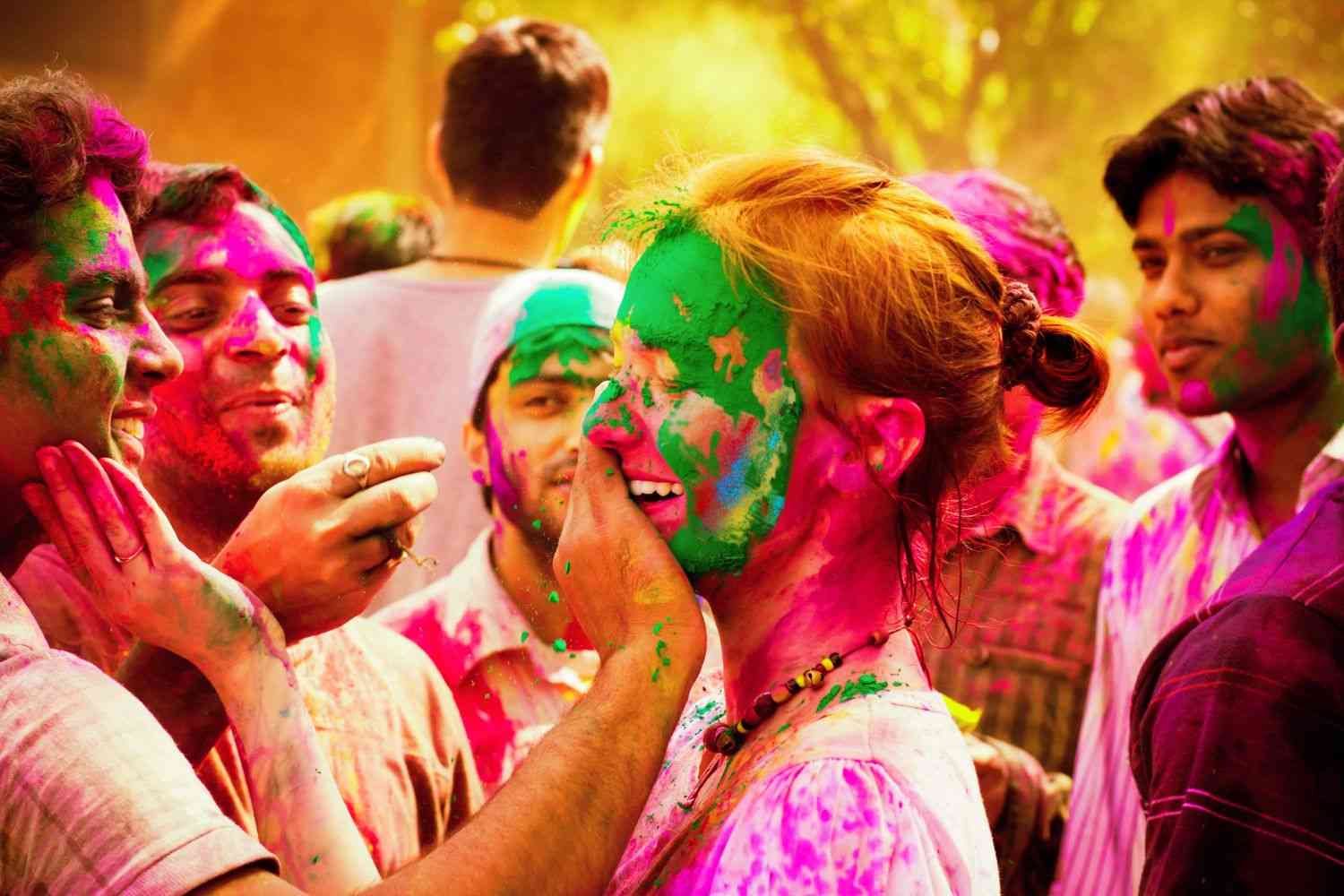 Photo by Natalia Deriabina on shutterstock
Craft a stunning visual by arranging hair and Holi colours to form a captivating semi-circle around the subject's face. This composition emphasises the vibrant hues and adds a dynamic touch to the photo.
Using Holi Colour Instead of Makeup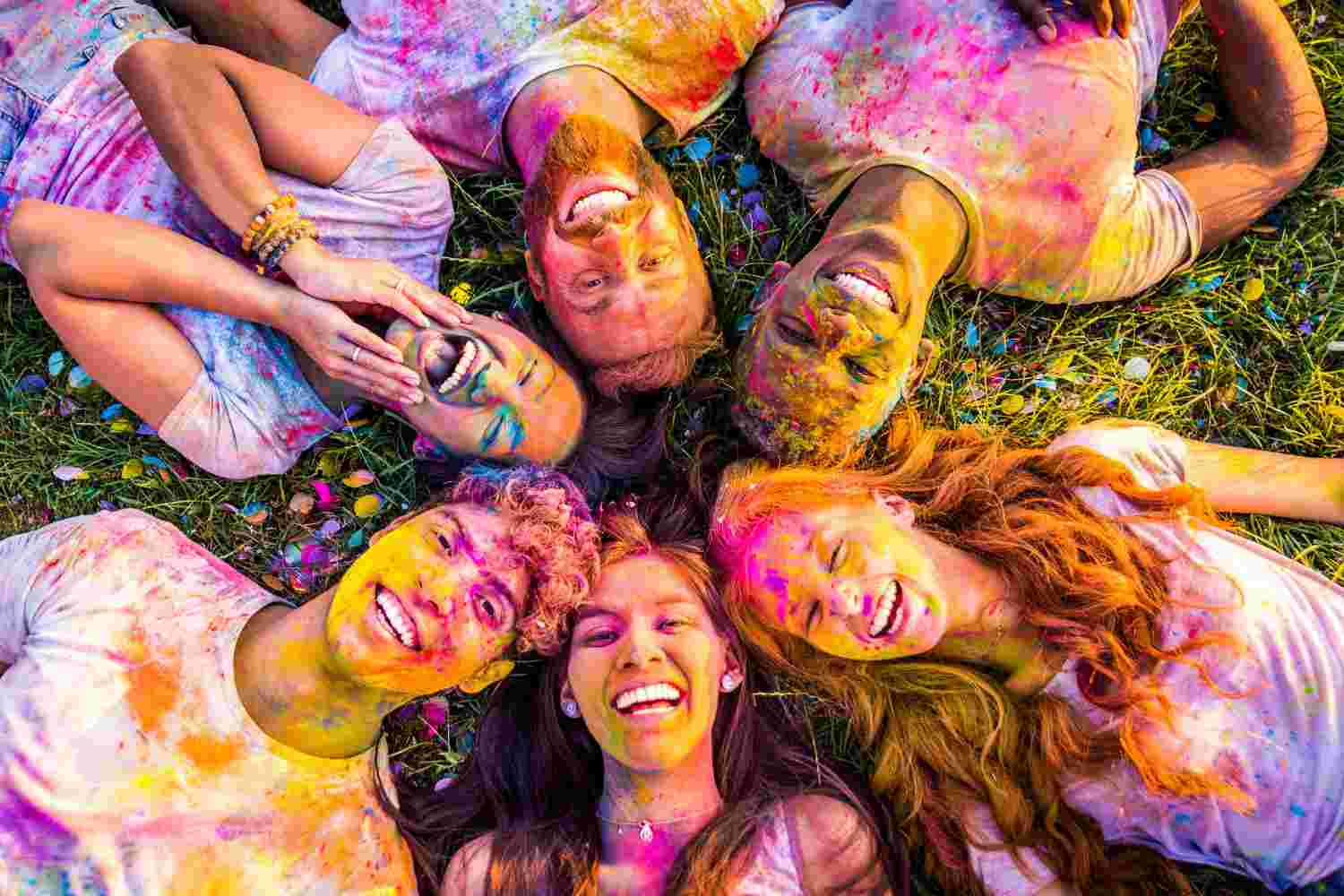 Photo by Oneinchpunch on shutterstock
Replace traditional makeup with Holi colour to create a bold and dramatic look. This idea adds a playful twist to conventional beauty shots.
Couple Posing in Holi Colour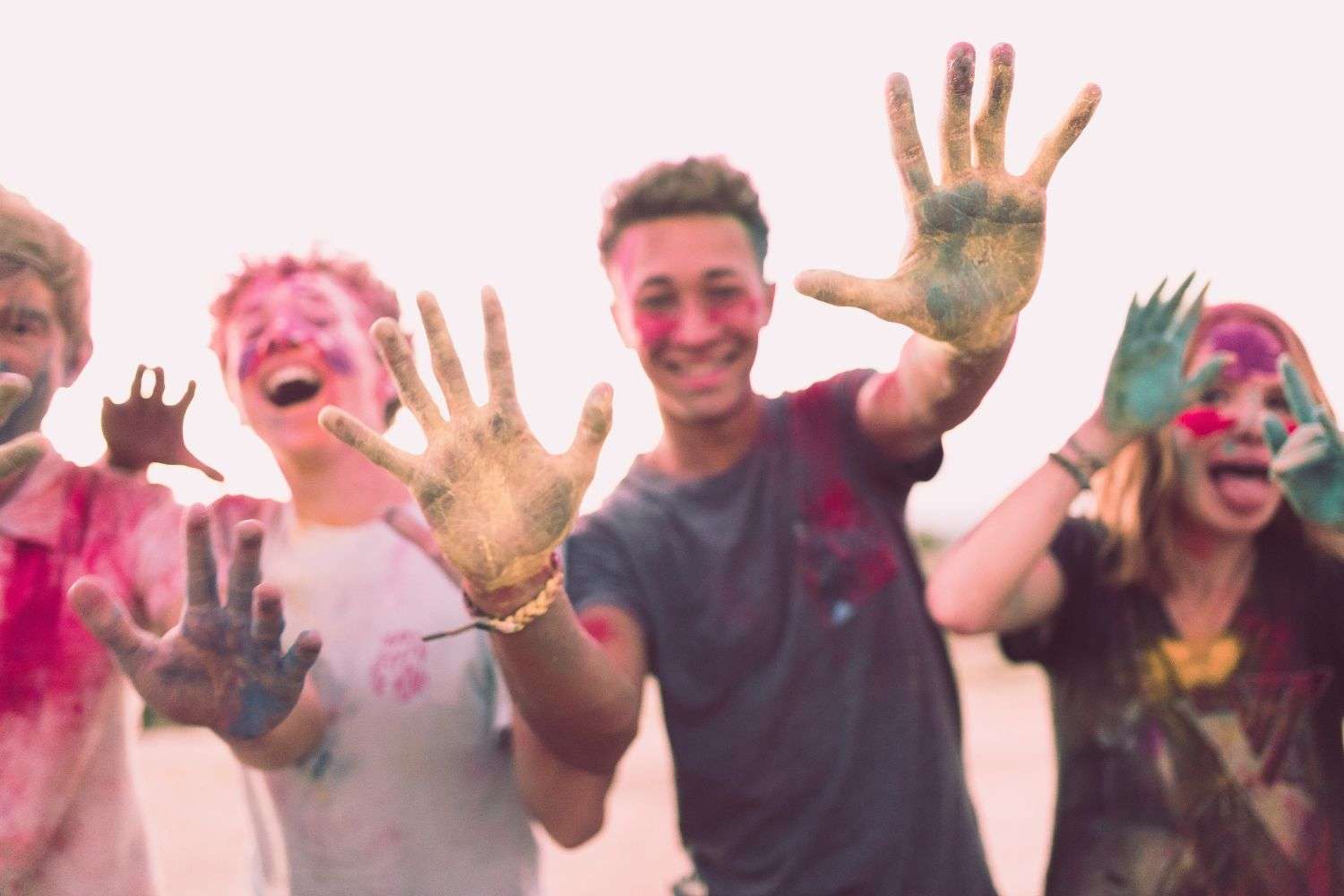 Photo by Patrick Buck on unsplash
Capture the intimacy of a couple's bond as they playfully engage in the Holi celebrations. Take shots that highlight their connection amidst the colourful chaos. Have them pose facing each other, their eyes locked, and one partner embracing the waist of the other partner gently, covered in Holi colours.
Group Photos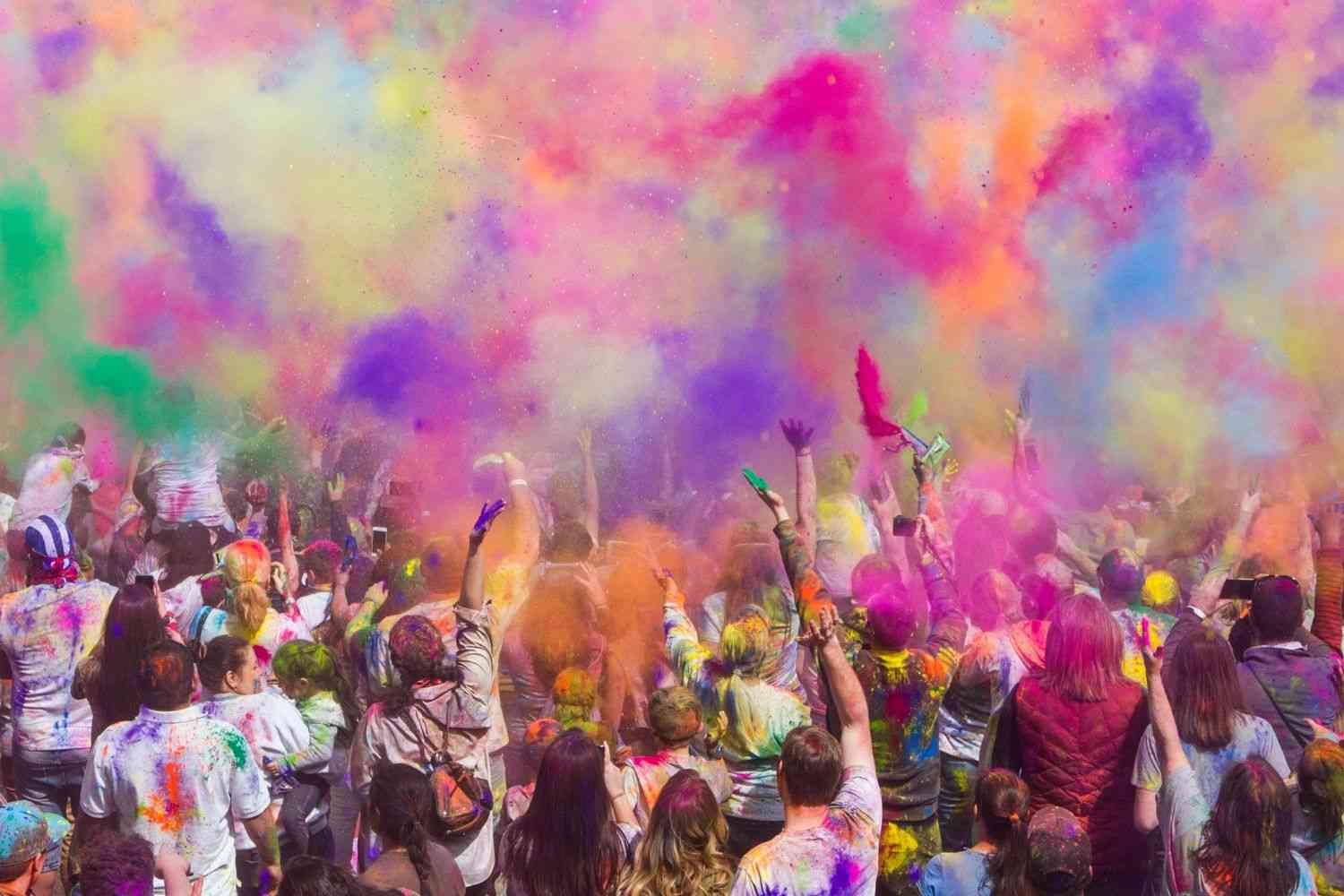 Photo by John Thomas on unsplash
Gather friends or family members and capture their genuine friendship as they celebrate. Candid moments of shared joy and colourful interactions will make for lively group shots.
Pets Covered in Holi Colour
Involve furry companions in the celebration by adorning them with gentle Holi colours. The contrast between the colourful pets and their surroundings results in heartwarming and cheerful photographs.
Family Photos Using Holi Colour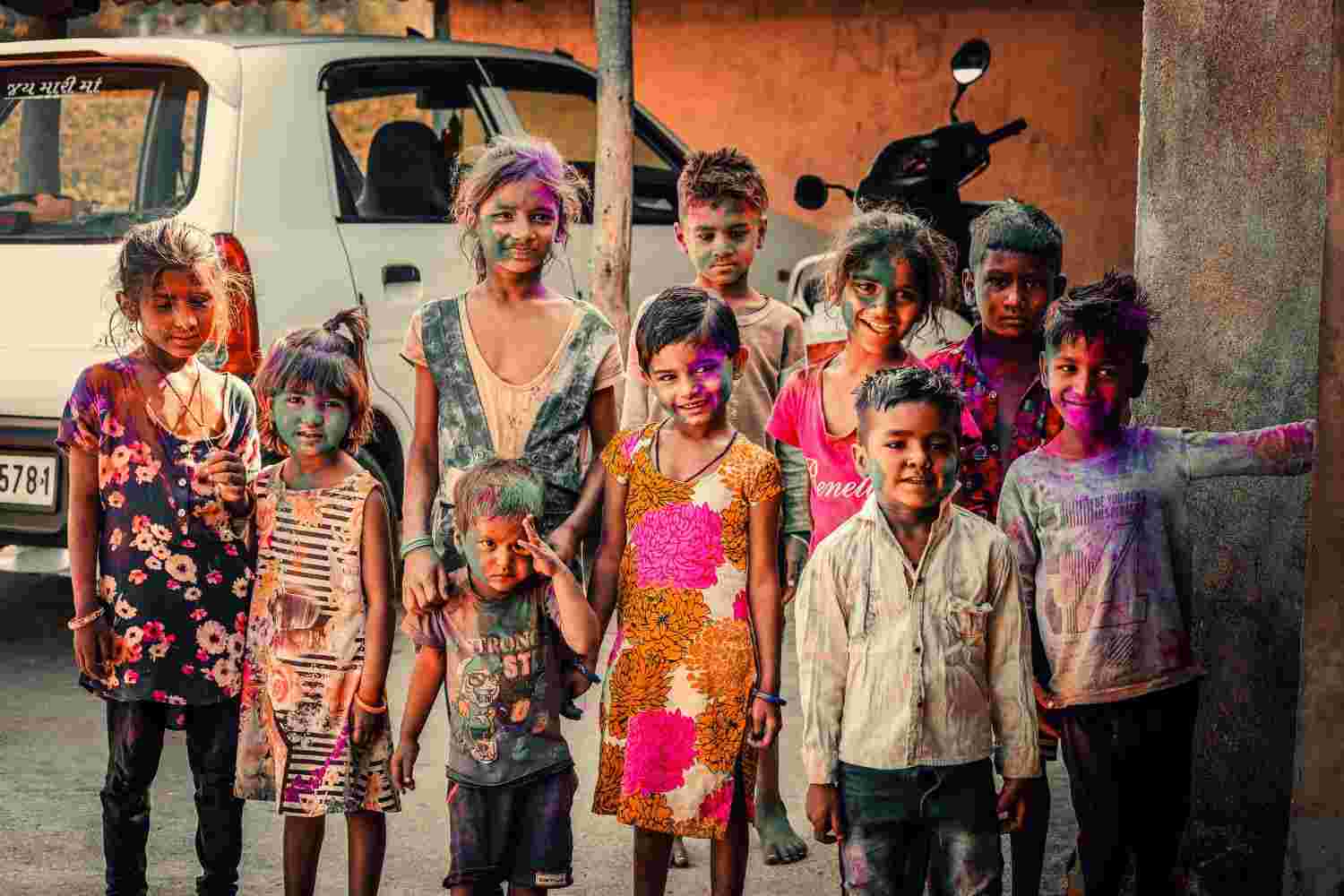 Photo by Sunil Damor on unsplash
Bring generations together by photographing families drenched in Holi colours. These photos reflect the bond between relatives and capture the happiness of being together during the festive season.
Dancing Pose in Holi Colour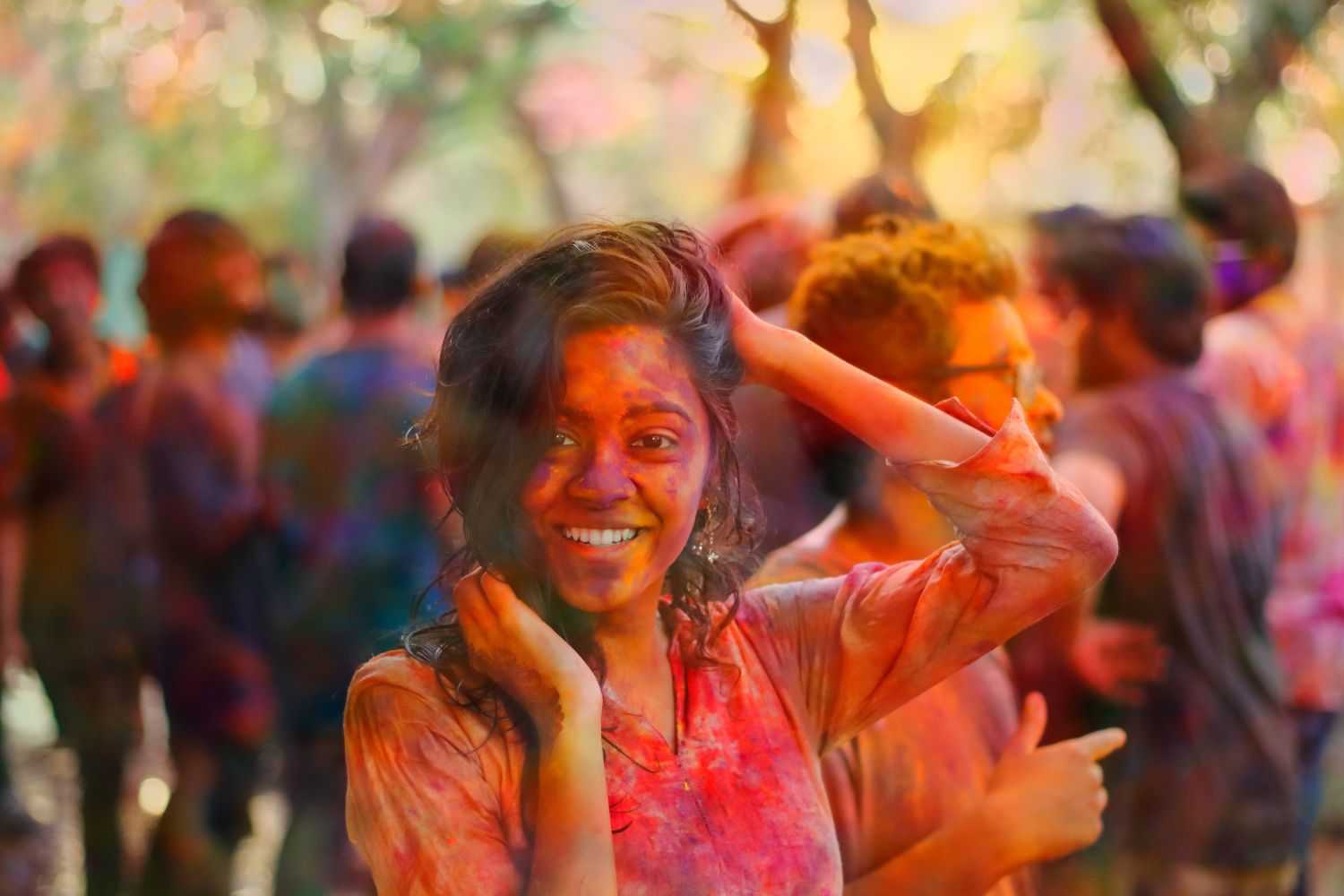 Photo by Shubham Bochiwal on unsplash
Capture the dynamic energy of dancing by photographing subjects mid-move within a vibrant cloud of Holi colours. To achieve the best results, take multiple shots to capture the perfect moment that portrays the spirit of movement and celebration. 
Clap With Holi Colours in Paint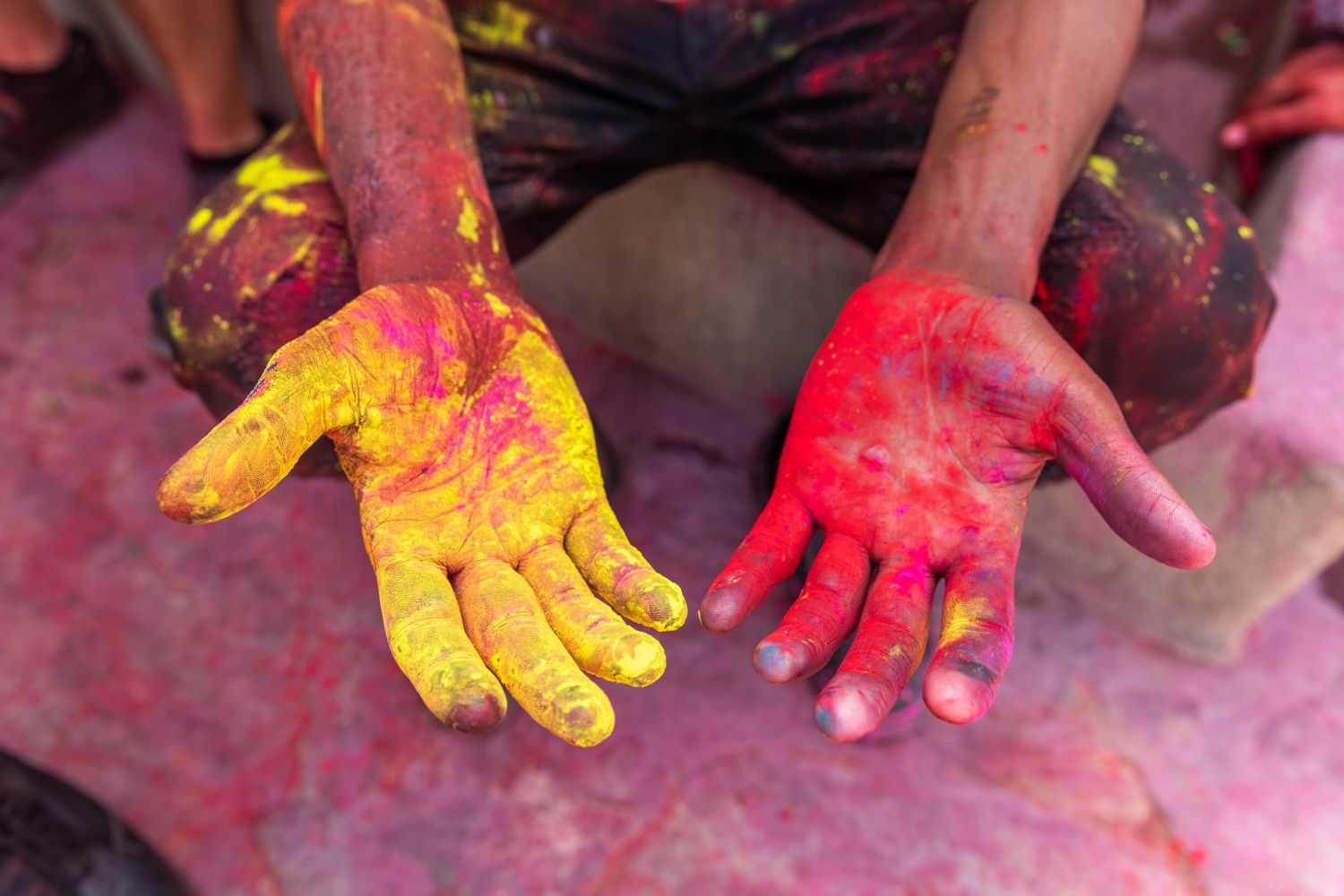 Photo by Nina Luong on unsplash
Encourage your subjects to playfully clap their hands coated in two different Holi colours, creating a burst of vibrant pigments in the air. Blur the background to accentuate the colourful spectacle, resulting in a dynamic, energetic shot full of motion and life.
Turn in Profile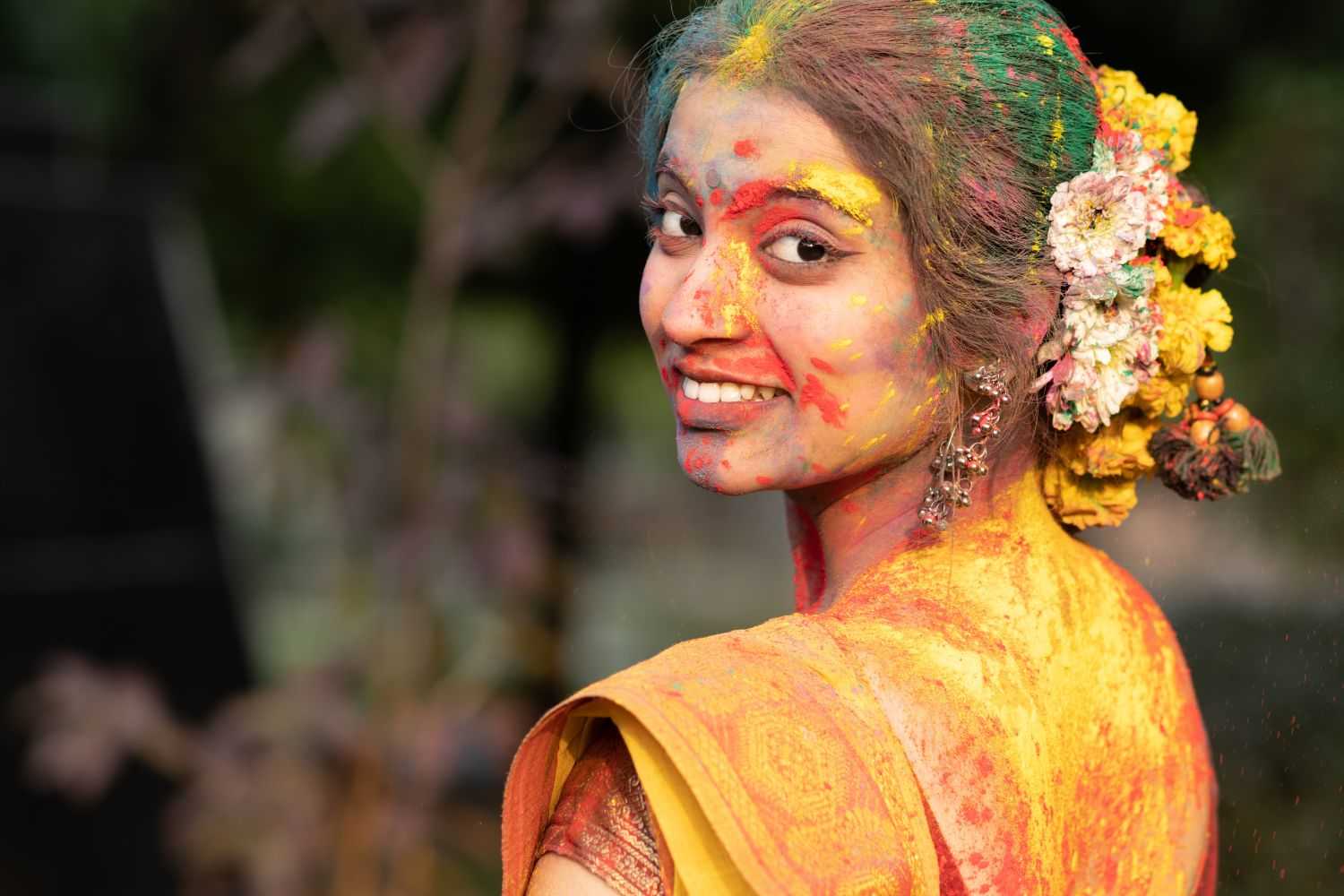 Photo by PicZania on shutterstock
Capture your subjects turning in profile, their faces adorned with colours. This angle allows for a unique view of the colours and the expressions, resulting in visually captivating and engaging portraits.
Look Back to Show a Bright Face Sprinkled With Holi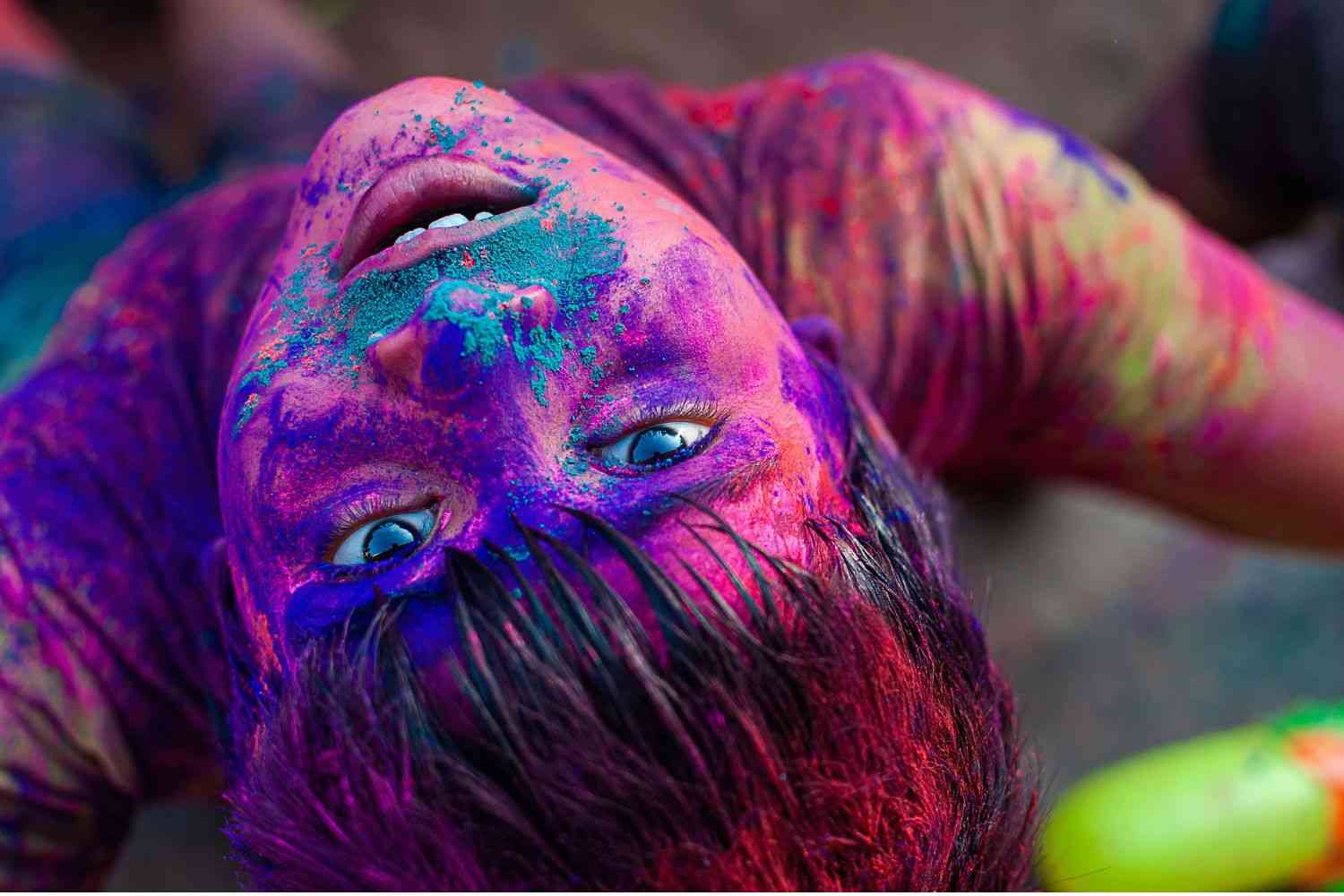 Photo by Vigneshwar Rajkumar on unsplash
Photograph subjects looking back over their shoulders, revealing their faces adorned with colourful splashes. This composition adds an element of curiosity and movement, capturing the essence of the fleeting, joyful moments.
Toss Holi Over the Head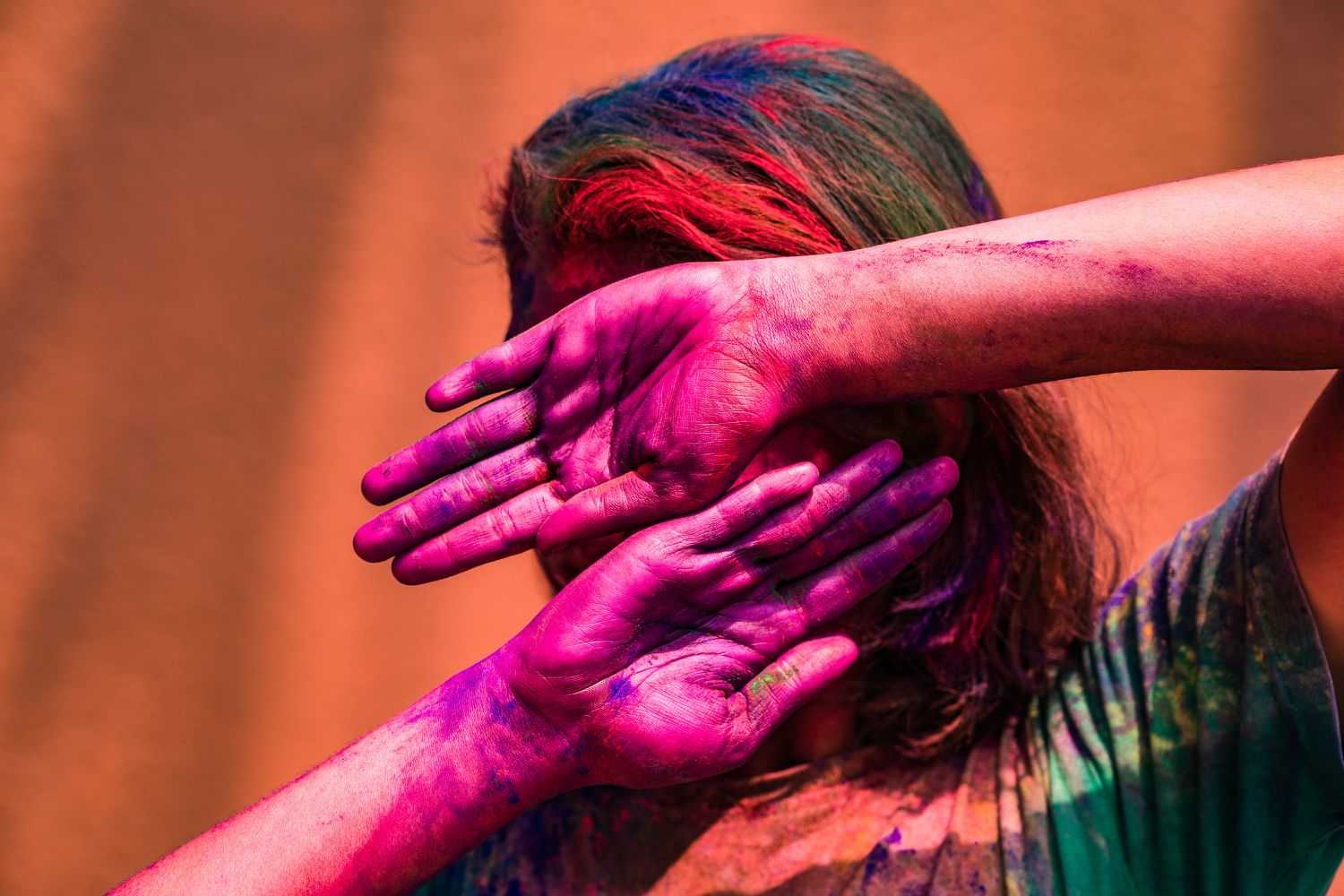 Photo by Soumyabrata Roy on shutterstock
Capture the playful moment when participants toss Holi colours over their heads. Freeze the joyful anticipation and the colourful cascade in mid-air.
Sprinkle Holi Powder on Each Other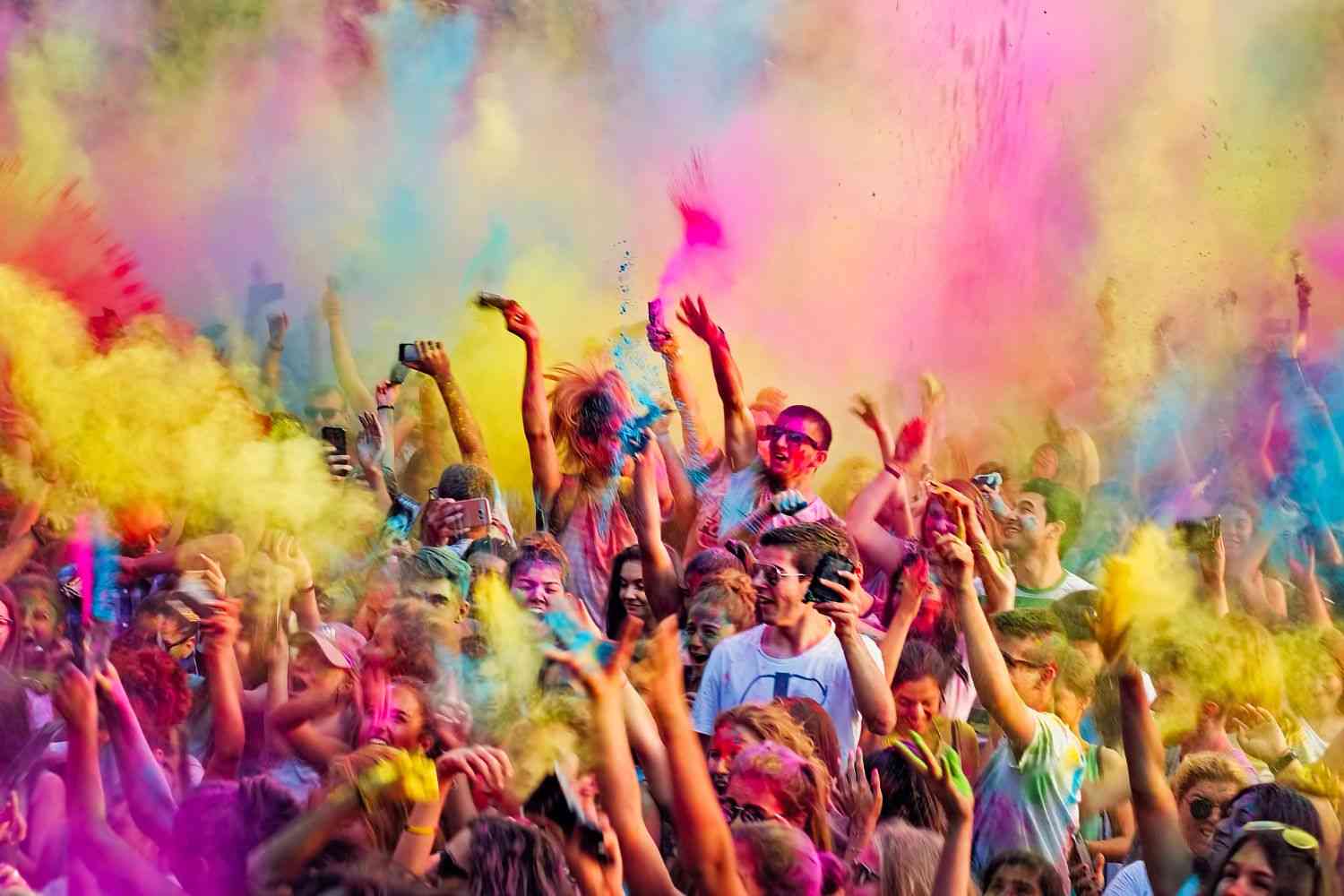 Photo by Roberto Sorin on shutterstock
Capture the interaction between friends or family members as they playfully sprinkle Holi powder on each other. The genuine smiles and camaraderie make for heartwarming shots that embody the spirit of togetherness.
Close Your Partner's Eyes With Hands Smeared With Paint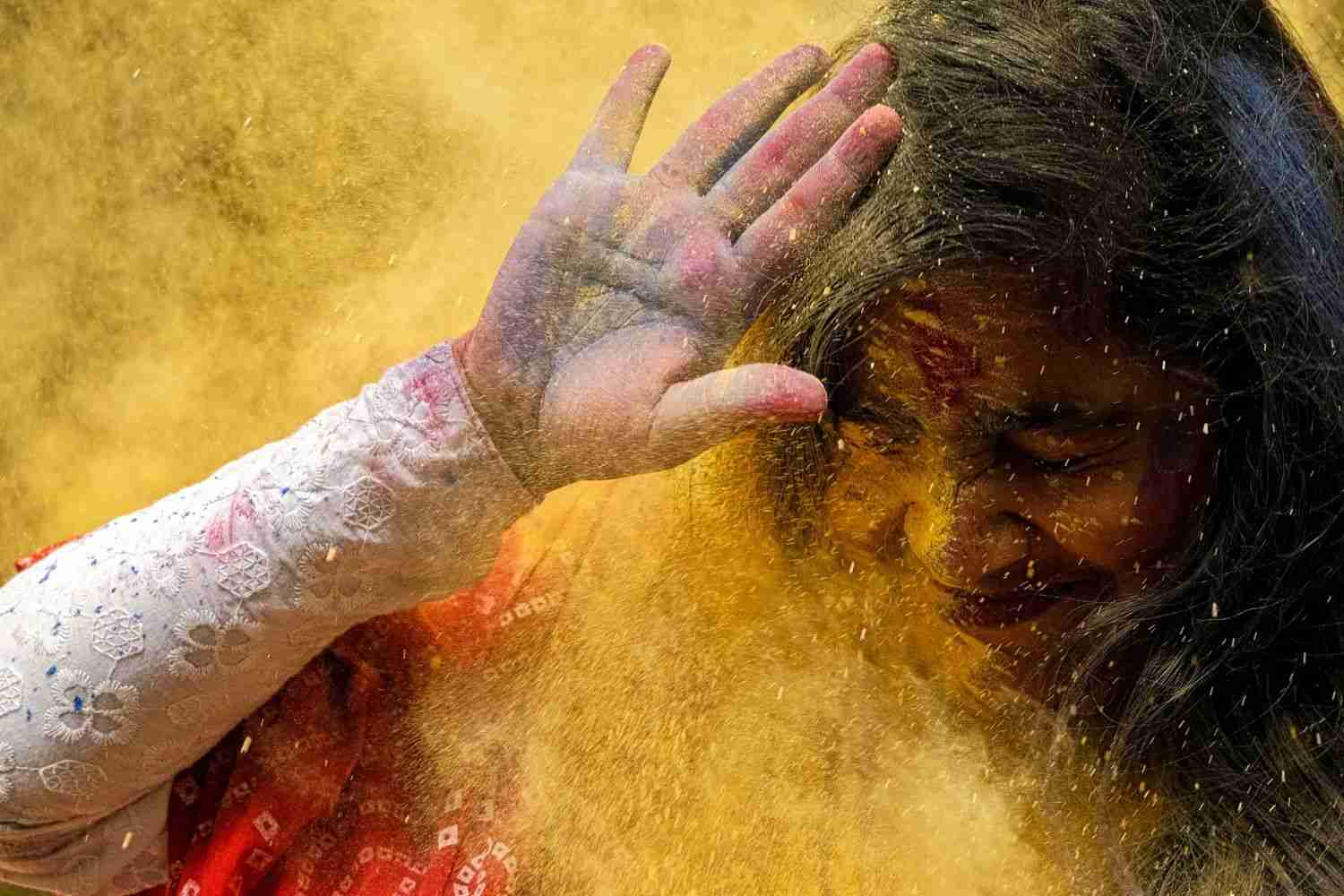 Photo by Shuvra Podder on unsplash
To add a twist, ask one partner to smear their hands with different colours of paint, then gently close their partner's eyes with these colourful hands. Encourage the partner with closed eyes to smile, capturing their intimacy, trust, and playful connection in a single, charming frame.
Play the Ape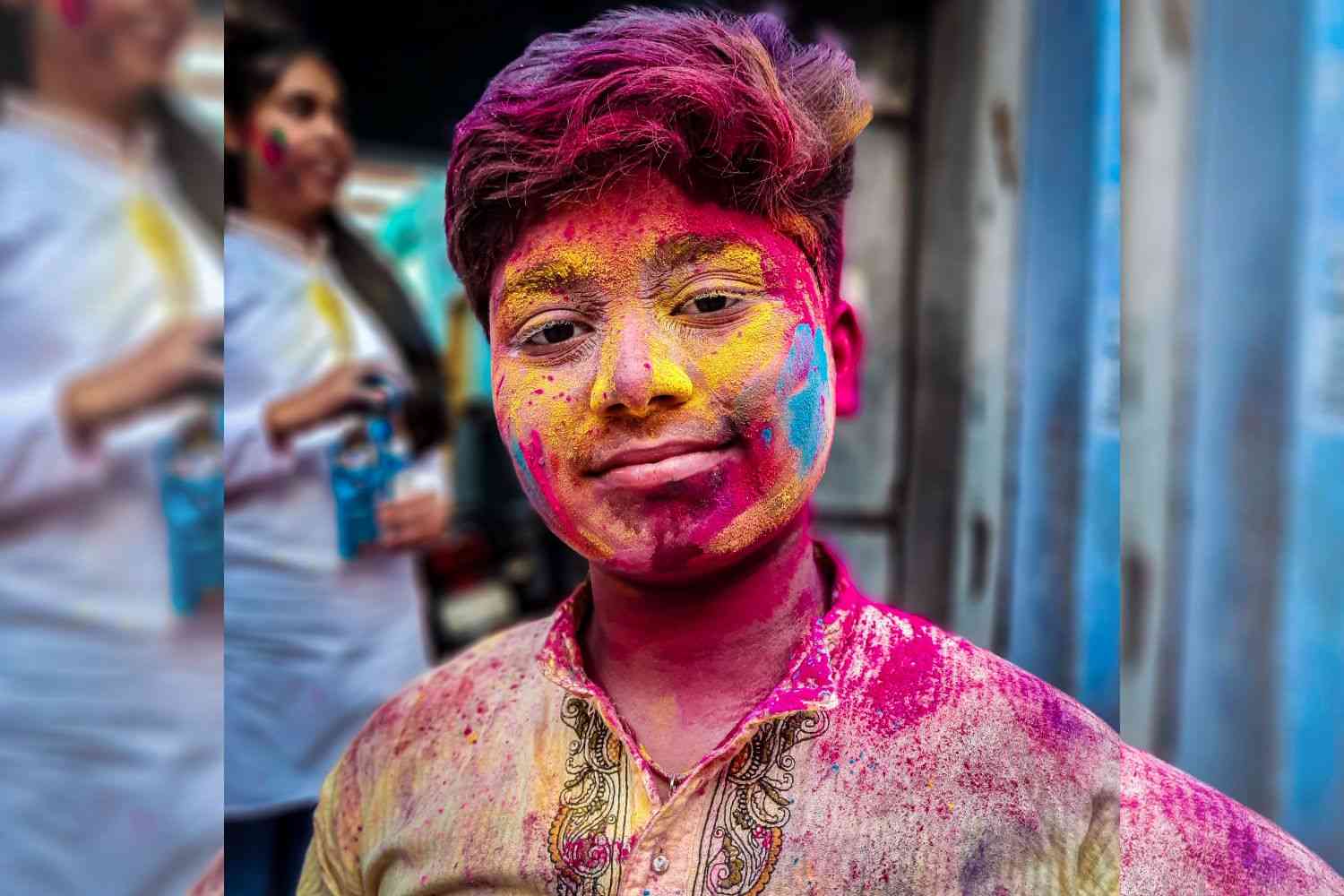 Photo by Yashasvi on unsplash
Bring out the playful side of your subjects as they mimic cheeky apes. Instruct them to stick out their tongues while their faces are adorned with vibrant Holi colours. This whimsical pose not only highlights the lively celebration but also captures the uninhibited joy and lightheartedness of the festival.
Lie on the Ground
Photo by Yury Nikolaev on shutterstock
Have your subjects lie in a circle on the ground, looking up with big smiles while colourful paint rains down on them. Capture this from above to showcase their joyful expressions and their strong bond.
Shelter Yourself From Flying Holi Powder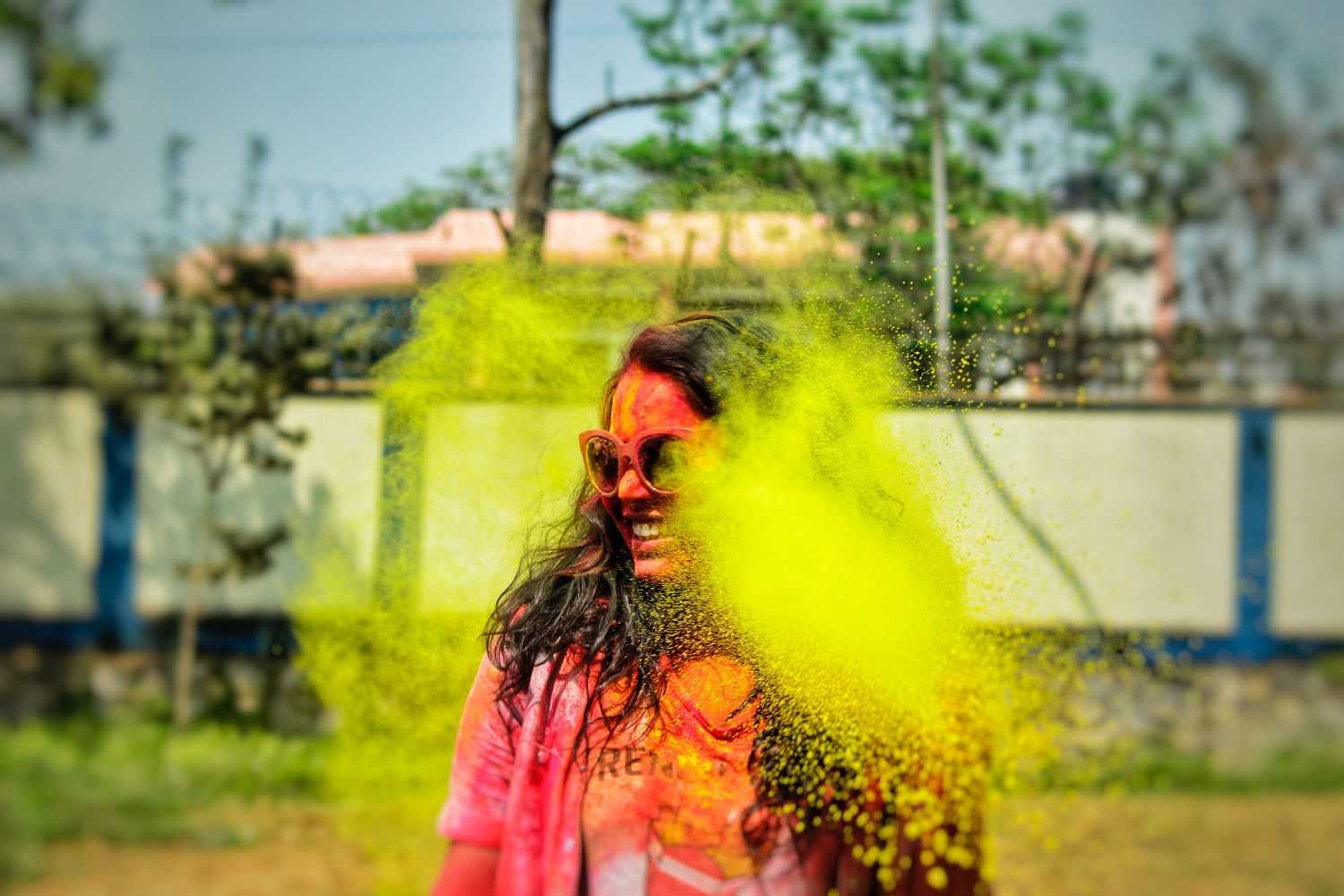 Photo by Varun Verma on unsplash
Capture candid shots of people using their hands or clothes to shield themselves from the flurry of Holi powder. Showcase the reflexive and spontaneous reactions amid the celebration to convey the immersive experience of being surrounded by vibrant chaos.
Bonus: Safety Tips When Playing With Holi Photography
Play Holi in a Safe Group or With Friends
Participate in Holi celebrations with a trusted group of friends or family members. Being surrounded by familiar faces enhances your safety and enjoyment.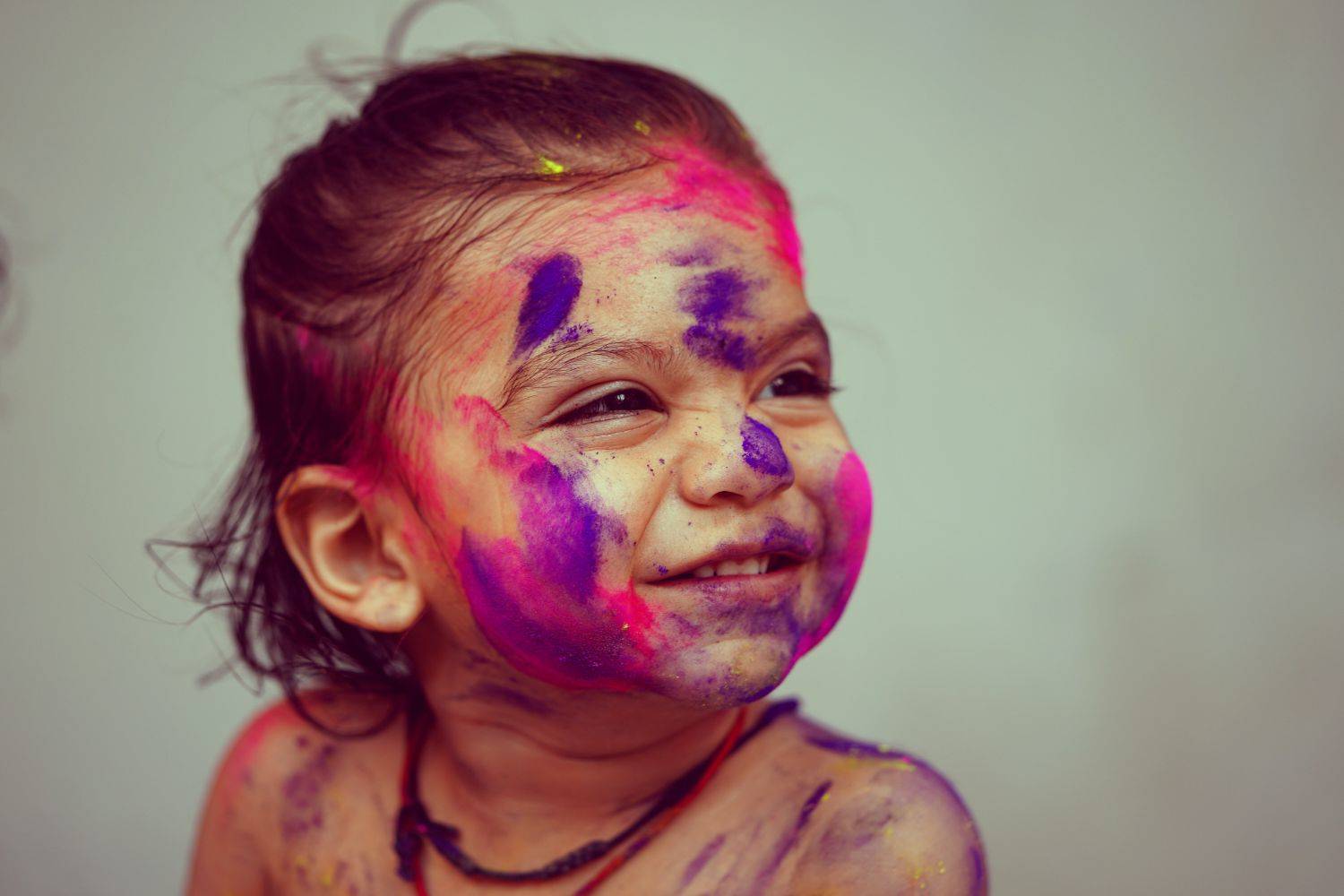 Photo by Pranav Kumar Jain on unsplash
Use Organic Holi Color
Opt for natural, organic colours that are skin-friendly and eco-friendly. These colours are less likely to cause allergic reactions or harm your skin and the environment.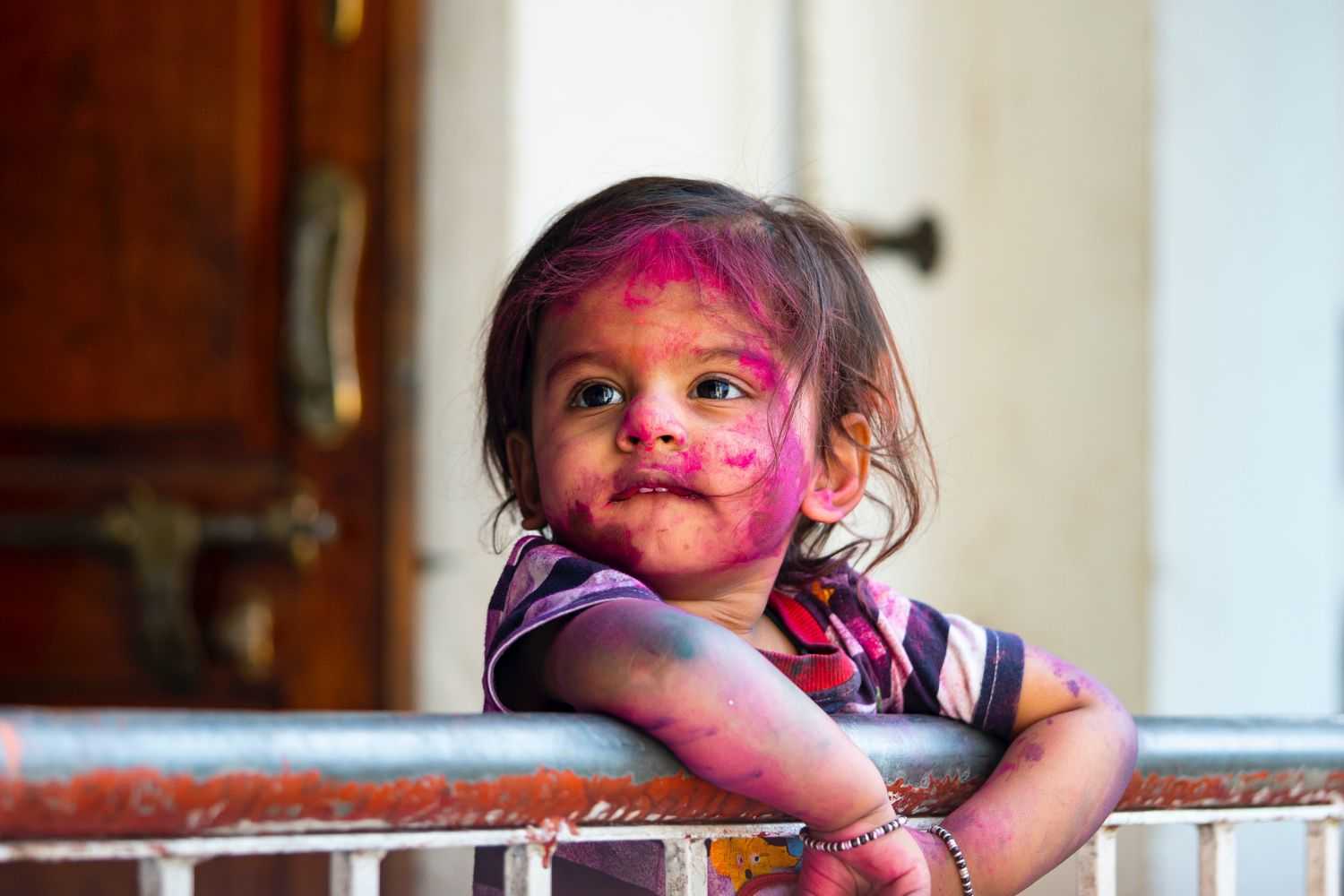 Photo by Pranav Kumar Jain on unsplash
Keep Yourself Covered as Much as Possible
Wear clothing that covers your body as much as possible. This will help reduce direct skin exposure to the colours, preventing potential irritation and stains.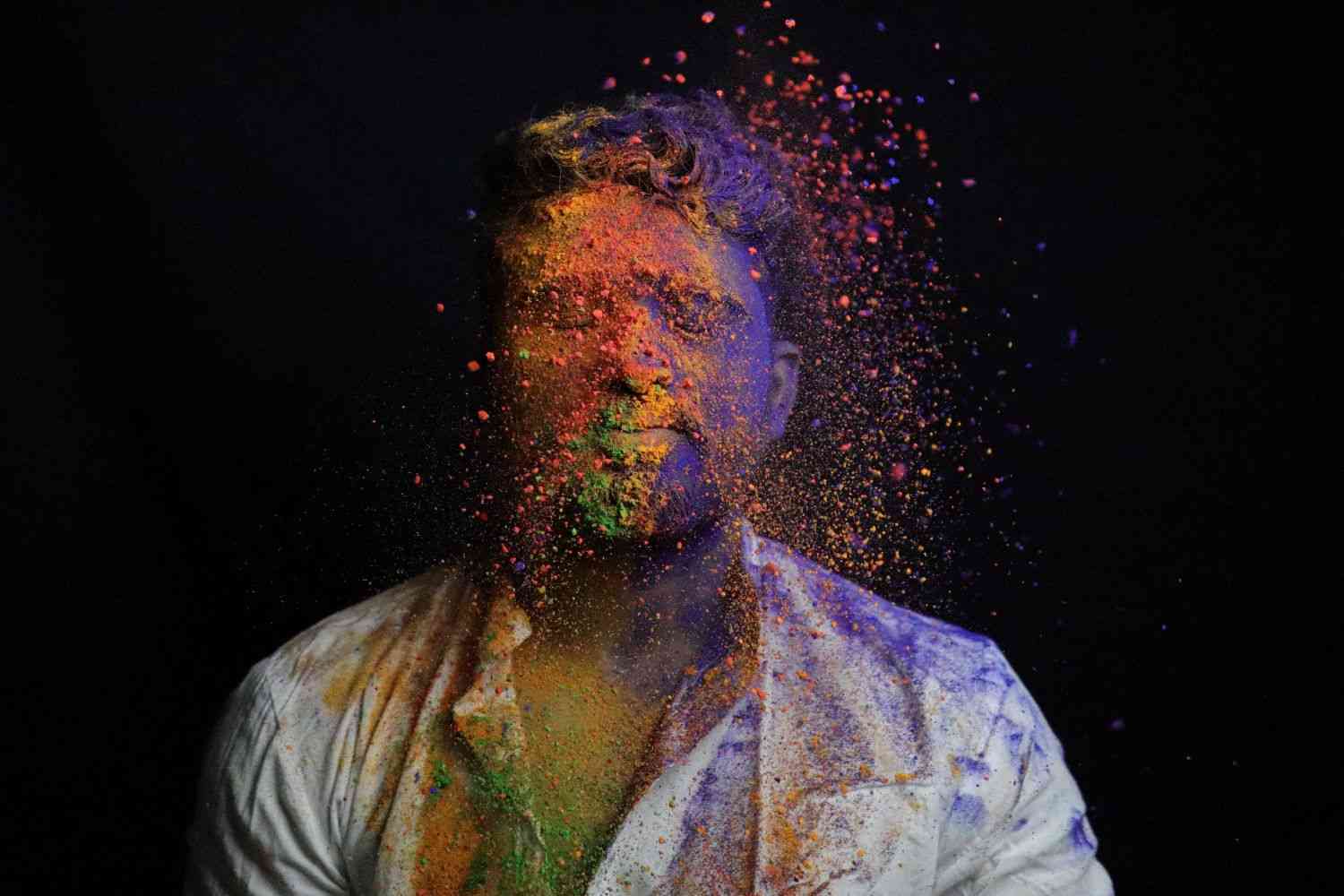 Photo by Sonu Agvan on unsplash
Put Plenty of Sunscreen and Thick Moisturizers on Before Playing to Protect Your Skin
Apply a generous amount of sunscreen and thick moisturisers on exposed skin before playing Holi. This creates a protective barrier against the colours and helps in easy removal later.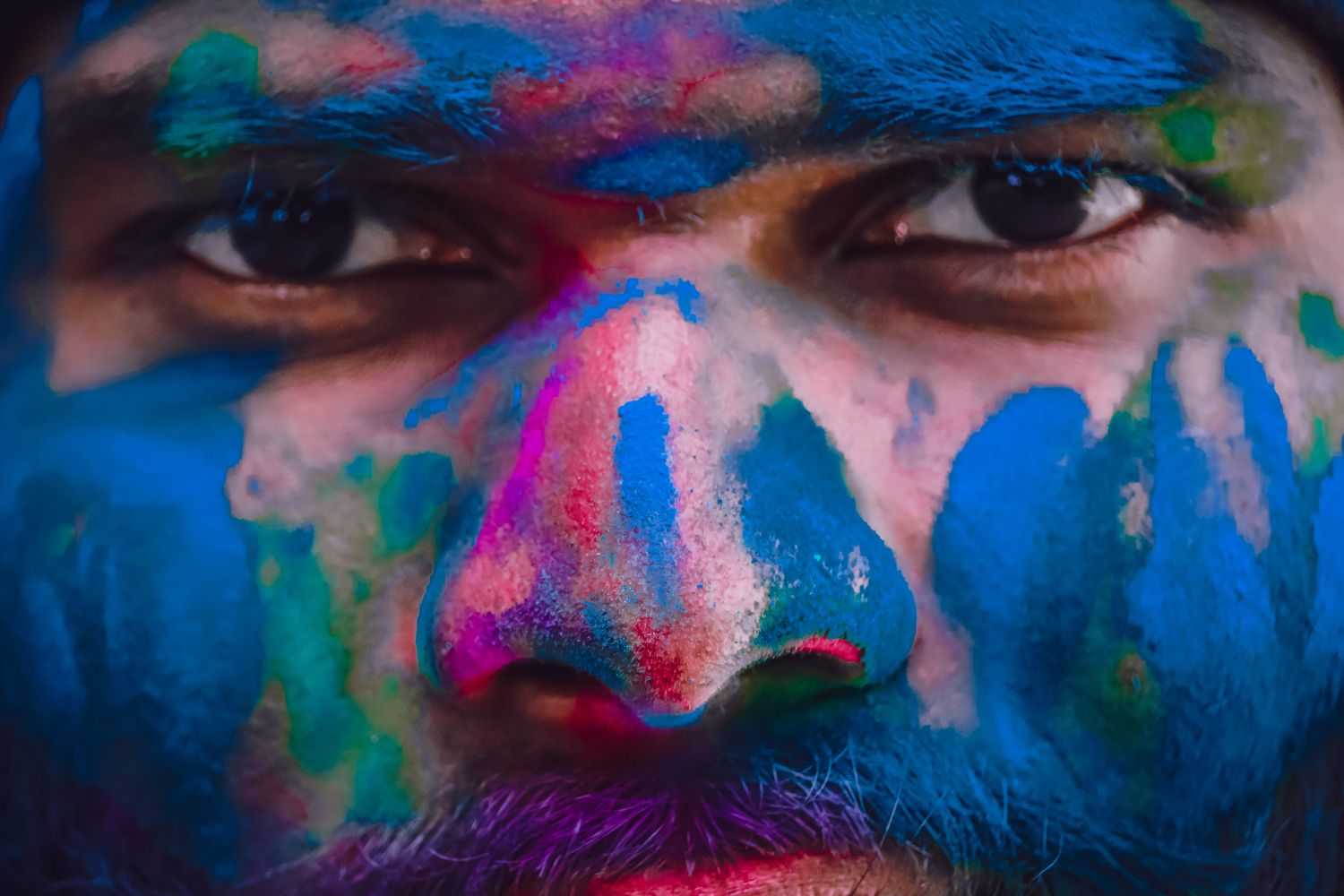 Photo by Sunil Damor on unsplash
Use a Natural Exfoliate to Take off the Colours
After the festivities, gently use a natural exfoliating scrub to remove the colour from your skin. Avoid harsh scrubbing, as it can cause skin irritation.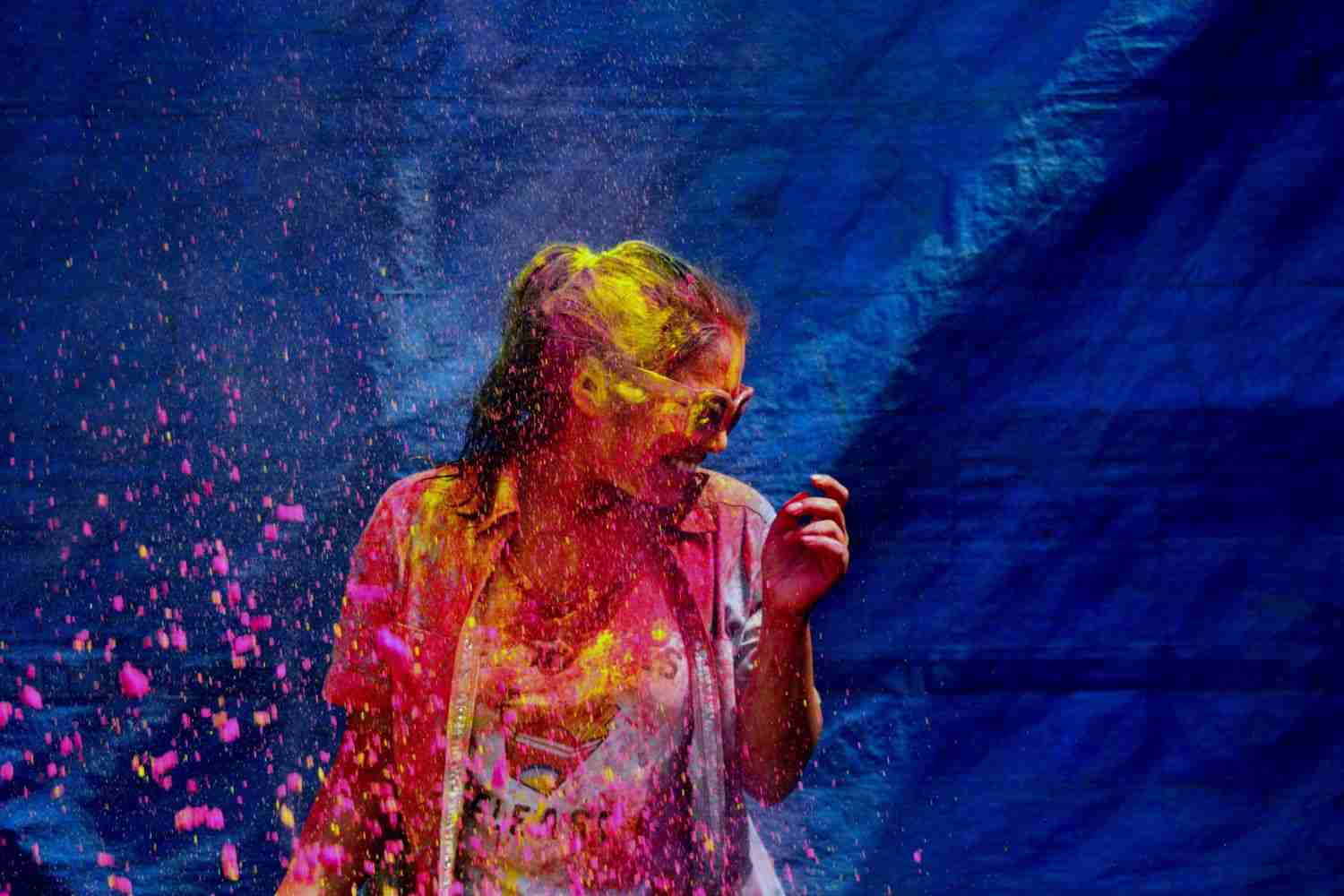 Photo by Varun Verma on unsplash
Wrap Your Camera With a Plastic Wrapper
Wrap your camera in a plastic cover to shield it from the colourful powder and liquids. This safeguard prevents damage to the sensitive parts of your camera.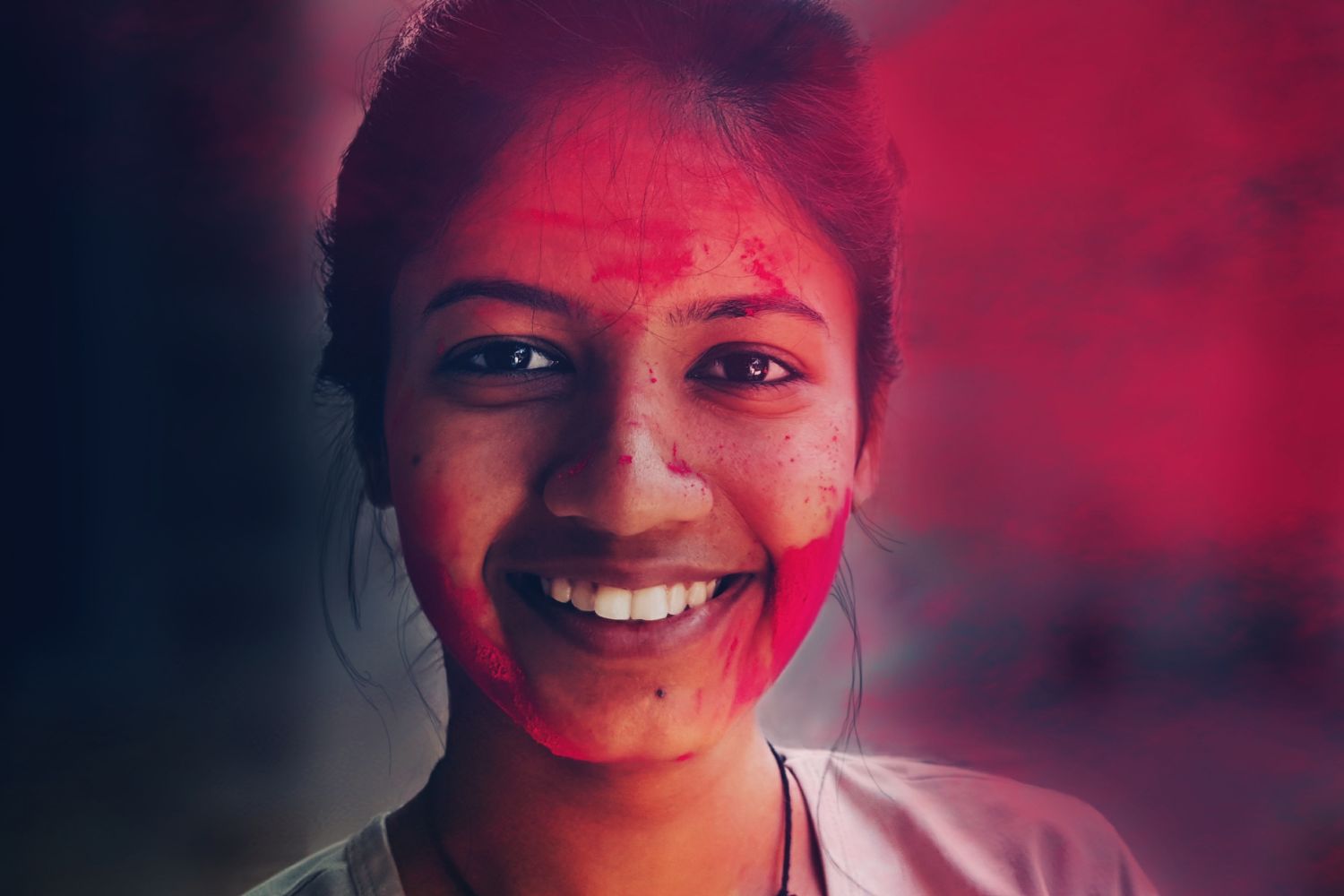 Photo by Vinit Vispute on unsplash
Use Lens Cup and Secure It With More Duct Tape
Use a lens cap to cover your camera's lens and secure it with duct tape. This additional layer of protection prevents colour particles from entering the lens mechanism.
Conclusion
Holi photography offers an enchanting opportunity to capture the vibrant spirit and unrestrained joy of the Holi festival. Having known some of the best Holi photoshoot ideas, you can now embark on a journey to create visually captivating memories that capture the essence of this celebration.
If you like this article, please share it! Be sure to join our FB Group: https://www.facebook.com/groups/Katebackdrops/ to share your ideas! You can also receive free articles, updates as well as discounts information from https://www.katebackdrop.com/ and our FB Group.