Alternatives
In today's visually-driven world, photo editing tools have become essential to our digital lives. From enhancing images to creating unique designs, photo editors offer endless possibilities for unleashing our creativity. Among the many photo editors available, Lunapic has gained popularity for its intuitive interface and powerful features.
In this article, we'll dive into the top features of Lunapic, along with step-by-step tutorials to help you get started. Plus, we'll explore alternative photo editing tools rivaling Lunapic's capabilities.
What is Lunapic?
Lunapic is an online photo editing tool allowing users to edit, enhance, and manipulate images to create stunning visual content. It offers a wide range of key features, such as image resizing, filters, text overlays, drawing tools, and more, enabling users to customize their images. Lunapic is user-friendly and does not require software downloads or installations, making it accessible to anyone with an internet connection.
Key Features of Lunapic
Filters and Effects
Lunapic offers a wide range of filters and effects to enhance your images. From basic adjustments like brightness, contrast, and saturation to creating effects like vintage, sepia, and mosaic, Lunapic has a diverse selection.
Collage
Lunapic allows you to create stunning photo collages by combining multiple images into a single composition. With various layout options, customization features, and the ability to add text and stickers, you can create unique collages to share on social media or print.
Art Effects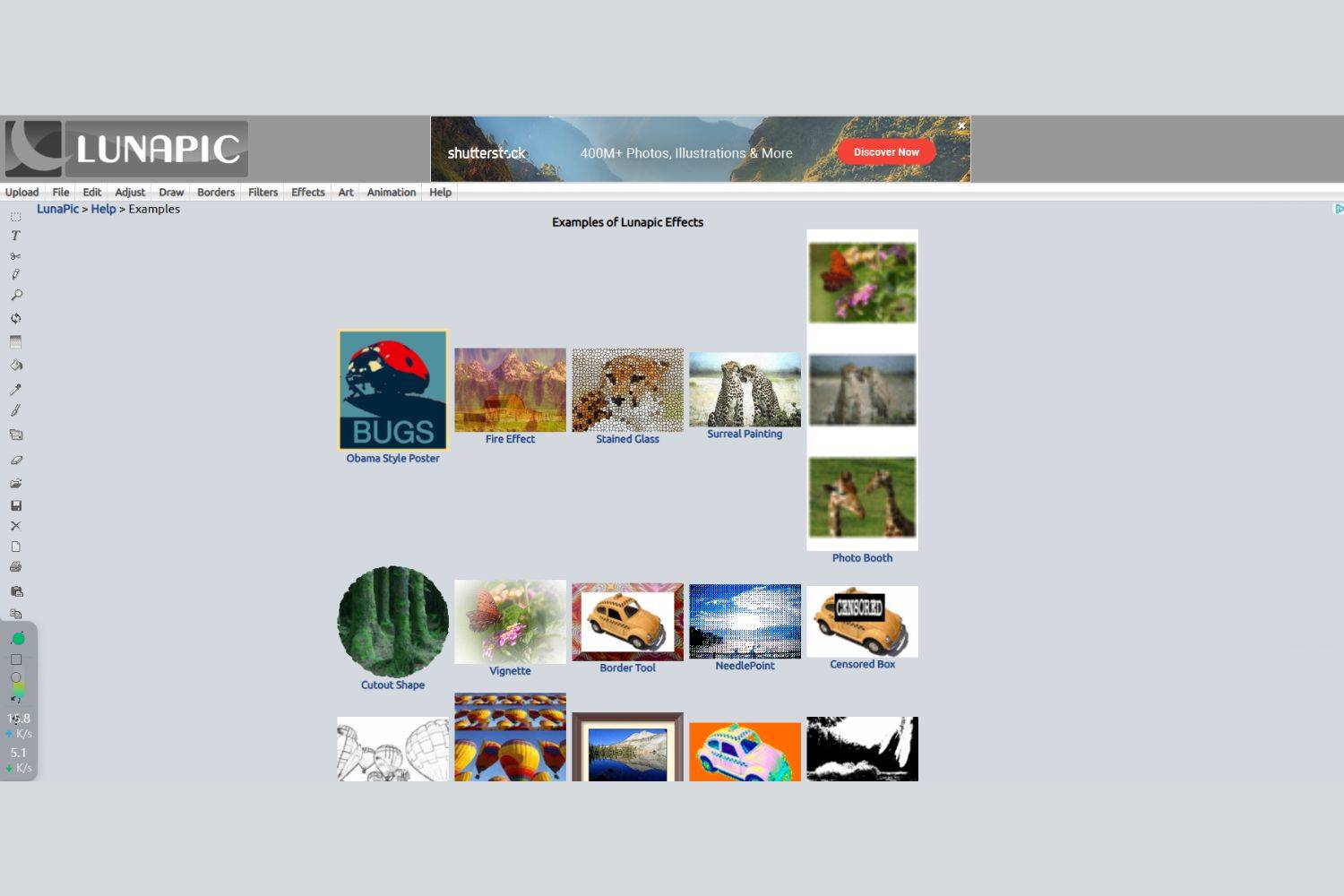 Lunapic provides a variety of artistic effects, such as oil painting, watercolor, and sketching, that may transform your images into stunning works of art. These effects give your photographs a creative edge, making them stand out and evoke emotions.
Animation
Lunapic allows you to create animated images and GIFs with its animation feature. You can easily create frame-by-frame animations and add text, stickers, and effects to create dynamic and engaging visuals.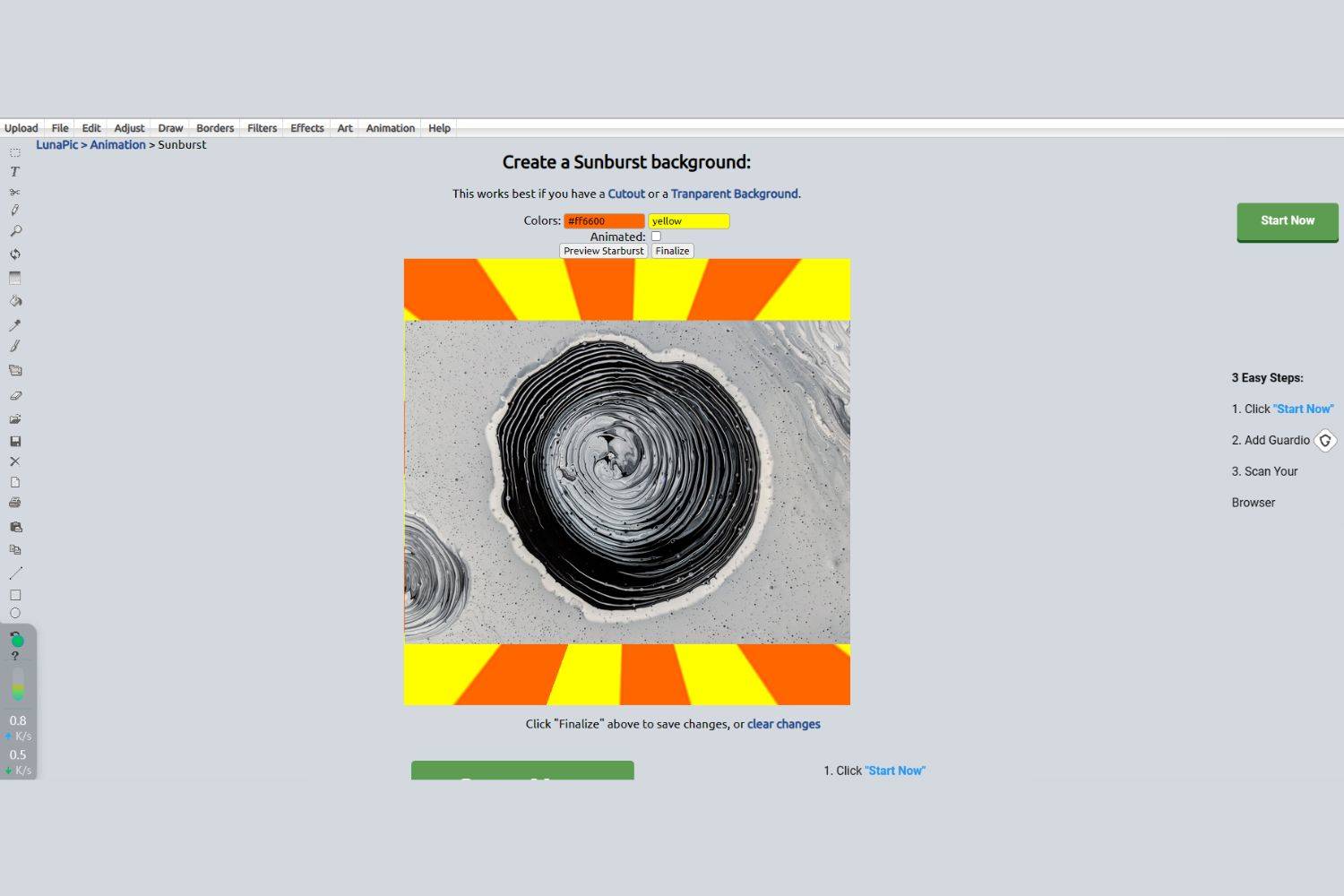 Editing Tools
You may perfectly sharpen your photographs using the extensive collection of editing tools offered by Lunapic, including crop, resize, rotate, and flip. You can also change the colors, retouch, and add borders to create the desired effect.
Transparent Backgrounds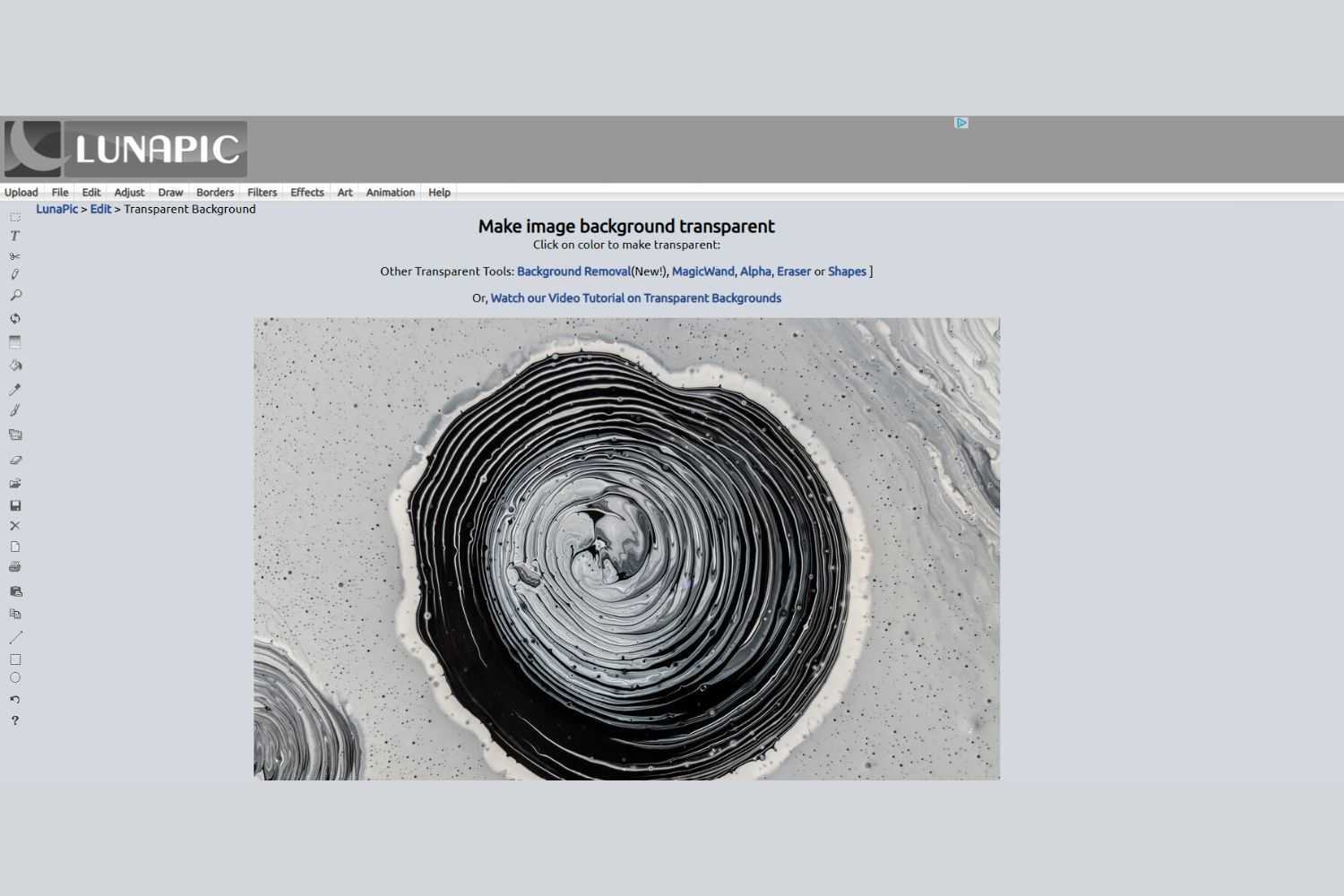 Lunapic offers an easy-to-use tool to remove backgrounds and create transparent images. This is useful when isolating an object or creating graphics with no background, making it versatile for various design purposes.
Beginner's Tutorial to Edit Image with Lunapic
Resizing Images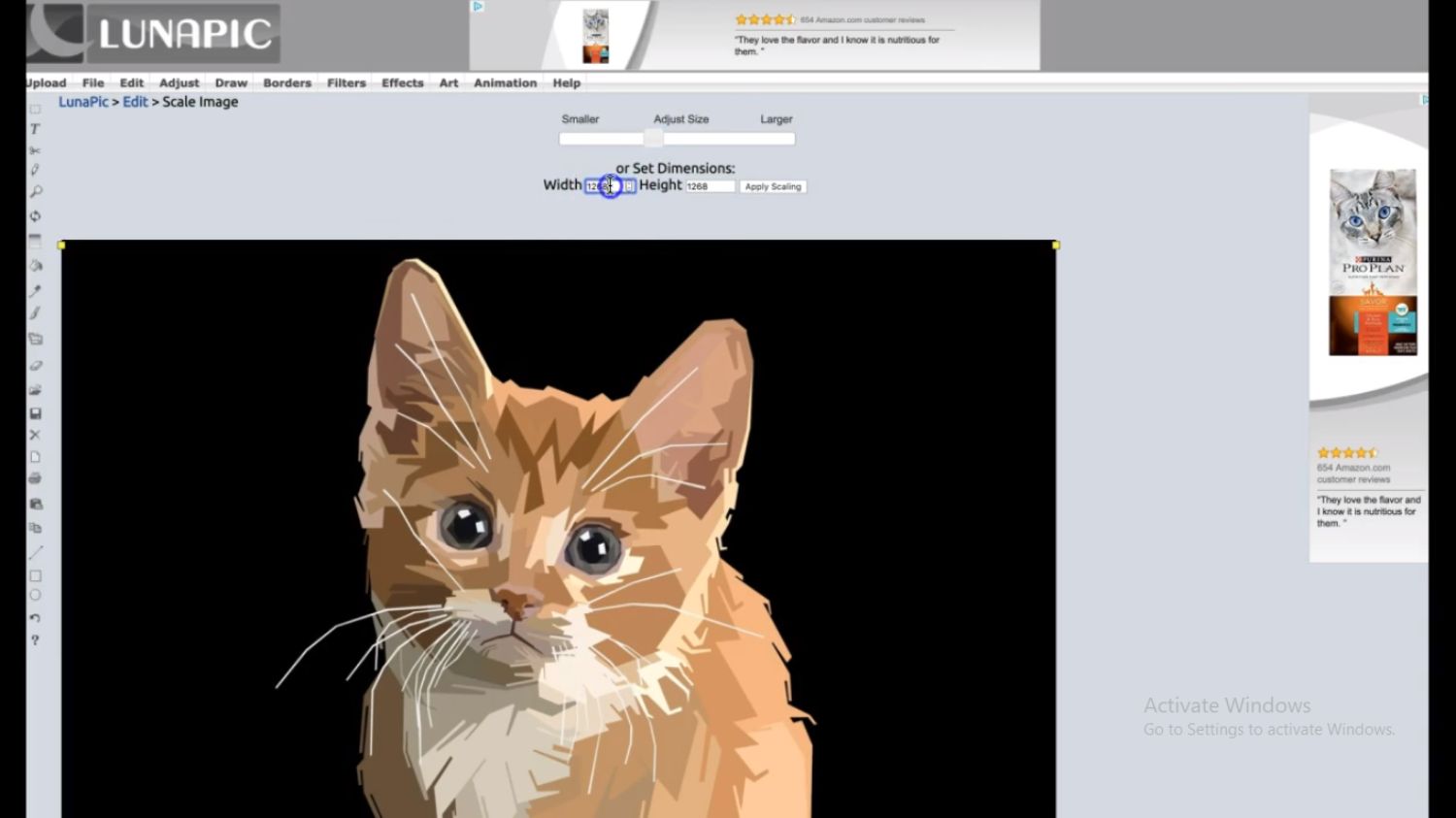 Start by uploading the image you want to resize. Once you've selected the image, you will see its dimensions in the dashboard. You can scale the image to the desired size if it is too big. Click on "Scale Image" and either type in the desired size or move the slider to the left until you reach the desired size. Alternatively, you can go to "Edit" and choose "Resize Image" to type in the width and height of the image.
Cropping Images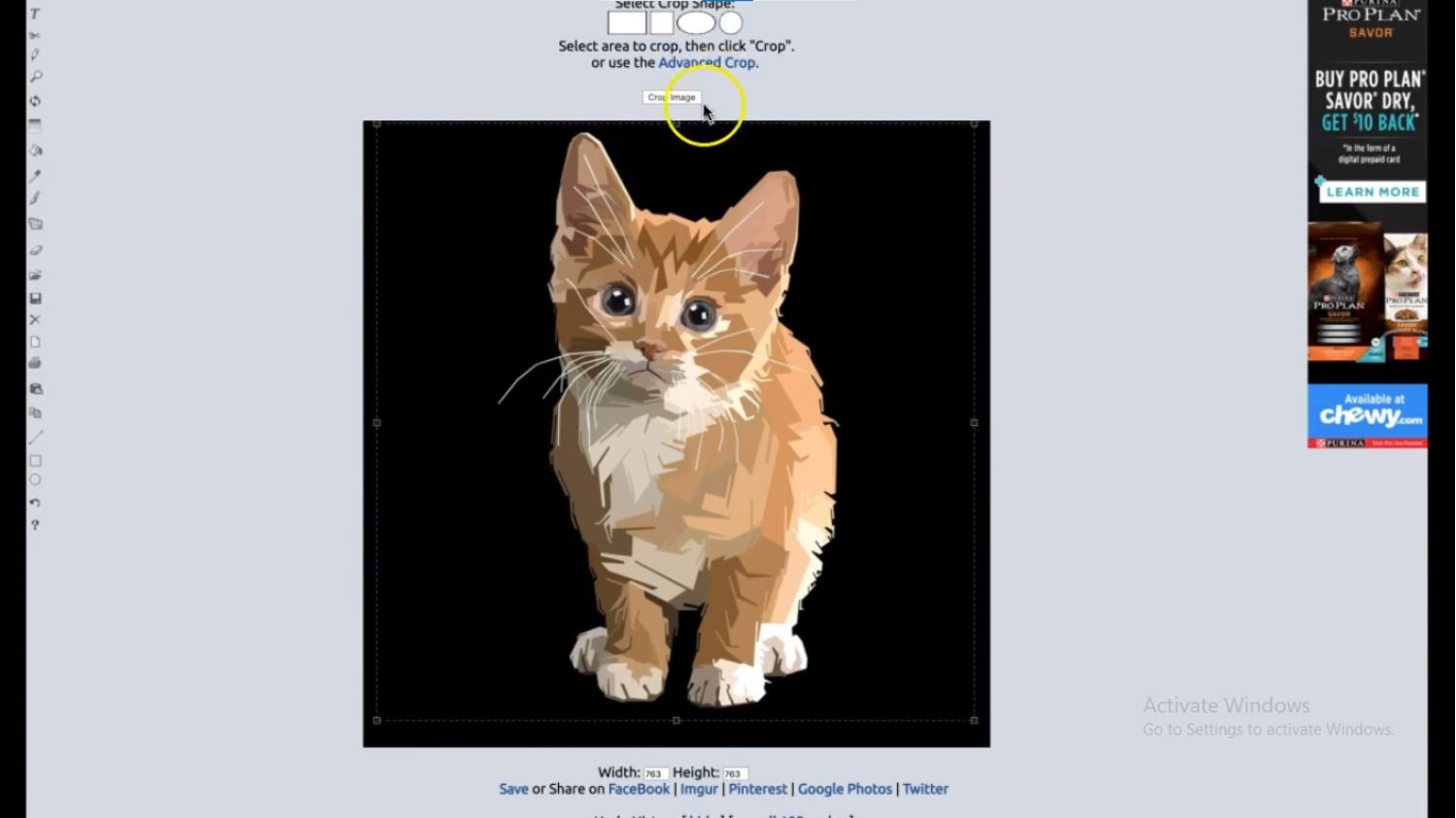 If you want to crop the image, click "edit" and select "crop image." You can use the simple crop tool by clicking "simple crop tool." Select the shape you want, such as a square, and drag the frame to adjust the area you want to crop. Once satisfied with the frame, click "crop image" to apply the changes.
Changing the Background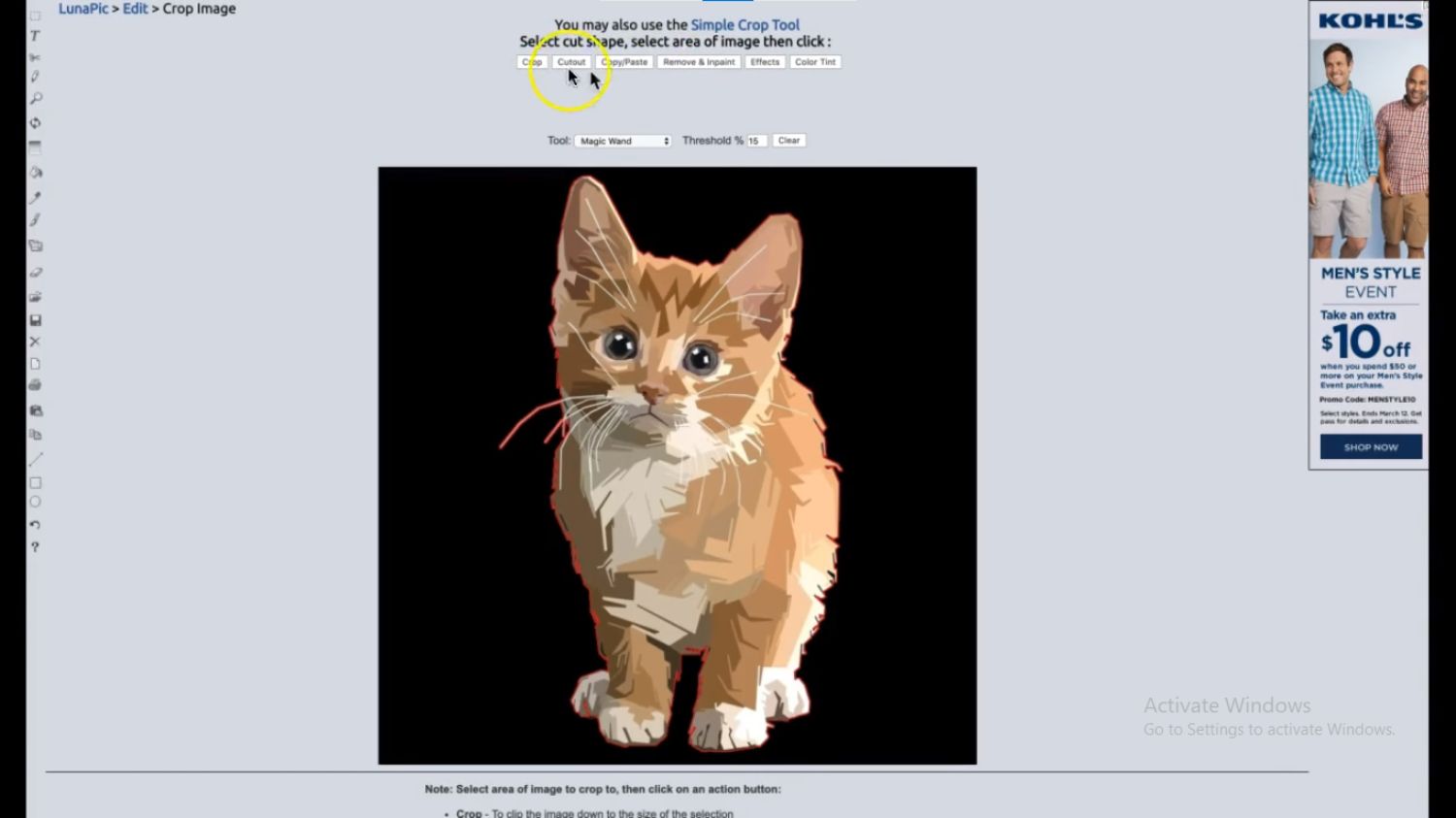 To change the background, you can use the "effect" feature and click on "blend two images." Choose the file you want to use as the new background, upload it, and click "continue." Since the new background is overlaid, you must switch the images' positions by dragging the background image to the bottom layer. You can use the "magic wand" or "alpha eraser" to crop out the areas you don't want in the new image.
Adding Text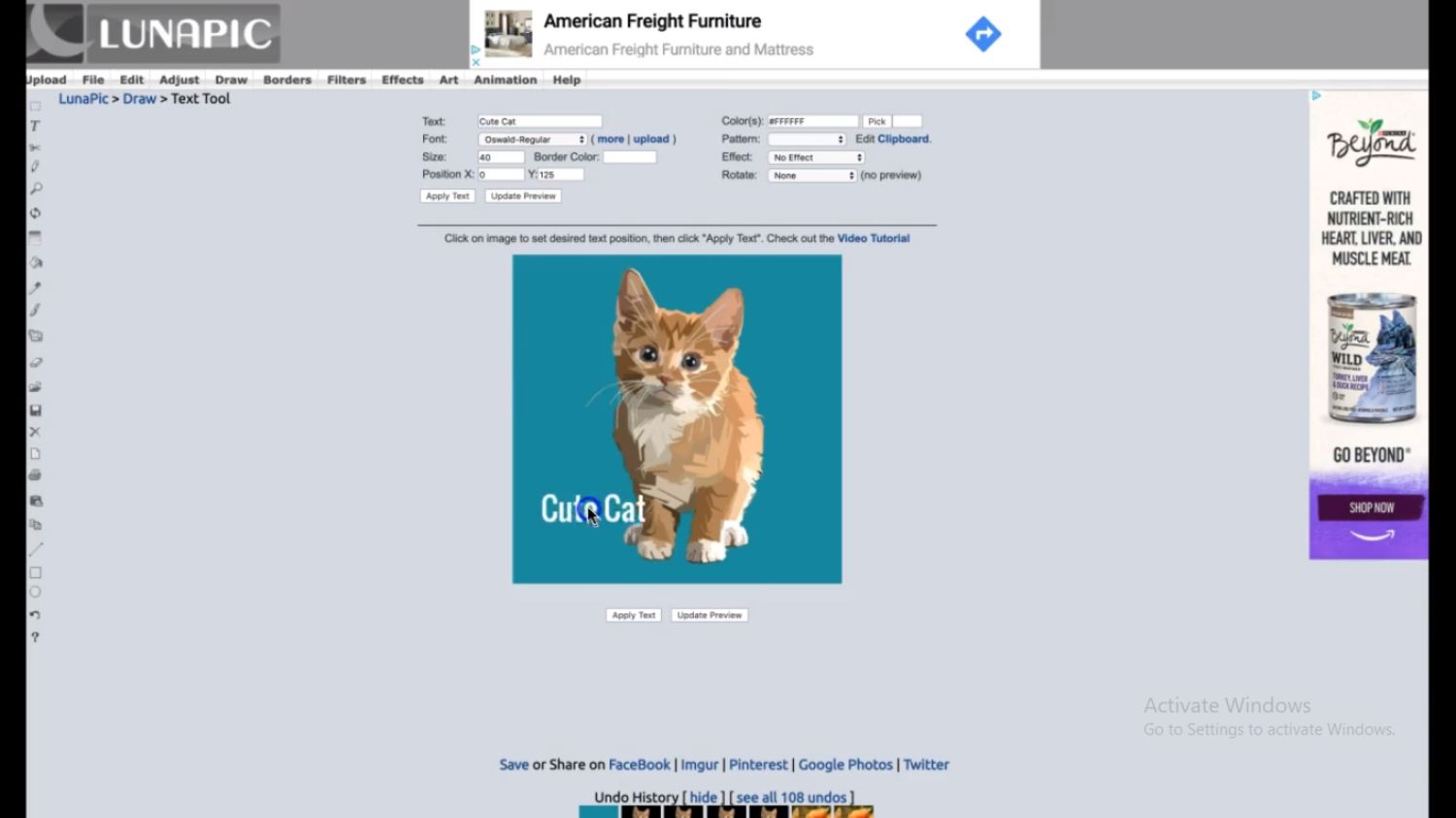 Image credit: youtube.com
To add text to your image, click "add text," and a new window will appear. Type the text you want to add and choose your preferred font, color, and size. Adjust the text's position by clicking on it and dragging it to where you want it on the image. Click on "add text" to apply the changes.
Lunapic Alternatives
Photopea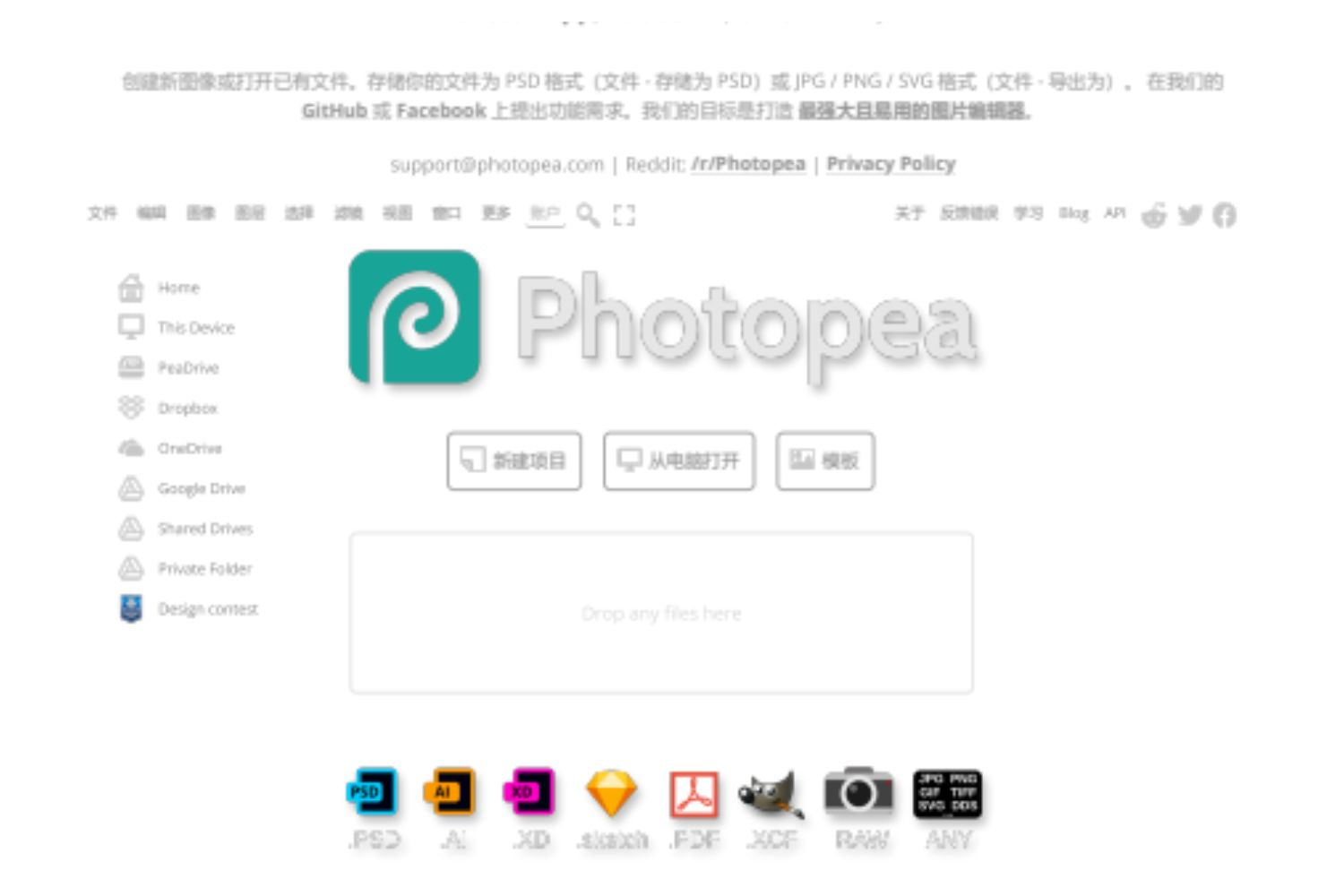 Photopea is a powerful and feature-rich online photo editor that can open, edit, and save files in various formats, including PSD, Sketch, and XD. Its interface resembles Adobe Photoshop's, with a similar layout and toolset. You can work with layers, masks, and adjustment layers and use advanced tools like the Clone Stamp, Pen Tool, and Liquify. Photopea is free to use; you don't need to create an account to access its features.
Ipiccy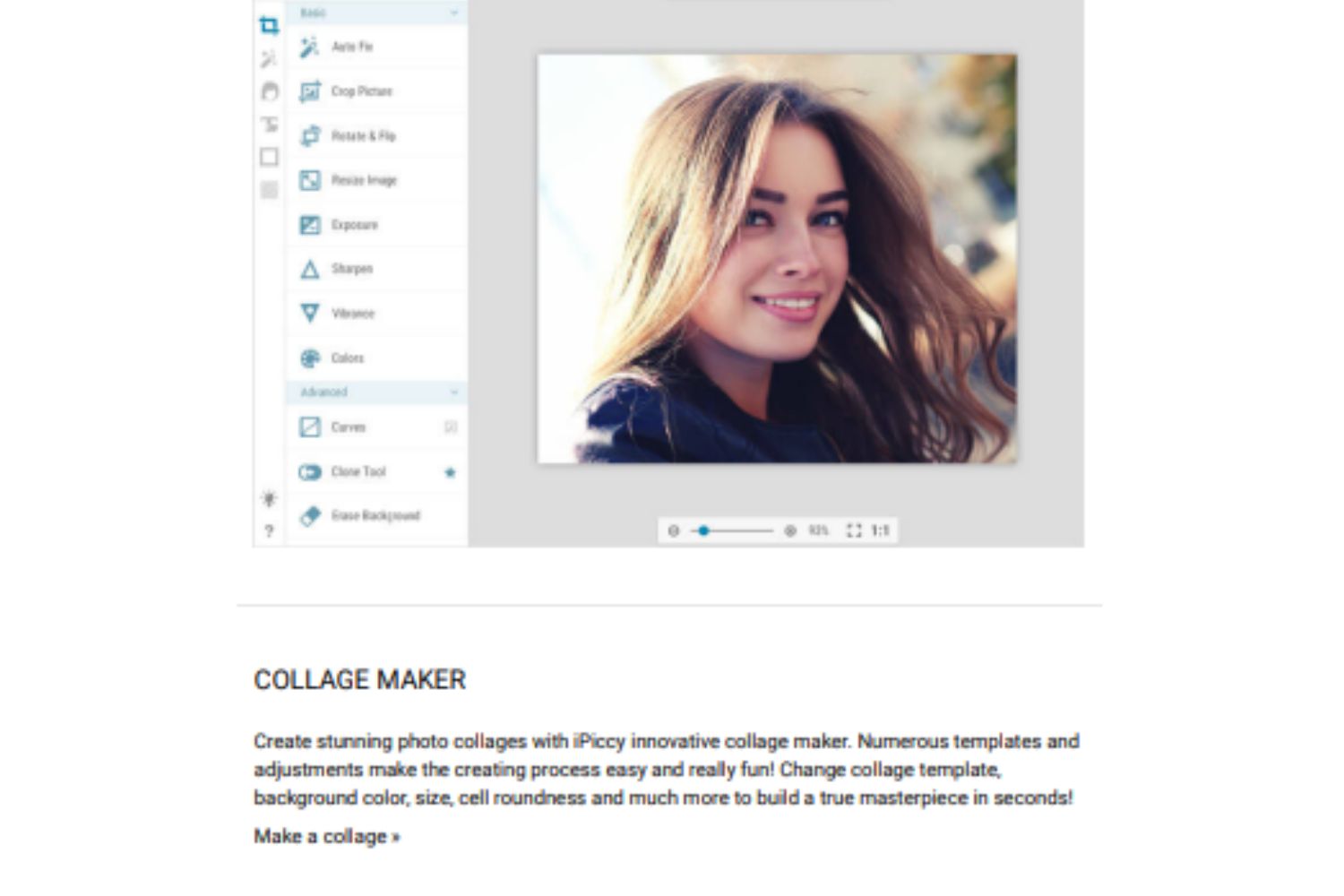 Ipiccy is a versatile online photo editor that offers basic and advanced editing tools, as well as a collage maker and design creator. You can use tools like the auto fix, crop, curves, clone, and smart blur, and apply filters, borders, and retouching effects like teeth whitening and hair color. Ipiccy is free, but you must sign in with an email account to save your work.
Pixlr X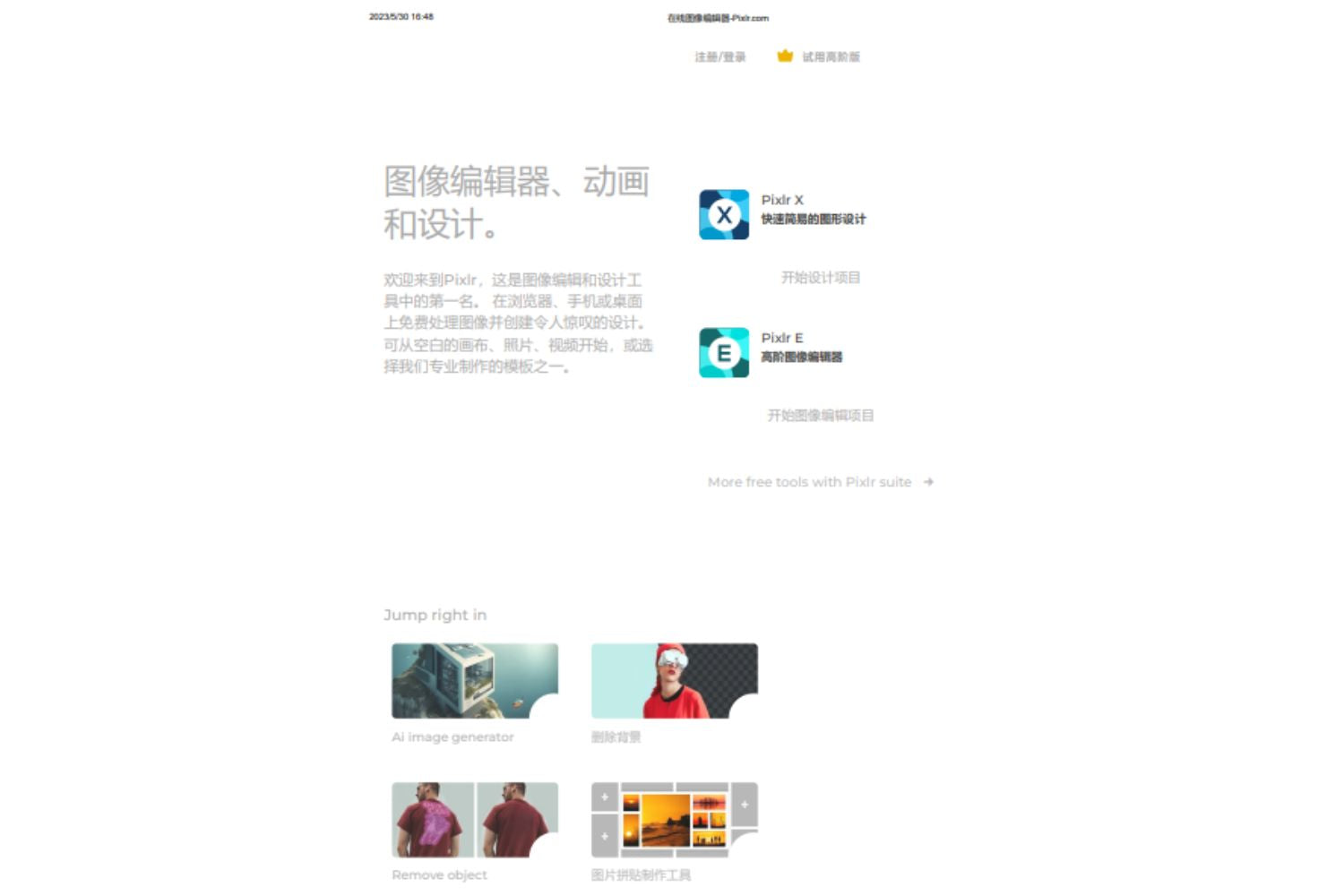 Pixlr X is a modern and intuitive online photo editor with a sleek interface and minimal design. You can edit images by opening files from your desktop or creating a new canvas with a custom size. It offers basic tools like adjustment and text and advanced tools like liquify and retouch. One of its standout features is the cutout tool, which allows you to remove image backgrounds using various methods. Pixlr X is free, but you can upgrade to premium plans to access thousands of overlays, stickers, and extensive editing tools.
Fotor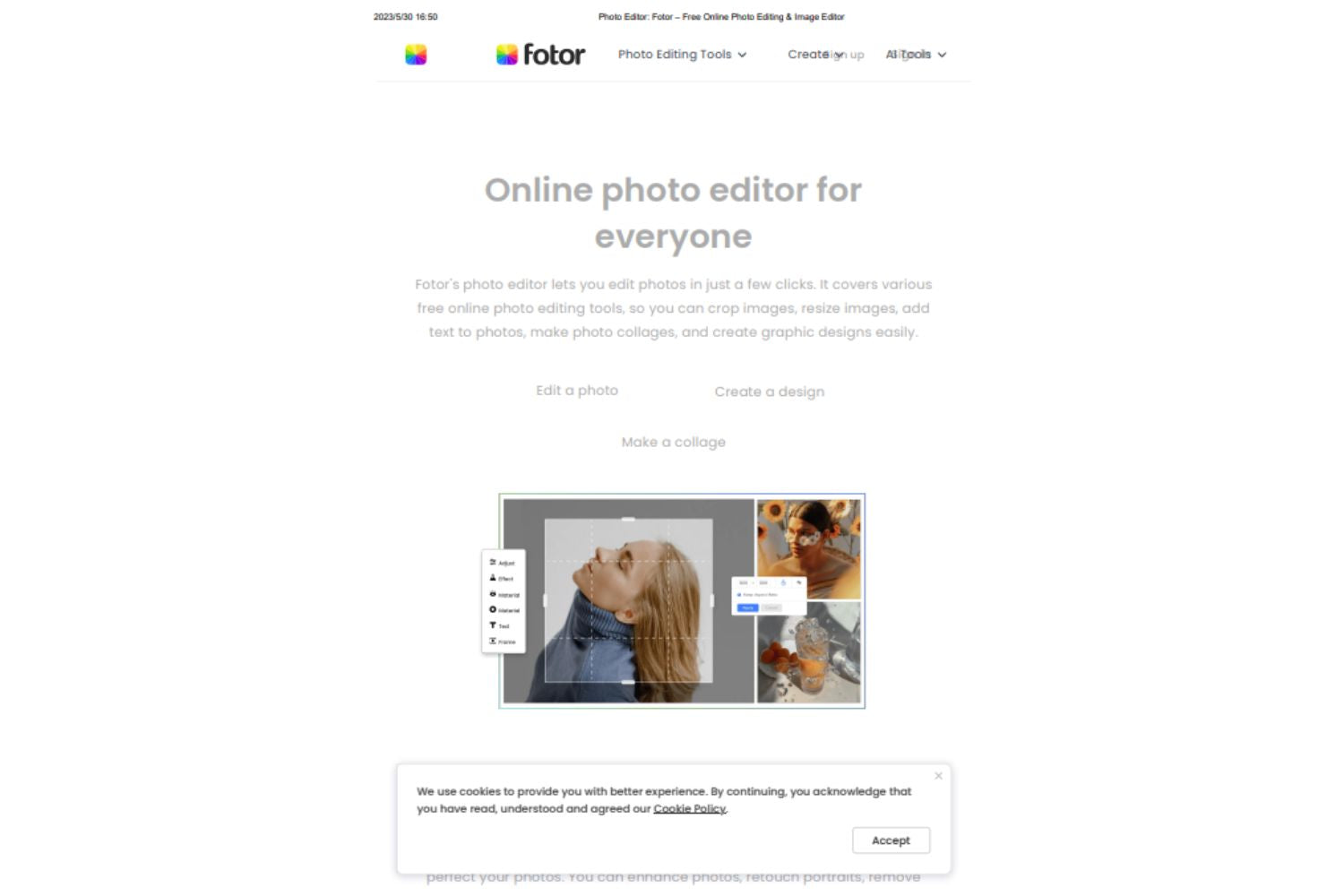 Fotor is a user-friendly online photo editor that allows you to create designs, make collages, and remove backgrounds. It has an easy-to-use interface that lets you upload an image and start editing immediately. You can use tools like adjustments, effects, AI art, texts, and elements. Most of its features are free, but some are only accessible via paid plans. Fotor is a fast and reliable option for users who need a quick online photo editor.
Befunky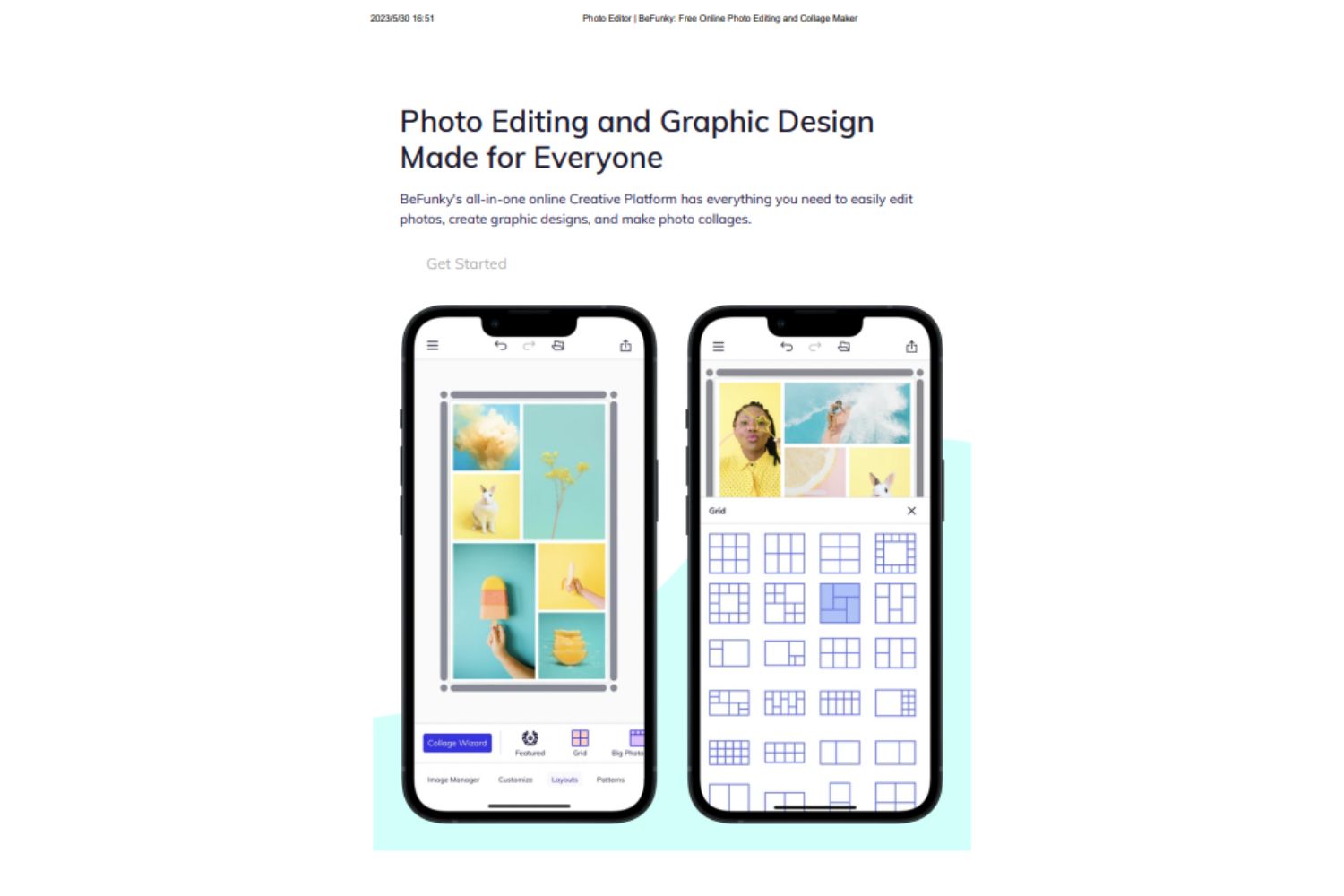 BeFunky is an easy-to-use photo editor perfect for those with limited experience editing photos. In addition to its photo editing capabilities, BeFunky has a collage maker and a designer toolset for graphic designers. The tools are available in the free version, there are premium features that require an upgrade to the paid version. BeFunky also provides options to save edited photos to your computer or Google Drive or export them to social media platforms like Facebook, Dropbox, Pinterest, and Twitter.
Adobe Express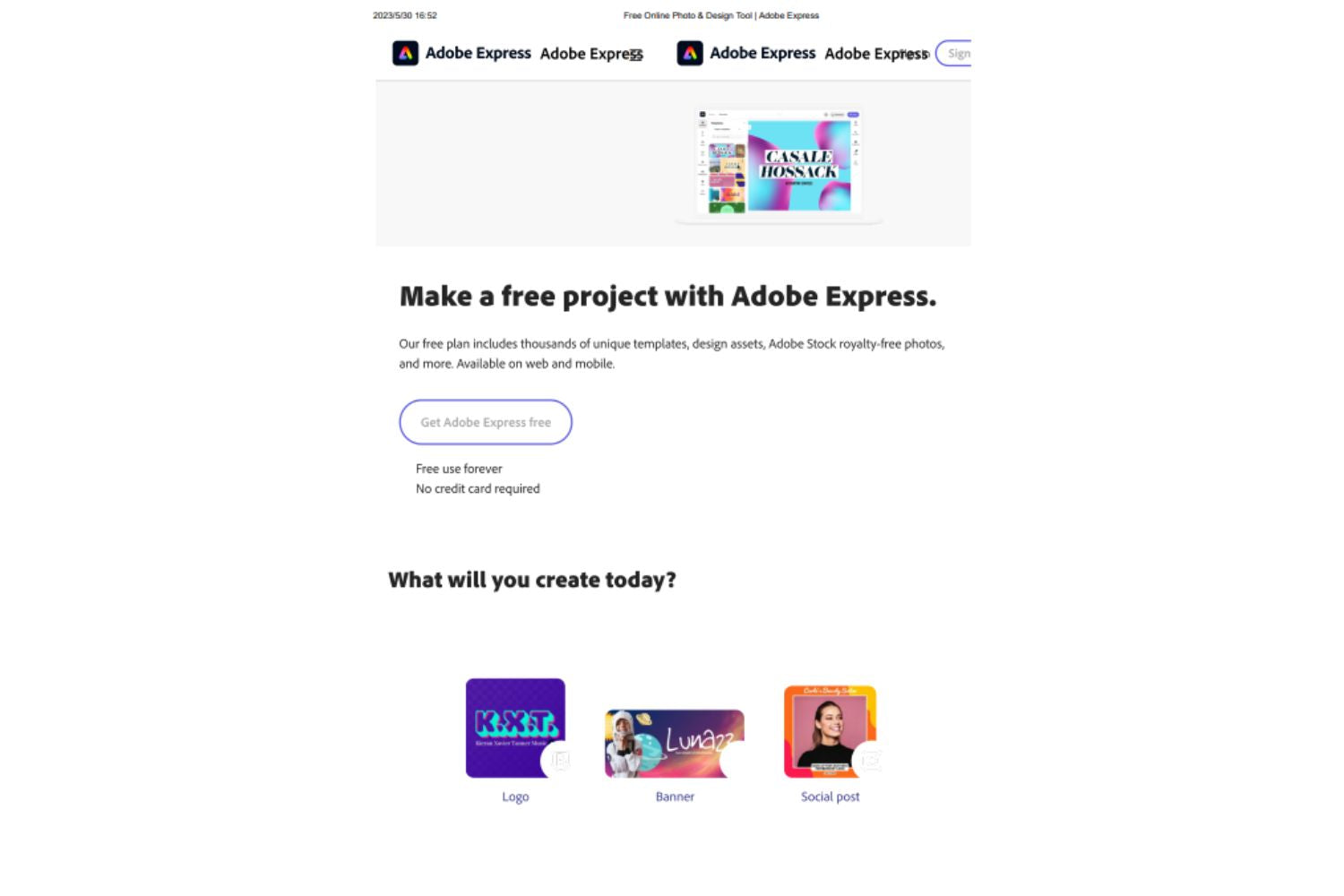 Adobe Express is a free online editor that excels in creating projects like posters, logos, album covers, and YouTube thumbnails. It offers a wide range of creative templates you can customize by editing text, style, and adding icons. You can download your work in PNG, JPG, or PDF format or share it directly from the editor. While Adobe Express provides a free plan, you can upgrade to premium plans for access to all premium templates, designs, and 100GB of storage.
Conclusion
Lunapic is a powerful image editing tool that offers users a wide range of features to create stunning visuals. However, if you're looking for alternatives, several other options are available that cater to different needs and preferences. Regardless of which tool you choose, the ability to enhance and manipulate images has never been easier, and with these options at your fingertips, the possibilities for creativity are endless.
If you like this article, please share it! Be sure to join our FB Group: https://www.facebook.com/groups/Katebackdrops/ to share your ideas! You can also receive free articles, updates as well as discounts information from https://www.katebackdrop.com/ and our FB Group.