Knowing how to take creative self-portraits is a useful skill that can help you in other areas of photography. This genre is worth getting into because it can strengthen your imagination, help you learn new photography skills, and teach you how to feel more comfortable in your own skin.
A simple change in lighting, background, or facial expression can help you turn a simple self-portrait into an artistic one. If you're not sure where to start, follow these tips to create stunning self-portraits at home.
1. Start With a Captivating Story
It's important to have a good foundation before a photoshoot. This involves coming up with a captivating story and finding the appropriate props to tell that story.
© Taya Iv
What story do you want to tell through your work? You can draw inspiration from a childhood experience, a pleasant memory, or a scene from your favourite movie. Make a list of ideas and emotions that come to mind.
The point is for you to find emotions that you can relate to and express through your self-portraits. As long as you shoot from the heart, you'll be able to take incredible photographs of yourself in the comfort of your home.
For example, you can use flowers to represent new beginnings or drops of water to represent sadness. Even though these are simple examples, they can help you tell a more interesting story and connect with viewers.
2. Shoot From Different Angles
When you find an angle or expression that works for you, it might be tempting to use it during your entire photoshoot. While it's good to know your favorite angles, it's important to experiment with different techniques and to leave your comfort zone. The more angles you shoot from, the more ideas you'll attract and the more interesting your photographs will look.
© Taya Iv
As you shoot, make sure to place your camera in different locations. To make this process easier, you can use a tripod and a remote. If you use these tools, you won't need to run back and forth and press your shutter every time.
Artistic self-portraits often have something unusual or intriguing in them. This is why it's important to try something completely different every time you pick up your camera.
Shoot from very high angles or take photographs through objects (like your hair or your fingers). Some of my favorite photographs were a result of random experiments. Use other people's artistic photographs as a reference, but make sure to tell your own unique story at the same time.
3. Don't Focus On Your Face All the Time
Don't make it a priority to keep your face centered and in focus in every single image. As you shoot from different angles, try to photograph your face in different ways. Remember: in artistic self-portraiture, you can break the rules whenever you like!
© Taya Iv
Your face doesn't need to fill the frame all the time. You can hide behind an object that you have at home, like a book or a plant. You can cover part of your face with a bouquet of flowers. If you don't want to photograph your face at all, stand with your back to the camera. Wear wigs and costumes to transform yourself.
4. Use Professional Abstract Backdrops
When you take photos in an indoor space, you have to be mindful of backgrounds. A cluttered background can take the attention away from you and make your photographs look unflattering. You can avoid this by investing in professional backdrops.
Kate Fine Art Green tones Abstract Texture Backdrop designed by Veronika Gant
The right backdrop can create a dreamy atmosphere in your work and give your self-portraits an artistic feel. I recommend choosing any backdrop from Kate Backdrop's stunning abstract collection. The muted colors and soft textures of these abstract backdrops will make it easy for you to take outstanding photographs of yourself in limited spaces.
5. Express Your Emotions Freely
Self-portraiture is all about self-expression. To take photographs that tell a story, you need to get comfortable in front of the camera first. The more comfortable you feel as a self-portrait artist, the easier it will be for you to express a variety of emotions.
Start by letting loose and experimenting with all kinds of facial expressions. It will feel awkward at first, but it will help you get over the so-called "camera stage fright."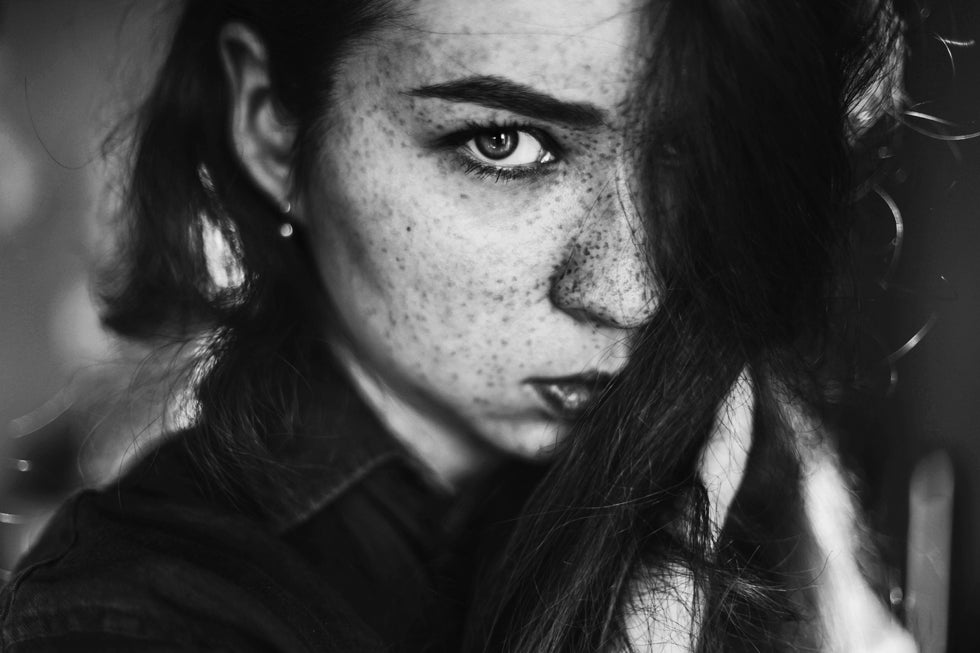 © Taya Iv
You don't need to share these photographs anywhere. The key is for you to be comfortable with not looking perfect in every shot. Nobody looks good in every single photograph that they take! I've been doing this for many years and I still feel a little awkward at the beginning of every photoshoot. Fortunately, the stage fright usually goes away within minutes.
Another thing you can do is visualize your best artistic self during your shoot to give yourself a confidence boost. Alternatively, you can think of a pleasant memory. These exercises, though small, will help you take authentic self-portraits.
Avoid looking at the camera in every shot. As I mentioned earlier, it's important to experiment with different expressions, angles, and stories. Your eyes are no exception. Look away from the camera, focus on something in the distance, look down at your hands, etc. This will give you a diverse collection of photographs to choose from at the end of your shoot.
6. Use Textures in Post to Enhance Your Self-Portraits
The editing process can be very helpful in artistic self-portrait photography. A few simple changes can enhance the atmosphere in your photographs and make them look more interesting.Start by taking a few photographs of textures, scratches, or light leaks. If you need something a little different, use free stock photo websites. Work with a variety of photographs to ensure that you have a successful editing session.
© Taya Iv 
In Photoshop, open your self-portrait. Drag the texture to the self-portrait file. Change the texture's layer mode to Screen. The texture should look transparent. Then, use the transform tool to change the size and rotation of the texture. It usually takes me a while to experiment with this. Again, there are no rules here, so feel free to have fun and try something completely new.
You can follow the same steps with photographs of scratches, light leaks, or other objects. You can create double exposure photographs using multiple pictures.
I always learn something new when I edit artistic self-portraits. Think of this as a learning process that can lead to exciting discoveries!
Conclusion
When you take artistic self-portraits, you learn how to feel more confident, how to improve your photography skills, and how to make the most of the world around you.
During your photoshoots, make sure to be mindful of your backgrounds, experiment with different angles, and use different props to tell a story. To make your photographs look even more outstanding, use abstract backdrops.
If you're bored at home and want to try something new, artistic self-portrait photography is the perfect place to start. Pick up your camera today and take your creativity to the next level!
If you like this article, please share it! Be sure to join our FB Group: https://www.facebook.com/groups/Katebackdrops/. to share your ideas! You can also receive free articles, updates as well as discounts information from https://www.katebackdrop.com/ and our FB Group.