Camera insurance helps you to focus more on your skills and craft, thus maximizing your outcome. You may counter unexpected difficulties, lawsuits, gadget damage, or injuries. This is where camera insurance comes in to ensure you are prepared if it happens. We will discuss the top camera insurance available and compare them to help you find one that suits you.
7 Best Camera Insurance in 2023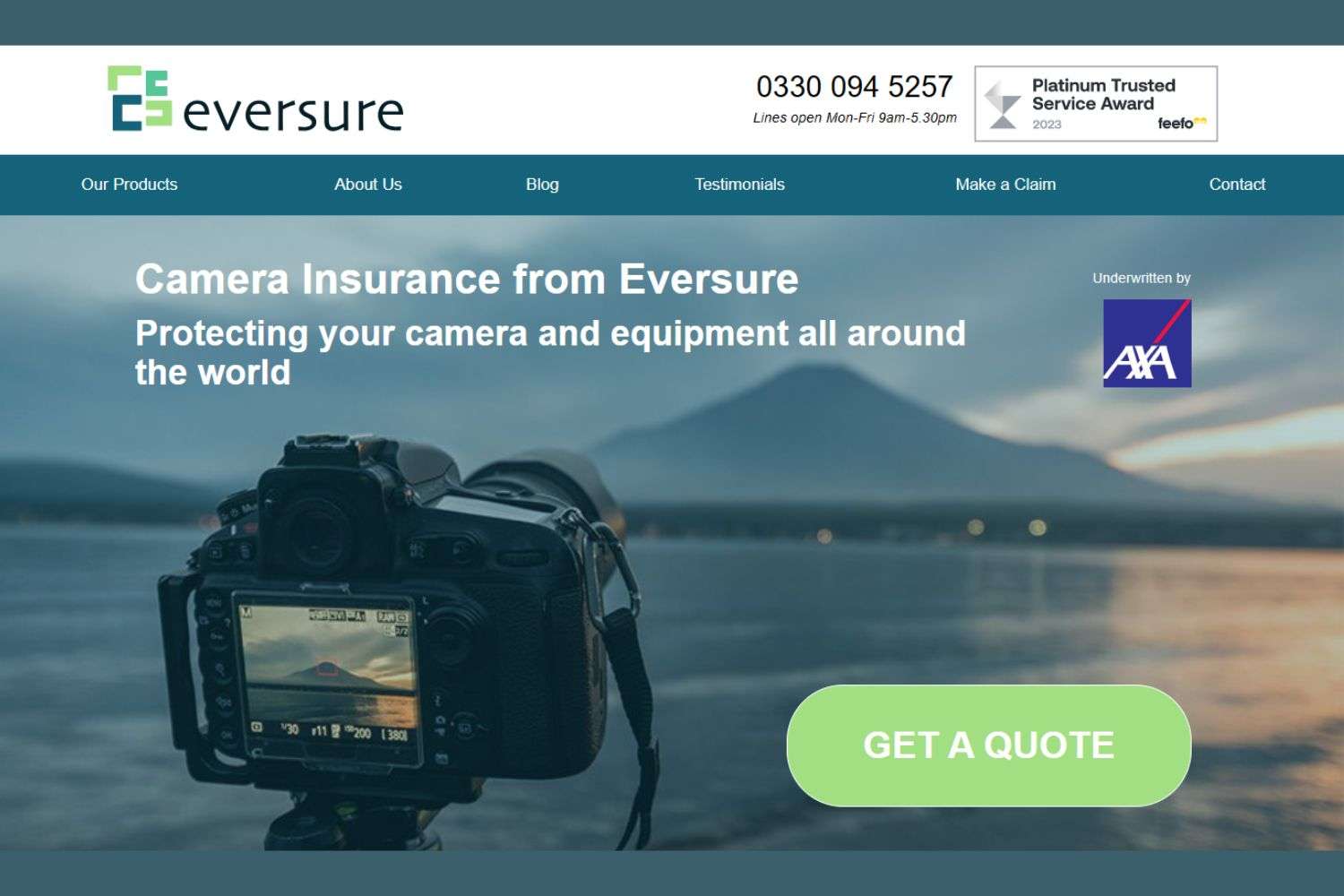 Image credit: eversure.com
Eversure is a worldwide professional camera insurance company established in 2008 to ensure flexibility and safety. It covers you against theft and accidental damage, legal expenses and loss of camera through car theft. Moreover, you can also insure your portfolio, hired gadgets and even yourself from client complaints over results. They also cover equipment like tablets, phones, studio gadgets and drones. With as low as 19.99 pounds, you can access their premium option.
Pros 
Great customer service
Quick set up
Cons
Best for 
Professionals and amateurs.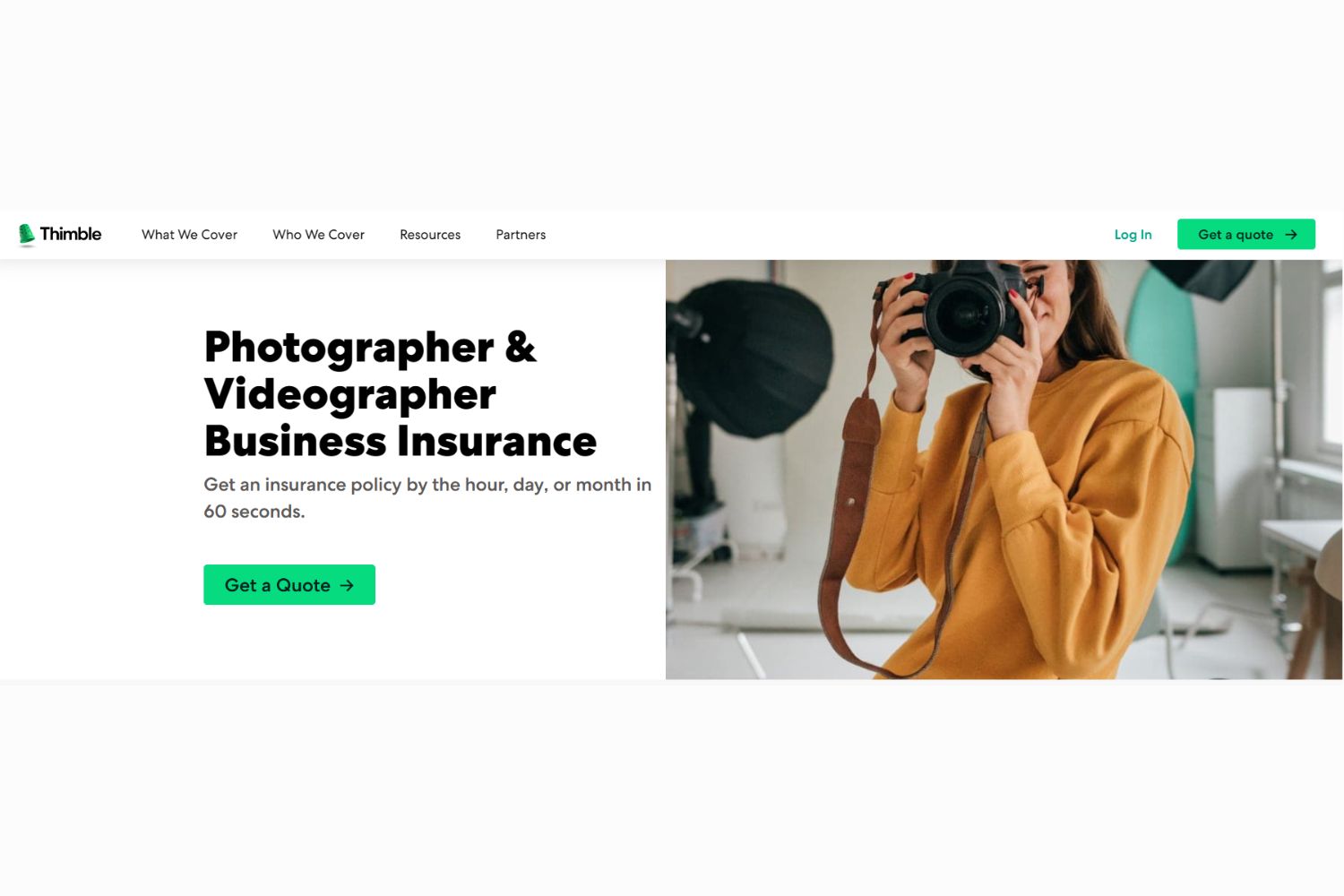 Image credit: thimble.com
Thimble was started in 2016 though it has long-established third-party insurers who guarantee their business insurance policies. Commercial auto policy, professional, worker's compensation, and general liability insurance are all available through Thimble. They also have on-demand insurance covering medical expenses, errors and omissions, medical bodily injury, and third-party property damage. The general liability goes for 480 dollars annually with a 1 million limit and a 500 discount on 25000 dollars to cover equipment and property.
Pros
Cost-effective policies
Altered Liability limits 
Offers coverage for a day
Cons
Lack of an internal claims team
Issues with making policy changes
Not available on weekends
Best for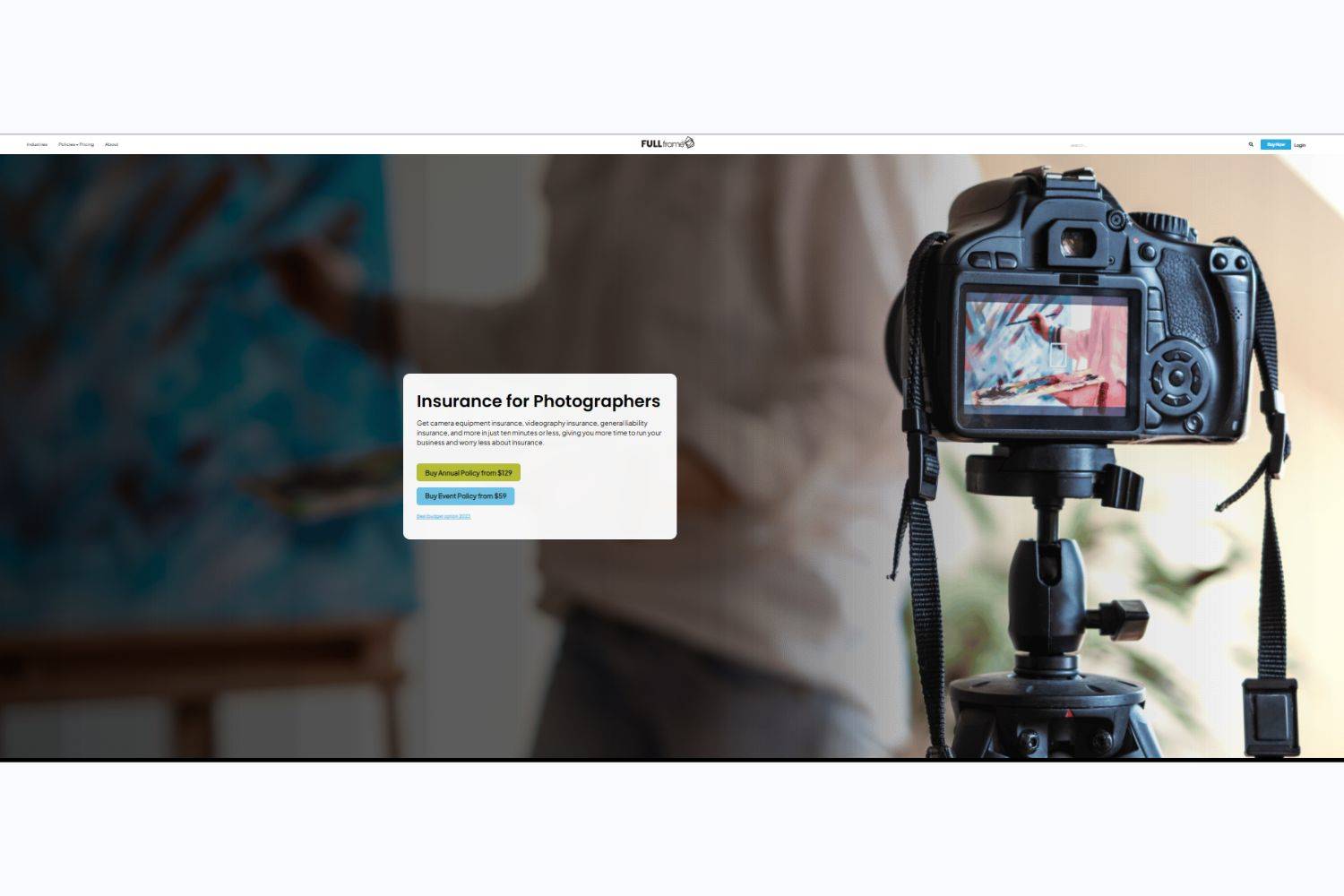 Image credit: fullframe.com
This camera insurance is great for videographers and photographers. It is managed and underwritten by Insurance Canopy and Partner Veracity Insurance Solutions LLC. Their camera equipment insurance is covered under inland marine, while the errors and omissions are under professional liability. With Full Frame, you can also include a second industry in your certificate of liability insurance for photography. Their annual policy goes for 129 dollars; the event policy is 59 dollars with a 2 million coverage limit.
Pros
Offers online services
Budget-friendly
24-hour availability of policy documents
Allows insurance customization based on specific requirements
Cons
Lacks workers' compensation or liability insurance
Limited availability to only 44 states
Best for
One-day events and photography hobbyists.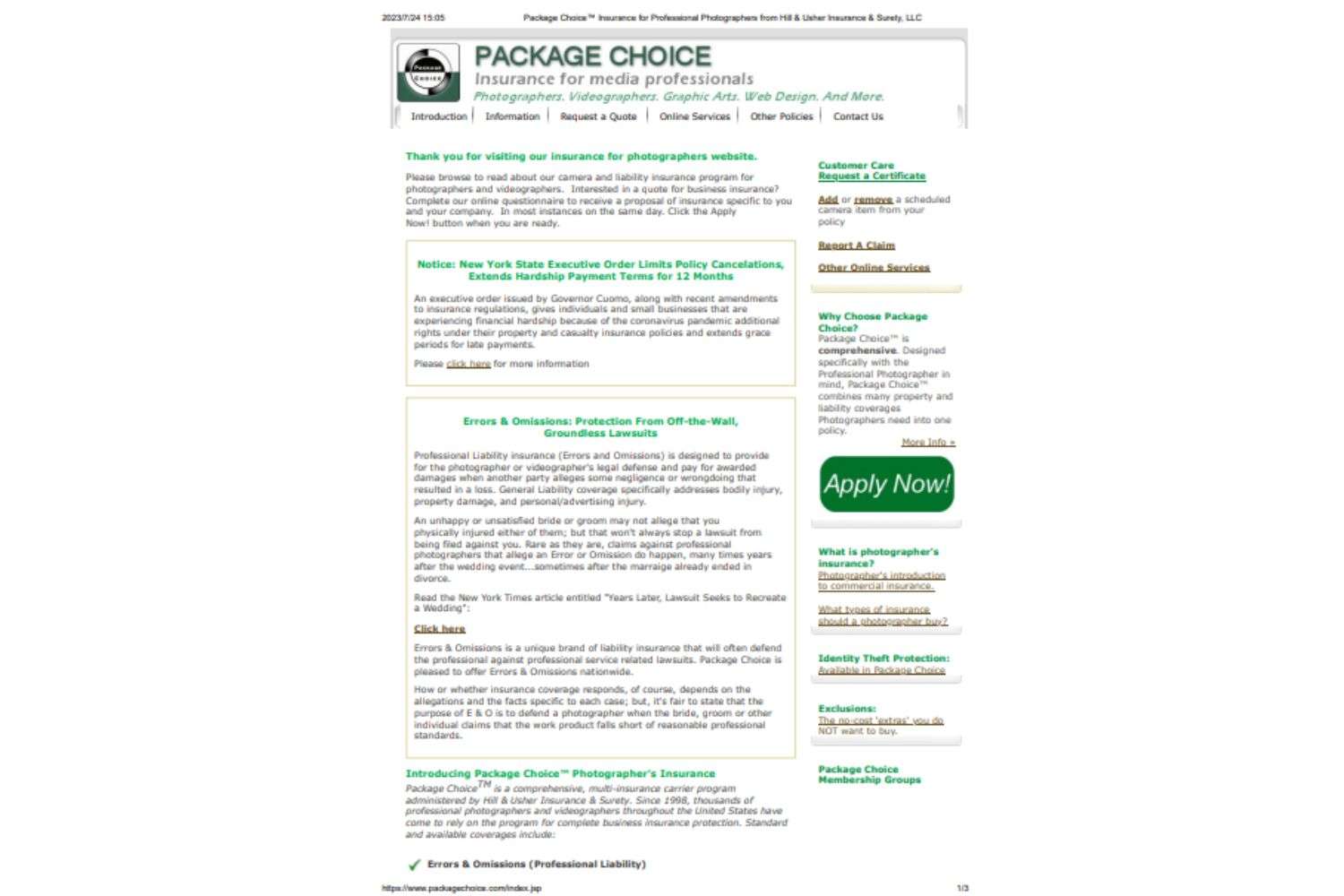 Image credit: hill&usher.com
It started in 1995 to insure businesses across the USA and guarantees photographers under the package choice program. The error and omissions (Professional liability) cover entails groundless lawsuits and protection of the wall in case there are allegations from a client leading to a loss. Hill & Usher also has general liability in case of property damage and bodily injury. There are also covers for gadgets, studio equipment, extra expenses, computers, phones, landlords, and venues. The prices range from 400 to 500 dollars based on the state and insurance carrier with a 1 million limit or more.
Pros
Great for photographers who require extensive coverage
An online-accessible quotation building is available.
Works together with consumers to establish coverage and policies.
Cons
Best for
Photographers with studios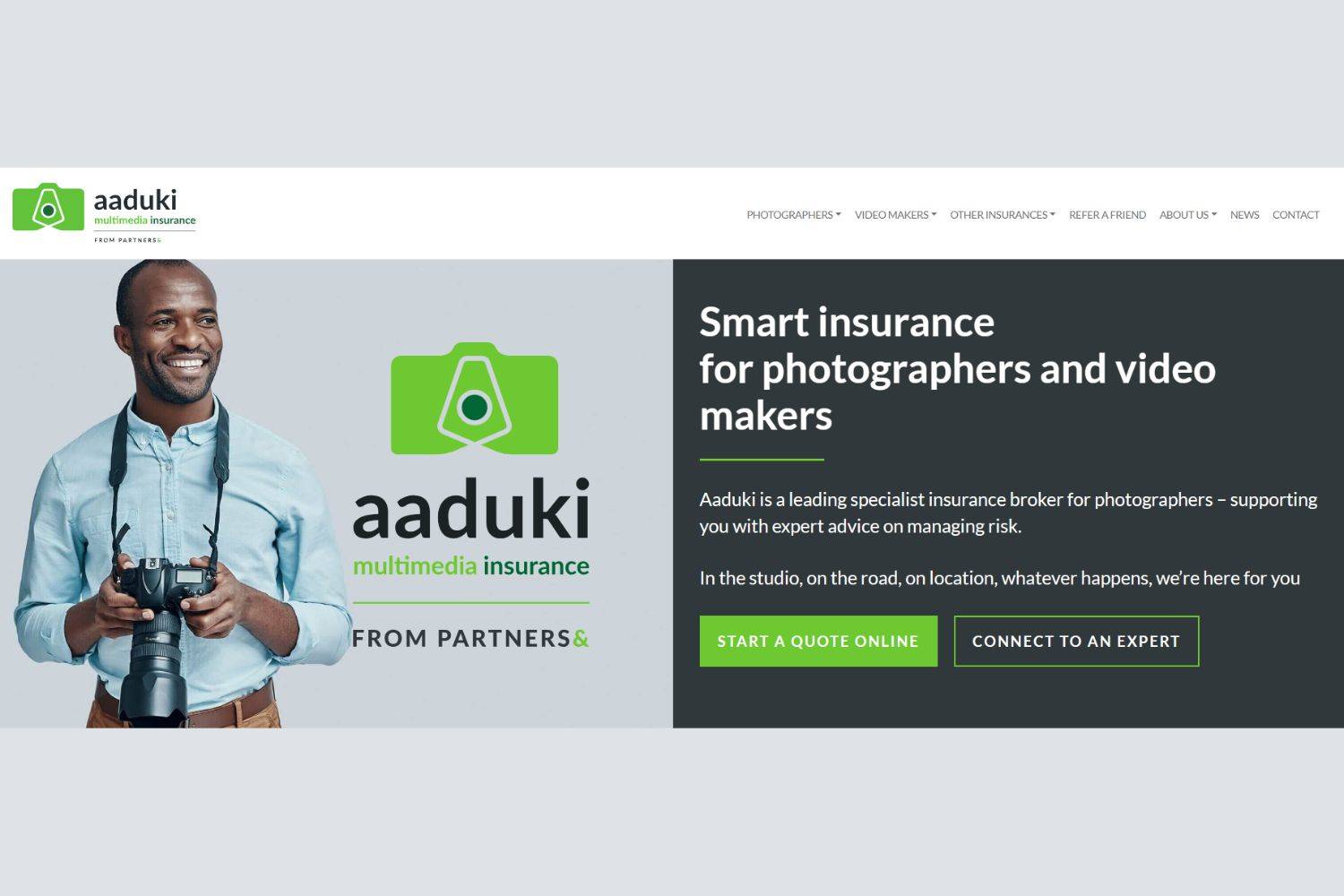 Image credit: aaduki.com
This camera insurance company was launched in 20005 to offer expert advice on risk management to photographers. It provides worldwide coverage on total theft, including unattended theft and even in-vehicle cover. Moreover, you can also cover hired equipment in case of damage. Aaduki provides interest-free monthly installments to split your payments over 12 months without paying more. Their premium option for experts and novice photographers starts at 65 pounds.
Pros
It offers professional advice
Easily customizable policies
Discount for those in the photography trade body
Cons
No short-term insurance. Only has annual insurance.
Best for
Expert insurance coverage for photographers and videographers.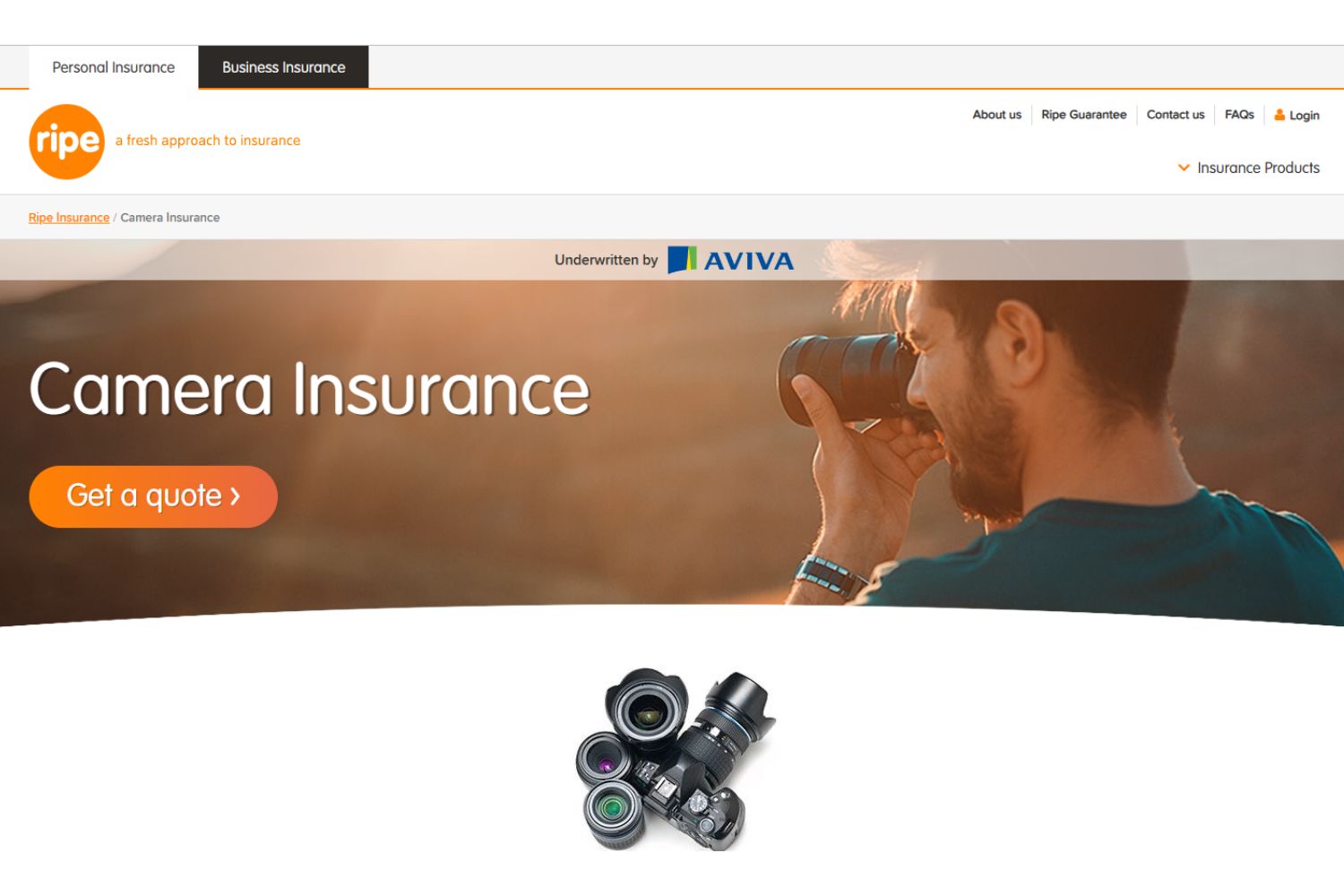 Image credit: ripeinsurance.co.uk
Ripe started in 1998 and has grown, thanks to their dedicated support team in Manchester. It covers your camera and equipment against accidental damage and theft worldwide. This insurance company also covers in-vehicle, hired equipment, public and employer's liability insurance, and professional indemnity in case of damage or loss. Some gadgets Ripe covers are lenses, portable lighting equipment, tripods, stands, lenses, printers, and computers. Their policies start at 5.09 pounds monthly though they have a 20 % discount ongoing.
Pros
Easy personalization and set-up
Excellent customer care
Double-checking the kit bag on a particular page
Cons
Some people have issues when it comes to making claims
Best for
Customized policies and camera equipment
Image credit: hartford.com
It is an insurance company that has been in business since 1810; thus, it offers a lot of expertise thanks to its experience. They have a general liability cover and a Business Owners Policy(BOP) for small photography businesses. The business's property insurance covers rented or owned businesses and equipment like flashes and cameras. Other covers include workers' compensation, lawsuits, and employee liability, and it even covers your photography team.
Pros
Multiple coverage options
Online quotes are available
reputable insurance company with financial stability
Cons
Delay in handling claims
Pricey
Best for
Covering your employees 
Top 3 Recommendations
The best comprehensive one – The Hartford
Offers camera equipment insurance
Ensures property owned or rented 
Insures your employees and employers
The best budget one – Full frame
It has event coverage 
The annual prices are affordable
The ultimate coverage offers a lot for less cost
The largest audience - Evesure
Great for both novice and professional videographers and photographers
Easy to set up, thus making it suitable for everybody.
Conclusion
The best camera insurance can be acquired quickly, makes it simple to provide a certificate of insurance, and offers you access to your papers when needed. Therefore, whether you are a pro or an amateur, hobbyist, traveler photographer, own a photography team, or more, there is something for you. Enjoy stress-free photography by choosing the camera insurance that best suits you and your needs.
If you like this article, please share it! Be sure to join our FB Group: https://www.facebook.com/groups/Katebackdrops/ to share your ideas! You can also receive free articles, updates as well as discounts information from https://www.katebackdrop.com/ and our FB Group.