Want a special cake smash session? Many of us are looking for inspirations and new ideas, especially after several times of traditional Must-have shots, like cake smash.
Cake smashes are so popular, and what we can do to achieve something more special? Here are 9 creative tips for improving your cake smash photography, turning the birthday sessions into a unique, fun, and memorable way.
Pick a Theme for Your Cake Smash
Theme is one of the most important aspects of your birthday photos! If you want to make your cake smash stand out, compared with others' photos. You need to give priority to the theme of your works
Take Traditional Must-have Shots. Ask your clients if there are any moments that are special or must-have. Photos of blowing candles or openings gifts are all must-have moments. After all, clients' requirements are always the priority.
Party Can Be The Best Background! The surroundings sometimes make for a great theme, offering stunning backgrounds. For instance, just let the cake smash happen during the birthday party, and you will find all things natural and surprising! Cakes, balloons, arriving guests can all enrich your photos!
Choose The Most Popular Ones! Some of the most popular themes for girls include Unicorn, Mermaid, Princess, or Disney characters, for boys include space, cars, as well as famous superheroes. Just pick something you want best!
Here, we recommend some of the best color coordinations that work best for cake smash:
Pink/Yellow/Blue/White
Gold/Red/Black
Navy/Turquoise/Blue
Purple/Orange/Turquoise
Black/Gold
Black/Pink/Gold
Outfits Recommendations
Choose outfits that can be easily stained. To fully enjoyed cake smash, clients may totally destroy the cake(s), or even surroundings, getting all messy. That means color mixing, laugh, and excitement! And for this reason, order those outfits that beautiful but inexpensive.
Choose colors according to the colors of the cake. Check the color wheel. You can choose the colors to match or complement the colors of the cake. For example, complementary colors are directly opposite each other on the color wheel: red-green, orange - blue, purple - yellow. These complementary colors work well together since they are highly contrasting. And this will add a great dramatic effect to your works
Use some props: headbands, necklaces, ruffles, cute shoes...for interesting detail in your photos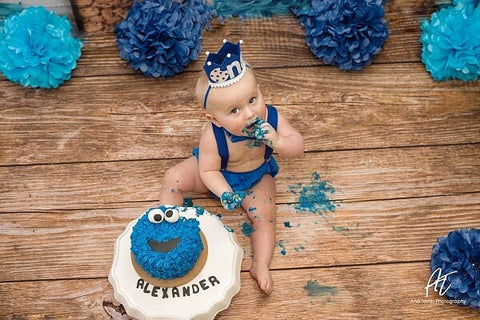 Take Candid Shots for Unexpected Surprise
To someone who has tried lots of sets or styles, searching for a unique inspiration may seem weird, to say the least. So why won't you just build a birthday set, dress up your subject…and then take candid shots?
Be ready to snap photos as these moments are definitely fleeting, and you would never know what unexpected surprise will come. Create a natural, relax environment for your clients, especially for kids. Just use the camera as your eyes, and capture the great moments when you're holding hands.
 For additional information, take a look at the article on "The Exposure Triangle" from folks at Pixpa. It offers some good information for photographers looking to take their camera out of the Auto mode
Choose a Birthday Themed Backdrop
Thinking about a special set for the birthday session? Check out our 2023 Birthday & Cake Smash Collections for more inspirations! We recommend 7x5 ft, a great size for single birthday photo, especially cake smash. Most of the balloon sets will work well for you in size 7x5. *most, and you 'd better at the ends of the rainbow
If you like this article, please share it! Be sure to join our FB Group: https://www.facebook.com/groups/Katebackdrops/. to share your ideas! You can also receive free articles, updates as well as discounts information from https://www.katebackdrop.com/ and our FB Group.