SD cards are removable media that use Flash technology to store data even when the power is off. SD cards are the most popular type of memory card.
But which SD card is best for you? What do an SD card's various letters, numbers, and symbols mean? Below, we've covered common symbols, abbreviations, and numbers on SD memory cards. Also, after observing that the best SD card depends on the photographer's needs, we have created a guide to assist you in finding the best SD cards.
Know Your SD Card in One Image
Memory card shopping can be confusing. This section discusses what the letters symbolize to help you distinguish the best SD cards.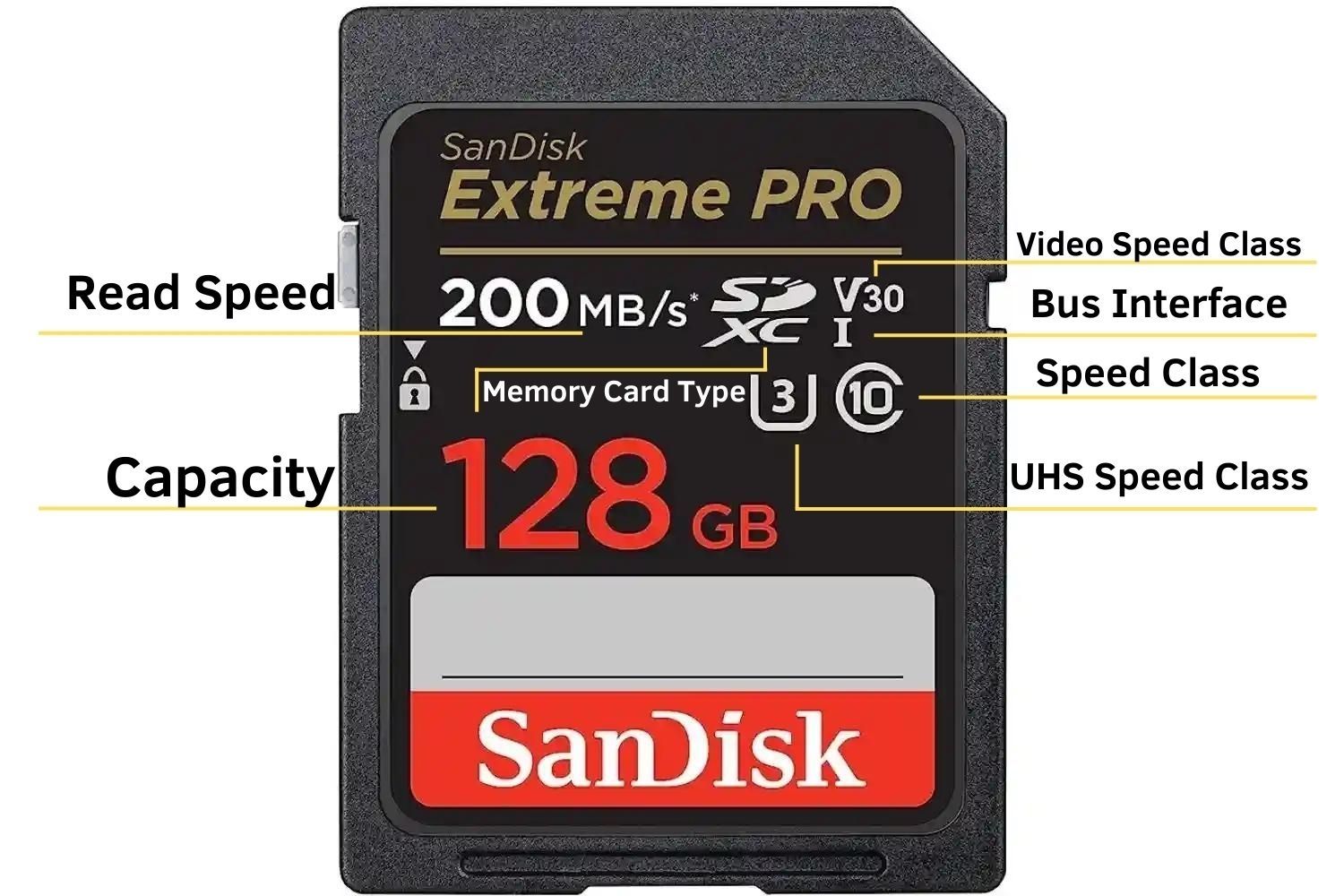 Storage Capacity
The storage capacity of an SD card is the number of gigabytes it can hold. The most popular sizes are 16GB, 32GB, 64GB, and choice depend on the type of photography and camera.
File Type
The most popular SD types are SD, SDHC, and SDXC. SDHC cards offer up to 32GB of storage, while SDXC cards offer a up to 2TB.
SDHC cards are ideal for regular and budding photographers. SDXC cards are ideal for photographers and videographers who shoot at high megapixel counts and in 4K. Secure Digital(SD) cards are no longer being produced.
Read Speeds and Write Speeds
The read speed of an SD card is the rate at which it can transfer data to the device after being inserted. The write speed is the rate at which the card ingests data when taking pictures or recording video. There are four categories in the speed class, with the minimum sustained write speed increasing as the number rises. The video speed class is more important for videos, as it is the main determinant of a card's write speed performance.
Factors to Consider When Choosing an SD Card?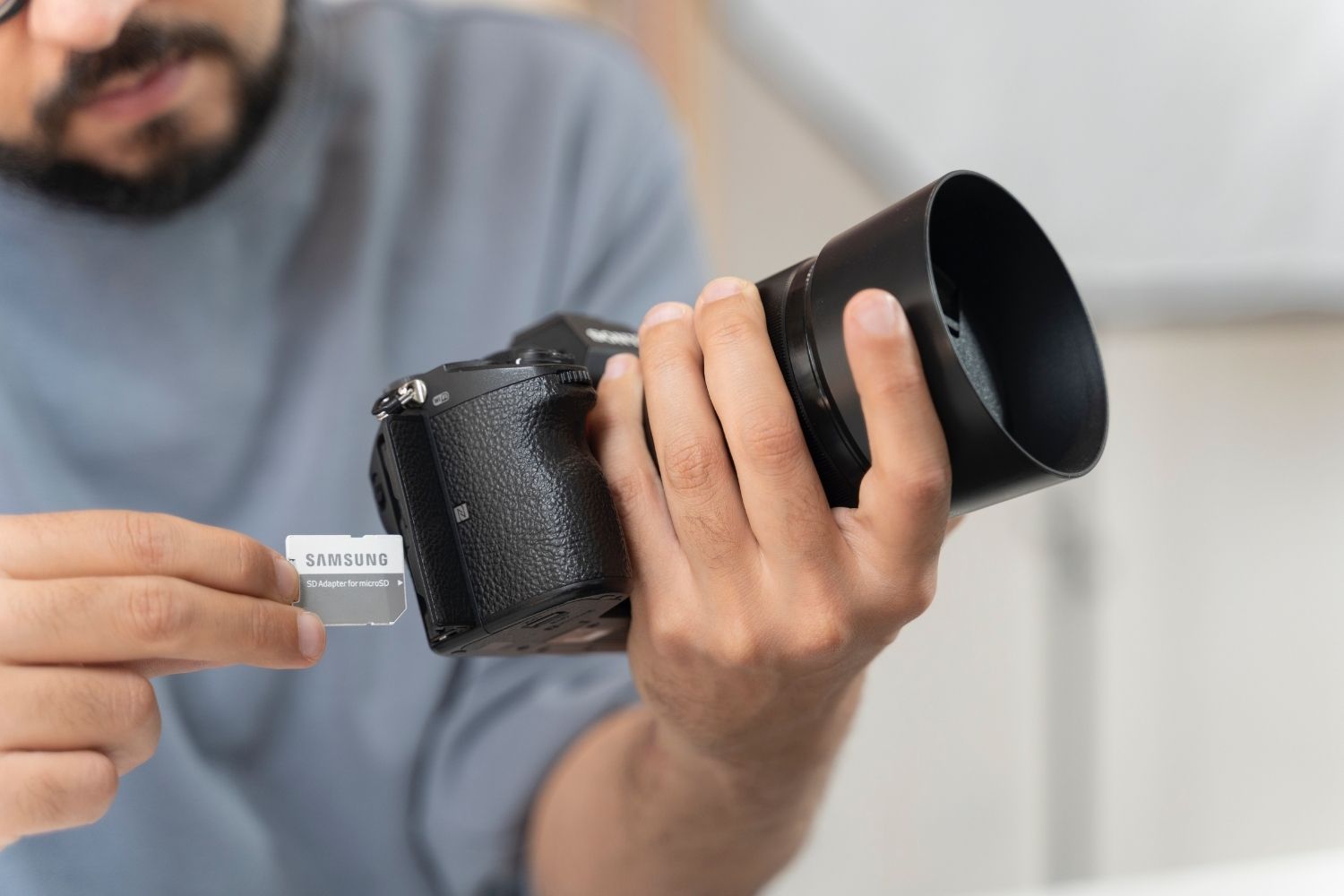 Photo by TheRegisti on unsplash
Before purchasing an SD card for your camera, there are a few things you should check off your checklist to ensure you are choosing the best. They include the following.
1. Card Type
Memory cards come in three main formats: SD, SDHC, and SDXC. Remember to account for the compatibility issue when selecting the type of card. Review your camera's specifications or the user manual to find out what SD card the camera supports. Also, decide on the memory card's brand and capacity.
Extended capacity SDXC cards offer up to 2TB of storage space and faster transfer rates than SDHC, which has a capacity of 64GB. The SD card format is no longer manufactured.
2. SD Card Size or Capacity
Review the user handbook carefully to determine what memory capacity your camera can accept. There is a maximum memory size for every camera. If you use a card over this threshold, it might not function. You can choose the maximum SD card size after knowing this limiting number.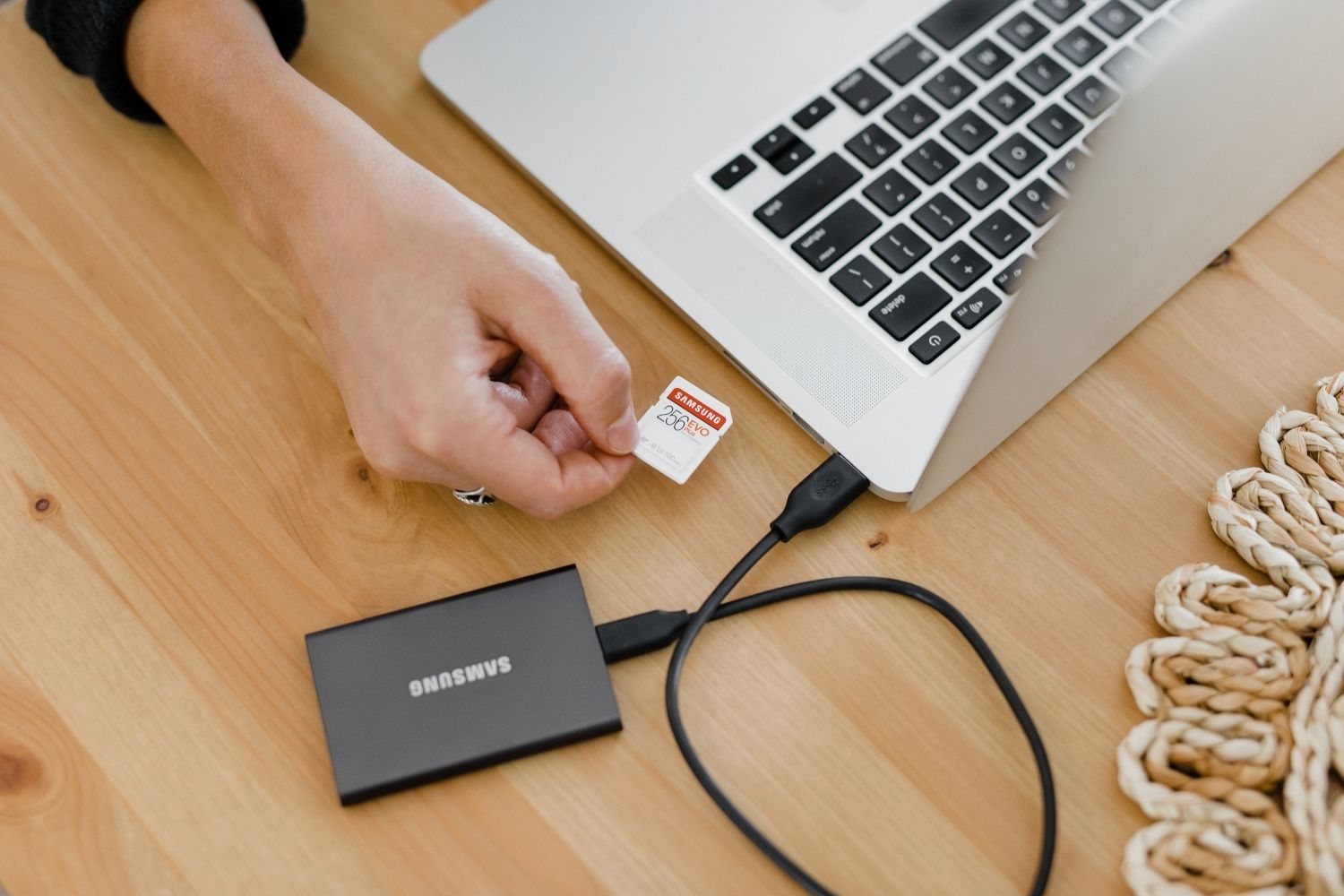 Photo by Samsung Memory on unsplash
3. Maximum Data Transfer Speed
Every memory card has a read speed and a write speed. A photographer should be keener on write speed than read speed. The write speed controls how quickly the camera can transfer a picture to a memory card.
However, don't go for the fastest model. Buying such a card if your camera's writing speed is substantially slower will waste money.
Data transfer speed becomes more crucial if you shoot on Burst mode on the camera or the video recording function. A memory error warning will appear during video recording if the camera's write speed is insufficient.
4. Memory Card Class Rating
The class rating of your memory card is crucial if you are using your camera to record videos. Some of the most often used classes of memory cards include classes 2, 4, 6, and 10.
If you use a digital camera, we advise using memory cards rated higher than Class 6. A class 10 card or higher is ideal for capturing 1080p videos.
There are more premium variations, such as UHS Class I (abbreviated as U1) and UHS Class 3. (U3). These work well for recording videos as well. Choose U3 Class memory cards if your camera records 4K videos.
Best SD Card to Buy in 2023
Memory cards are undoubtedly essential photography storage accessories. We advise starting with at least two or three memory cards to avoid running out of storage at a crucial moment.
Below are a few of the best SD cards to consider in 2023.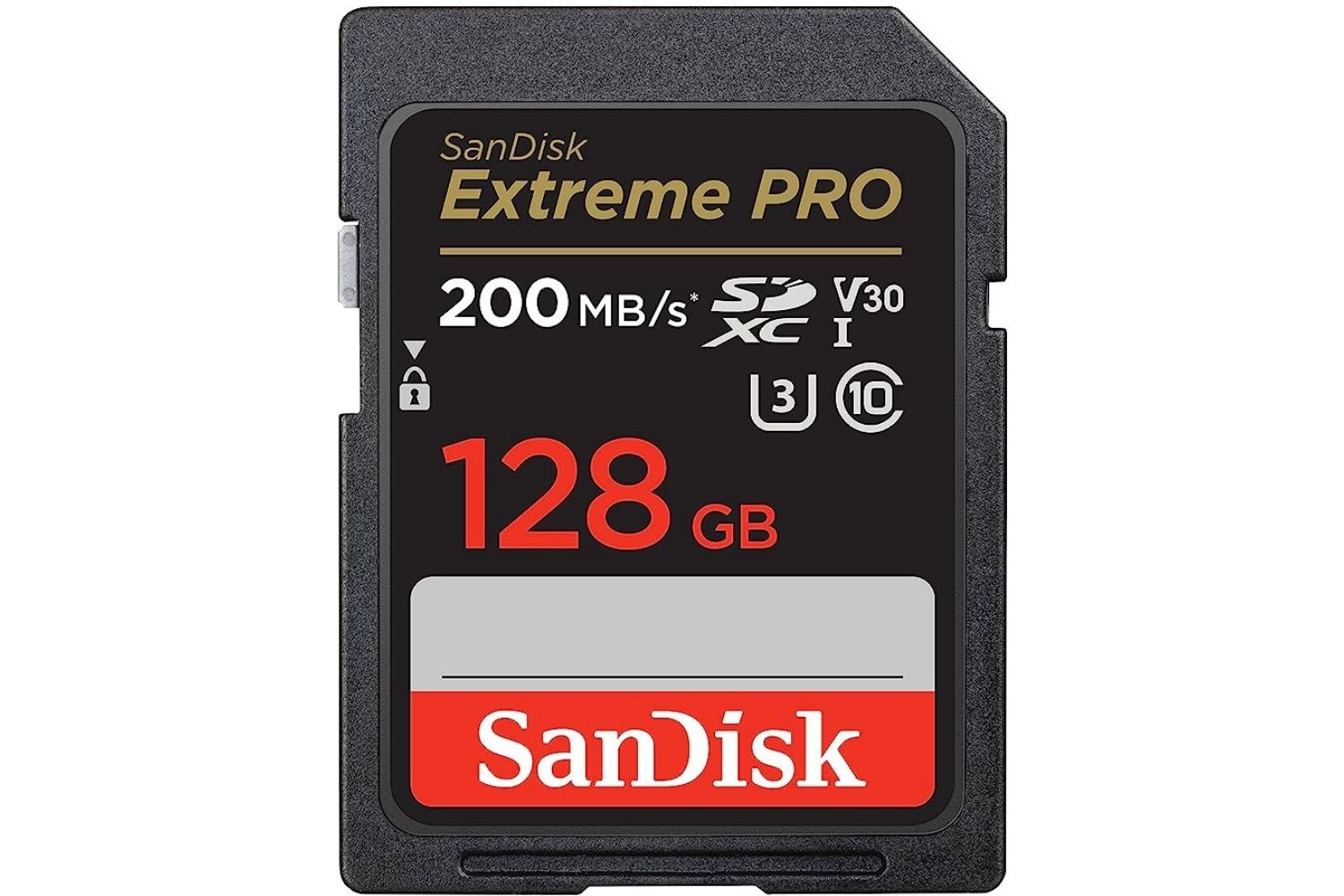 Image credit: amazon.com
Sometimes you need speed. The SanDisk Extreme PRO SD UHS-I card offers the speed to record excellent, unbroken 4K UHD videos. This card, rated UHS Speed Class 3 (U3) and Video Speed Class 30 (V30), lets you take uninterrupted burst mode shots. It is temperature-proof, waterproof, shock-proof, and X-ray-proof.
Specifications
Card type:  SDXC
Capacity:128GB
Read Speed: 200 MB/s
Write Speed: 90 MB/s
Warranty: Lifetime limited warranty
Best for:4K UHD video and sequential burst mode photography
Pros
It offers lightning-fast data speeds.
It's speedy, dependable, and offers excellent value for money.
It includes downloadable recovery software.
It is resistant to extreme temperatures, water, stress, and X-rays.
Cons
It is slower than UHS-II.    
There are faster cards at this level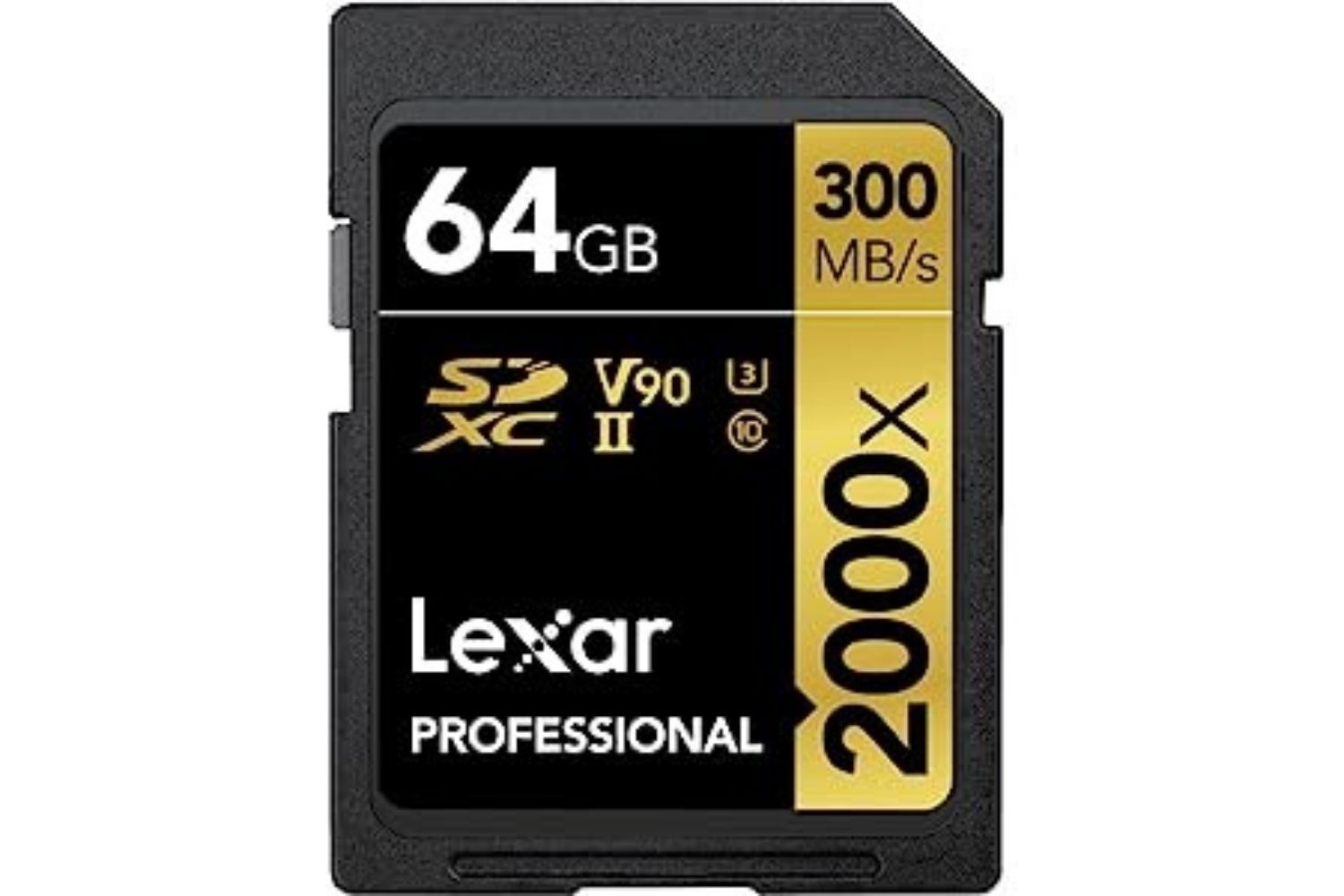 Image credit: amazon.com
You can easily take and transfer high-quality pictures and videos with Lexar Professional 2000x SDHC/SDXC UHS-II cards thanks to their read speed of up to 300MB/s. Its high-speed performance and UHS-II support allow you to breeze through post-production with lightning-fast file transfers from card to computer.
Specifications
Card type:SDXC
Capacity:64 GB
Read Speed:300 MB/s
Write Speed: 260 MB/s
Warranty:Limited lifetime warranty
Best forProfessional photography and videography
Pros
Utilizes UHS-II technology (U3) for super-fast performance
The cards are also backward compatible with UHS-I devices for versatility.
Its 260MB/s write speed allows you to shoot in sequential burst mode effortlessly.
Cons
It is relatively pricier than its comparables.
Maximum transfer rates are only possible when used with an SD UHS-II reader.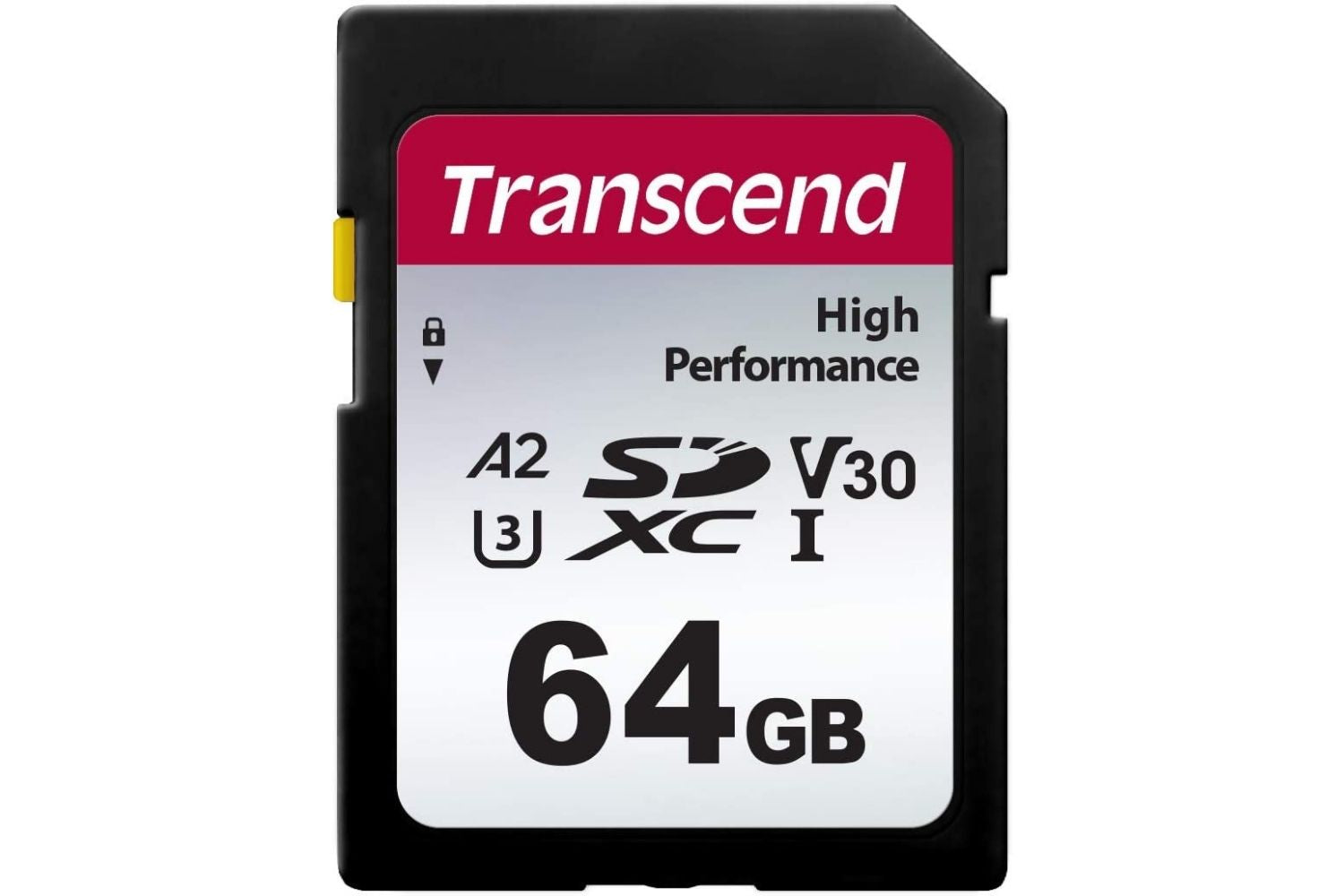 Image credit: amazon.com
Transcend's SDXC 330S memory cards are made with premium 3D NAND flash memory for maximum dependability. The cards provide excellent transfer rates and top-quality video recording without losing frames, making them perfect for advanced camcorders and DSLR cameras.
Specifications
Card type:SDXC
Capacity:64 GB
Read Speed: 100MB/s
Write Speed:65 MB/ s
Warranty:Five-year warranty
Best for:DSLR cameras and advanced camcorders
Pros
They comply with the most current A2 standards for excellent mobile performance.
They can withstand extreme temperatures and are X-ray, shock, and static-proof.
The cards comply with UHS Video Speed Class 30 (V30), enabling seamless, nonstop 4K video capture.
Cons
They have an average pricing
They are not entirely indestructible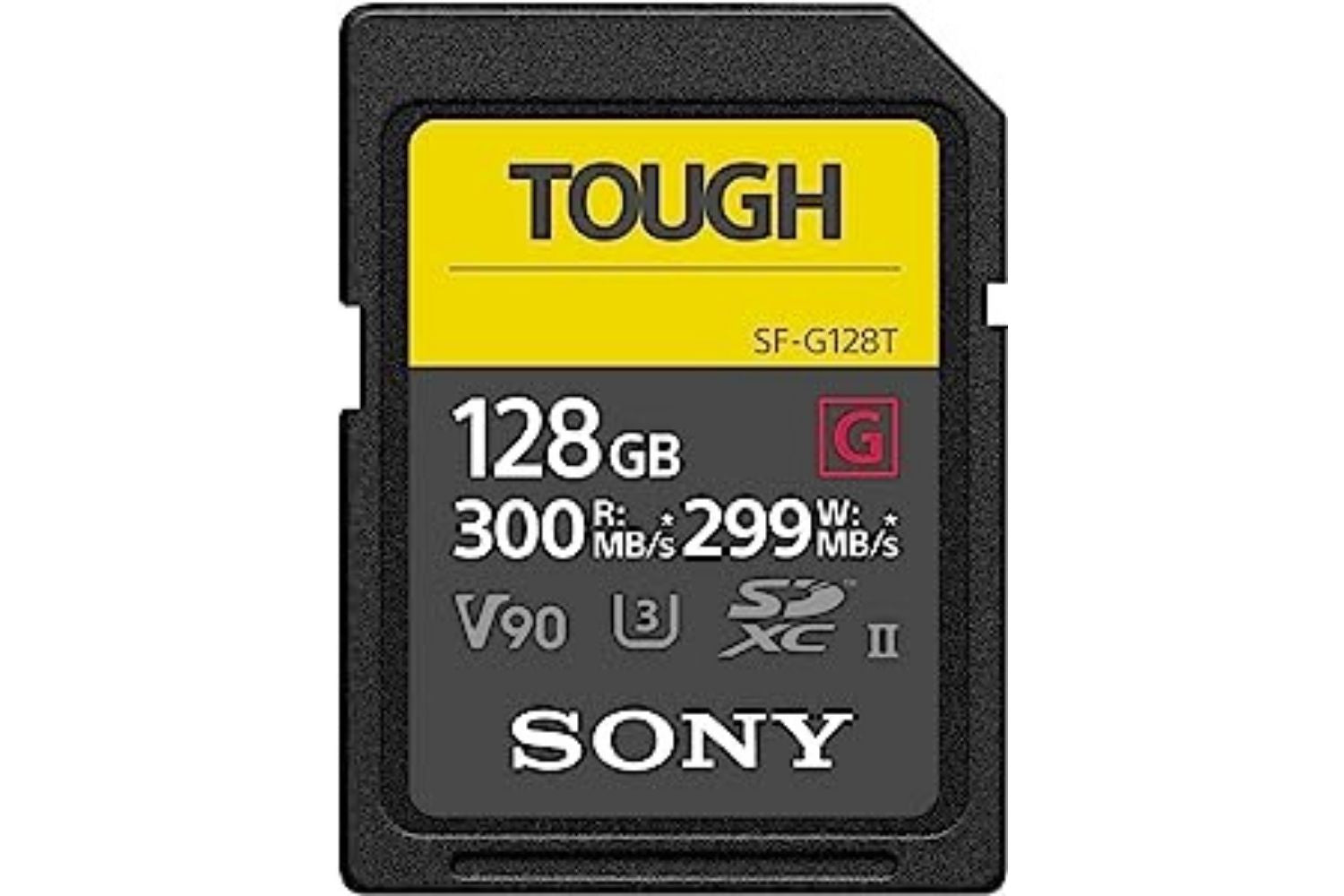 Image credit: amazon.com
Sony uses high-hardness materials and the world's first one-piece molded architecture to produce an SD card with quality that is 18 times greater than the SD standard. They have also adopted a ribless design to lessen harm to the casing.
Specifications
Card type:SDXC
Capacity:128GB
Read Speed: 300 MB/s
Write Speed: 299 MB/s
Best for: Photography and 4K Videos
Pros
It is backward compatible with UHS-I-compatible hardware.
Its distinct ribless design lessens casing damage and the likelihood of data loss.
It's a great SD card for professional use with high volume because of the quick transfer rate.
Cons
It is relatively pricey.
It is large. It fits very snugly in the camera or memory card reader.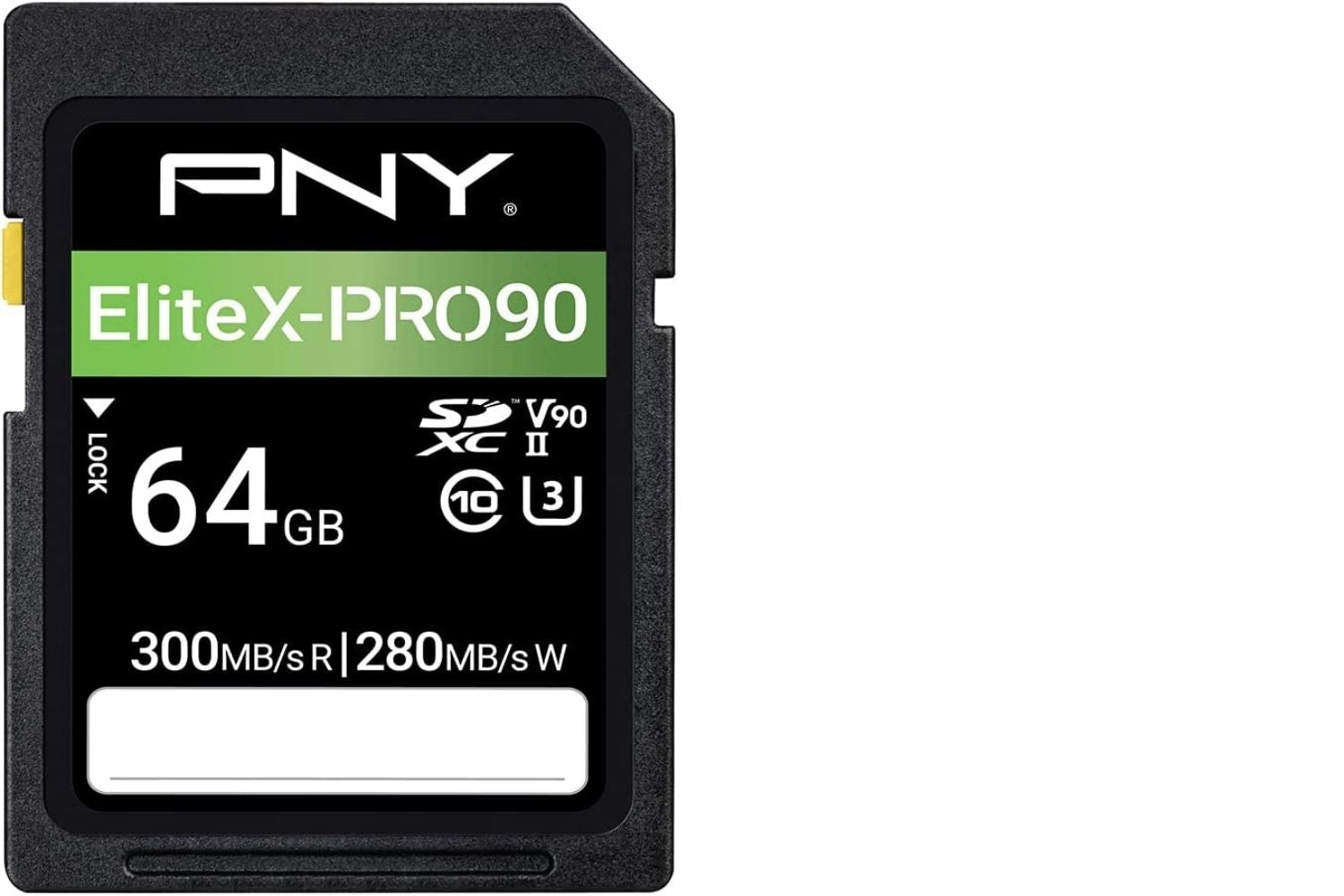 Image credit: amazon.com
These cards have Class 10, U3, and V90 ratings, ensuring lightning-fast transfer rates. Moreover, the PNY EliteX-PRO90 SD cards have V90 Video Speed, which enables long bursts of cinematic-grade video capture in 8K resolution, pushing the boundaries of the UHS-II bus interface.
Specifications
Card type:SDXC
Capacity:64GB to 256GB
Read Speed:300 MB/s
Write Speed:280 MB/s
Warranty: Lifetime limited warranty.
Best for:Shooting burst mode HD photos and long-form, high-definition videos in 8K, 4K, and Full HD
Pros
It is waterproof, temperature-proof, shock-proof, and magnet-proof.
It works with DSLR cameras, mirrorless cameras, professional video cameras, and advanced video cameras.
It is backward compatible with UHS-I devices at UHS-I rates.
It enables speedy read and write rates, leading to higher shooting speeds.
Cons
Compared to SDXC cards with comparable specifications, the PNY is a little expensive.
Some reviewers reported that after receiving an error warning on their camera, they completely lost all of their data.
Conclusion
Given the vast selection of memory cards available in the market, you should always use your camera's manufacturer as a guide when deciding on an SD card format. Ensure the card you choose best matches your demands, which may change based on the type of photography you take. You can set parameters for your budget, storage needs, and performance speed once you know your needs. This list will be helpful to you while you shop for the ideal sd card for your camera.
If you like this article, please share it! Be sure to join our FB Group: https://www.facebook.com/groups/Katebackdrops/ to share your ideas! You can also receive free articles, updates as well as discounts information from https://www.katebackdrop.com/ and our FB Group.