35 Creative Photoshoot Ideas You Can Try in 2023
Looking for the best creative photoshoot ideas to highlight your year of 2023. Here are 35 photoshoot ideas for different seasons, in different locations, and with different subjects.
Let's get started:
Four Seasons
1. Spring Photoshoot Ideas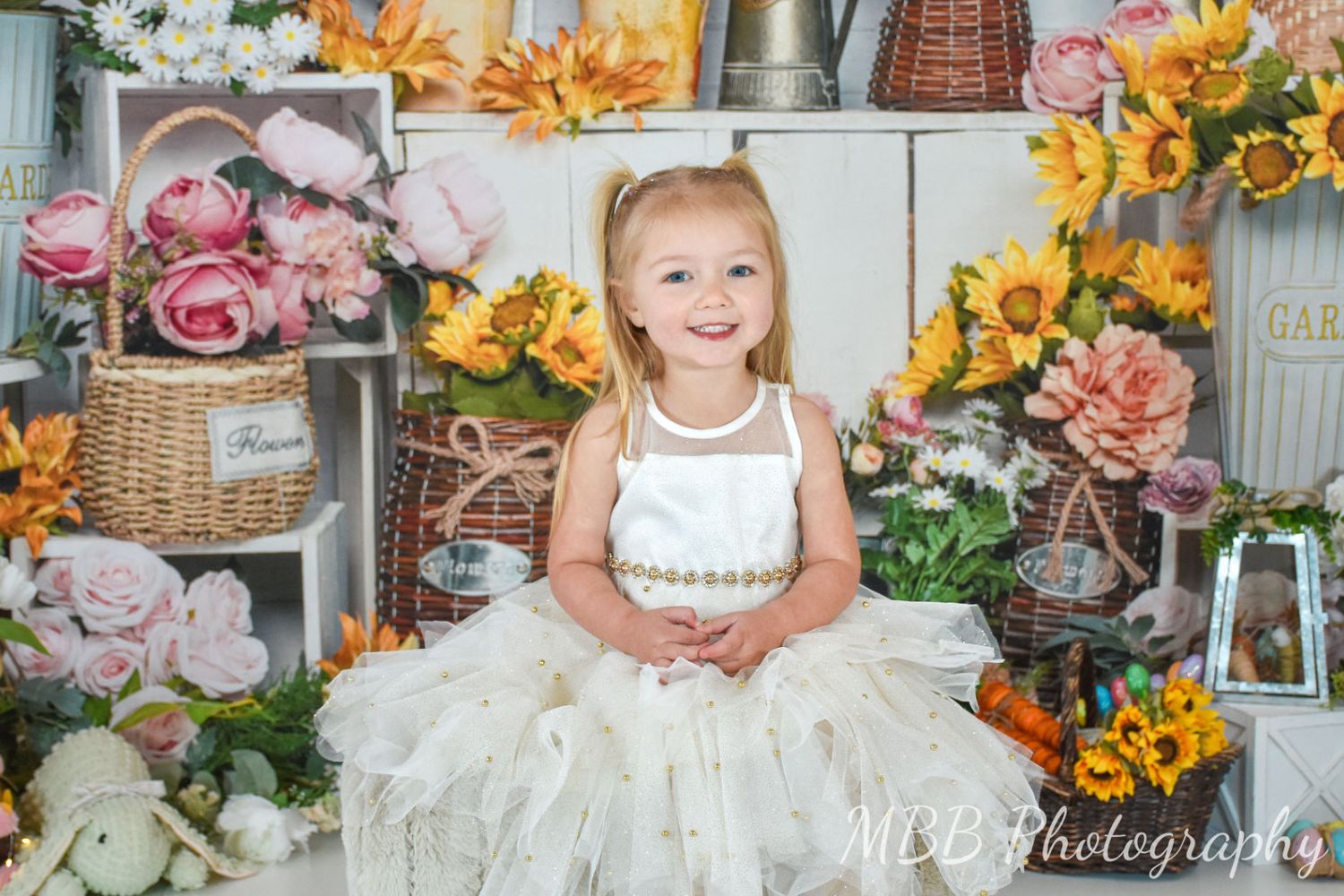 Kate Spring Flower Shop Sunflower Brick Wall Backdrop Designed by Emetselch
For a spring photoshoot, incorporate brightly colored props and fabrics along with natural elements like flowers and trees, and capture stunning shots of your subject posed in front of a sunset or silhouetted against the sky.
Click here for Nice Spring Photo Ideas For You This Season !
Kate Cake Smash Backdrop Lemons Designed by Megan Leigh Photography
Celebrate the season with a watermelon or ice cream-themed photoshoot for a baby's summer photoshoot, dress the baby as a sailor, and use props for a unique and fun experience.
For a fall photo shoot, capture the season's beauty by having models stand in a sea of colorful leaves and use the changing tree colors as a backdrop. You can also enhance the theme with fall-themed props like hay bales and pumpkins.
For a winter-themed photo shoot, capture people in warm winter clothing like fur coats and knit sweaters in a fairy-tale-like setting, or create a festive atmosphere with Christmas trees and decorations. Alternatively, show people enjoying winter activities like ice skating and sledding.
Photo by pink panda on shutterstock
For a winter wedding, capture the couple in a wonderland setting with snowflakes, Christmas lights, and winter foliage in the background.
Photograph the couple holding hands and walking through a snowy path or a winter forest, or incorporate winter props such as a sled, skates, or a hot drink to add a fun touch to the photos.
Festivals
For an Easter family photoshoot, you could gather your family for a fun egg hunt, take a group photo, dress up as Easter bunnies, or recreate an Easter tradition like dyeing eggs.
Kate Easter\Spring Floral Archway Backdrop Designed By Rose Abbas
For an Easter kids' photoshoot, capture them dressed up in Easter hats and bunny ears, with an Easter egg hunt scene or an Easter bunny in the background. Use painted Easter eggs or a garden as fun and festive backdrops.
Kate Spooky Halloween Barn Backdrop Designed by Mandy Ringe Photography
Create a spooky setting with props such as a haunted house, cobwebs, and bats, and have everyone dressed in costumes for a group photo.
Shoot a series of portraits of each person in their Halloween costumes.
9. Witch Photoshoot Ideas
Kate Halloween Pumpkins Lights Backdrop Designed by Jia Chan Photography
For a witch photoshoot, you could incorporate candle sticks in a witch-themed photoshoot for a spooky yet whimsical feel or use steam vessels and a fog machine to add a mystical element to your witch photoshoot.
10. Thanksgiving Photoshoot
Kate Rustic Red Barn Door Backdrop Designed By Mandy Ringe Photography
For a thanksgiving photoshoot, capture the family in the kitchen during the preparation of the feast or stage a photo with the family gathered around the dining table with the food on the table.
You could also take a photo of the family carving the turkey or capture the family giving thanks with a prayer.
Kate hot cocoa Christmas holiday Backdrop Designed By JS Photography
For a baby's first Christmas photoshoot, take pictures of the baby with gifts and presents. You could focus on the baby's feet and hands with a festive backdrop.
12. Christmas Maternity Shoot
Photo by Ground Picture on shutterstock
Celebrate the joy of motherhood and the festive season with a Christmas maternity shoot. This special moment deserves to be captured in a beautiful and meaningful way.
You could try taking an ultrasound photo with a Christmas tree in the background, a festive shot with a string of Christmas lights, or a romantic shot of the expecting couple.
Take advantage of the opportunity to preserve this once-in-a-lifetime moment uniquely and unforgettably. 
13. Christmas Family Photos Ideas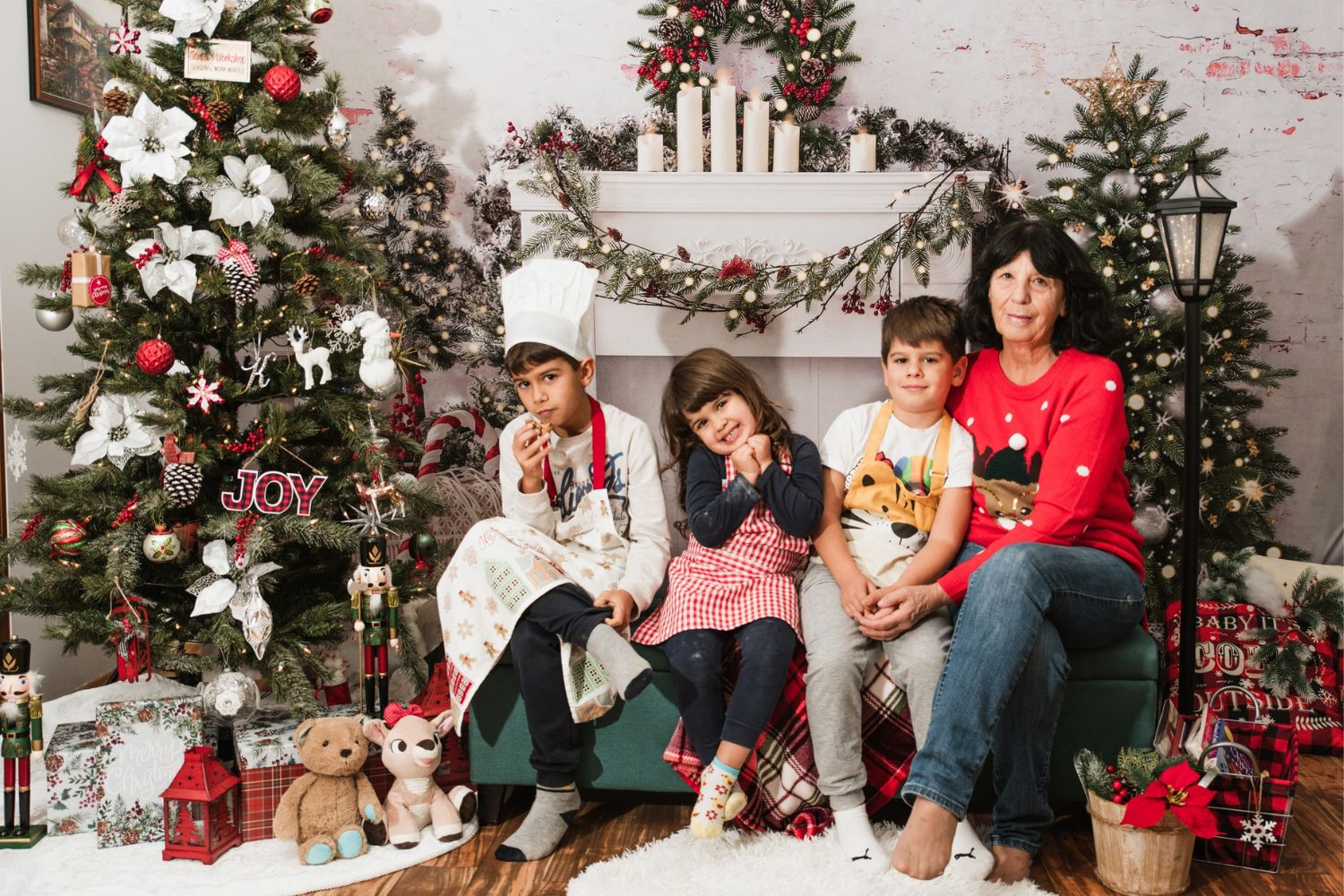 Kate Christmas Tree Elk Brick Fireplace Backdrop Designed by Emetselch
Bring the holiday spirit to life with a festive Christmas family photoshoot. Capturing your loved ones during the holidays is a great way to create lasting memories.
For a creative Christmas family photoshoot, you could take photos dressed up as Santa and his elves, decorate a Christmas tree together or recreate
Lovely Pets
Kate Spring Boho Barn Door Daisy Flower Backdrop Designed by Emetselch
Whether you're a proud pup parent or simply a dog lover, capturing your four-legged friend is always a great idea.
We've seen and loved cute photos of dogs licking a toy or food, lounging in a bed of flowers, or running in a field of grass or on the beach.
Happy Birthday
15. 1st birthday photoshoot
For a baby's first birthday photoshoot, capture memories with a photo of the baby being held by parents or siblings, a classic smash cake photoshoot, or incorporate the baby's favorite toys and activities to capture their personality.
Photo by alex starnes on Unsplash
For a 21st birthday photoshoot, capture the celebrant blowing out the candles on a giant cake, surrounded by family and friends, with a banner, confetti, and classic birthday hat, or popping a bottle of champagne.
Kate Spaghetti Smash/Cake Smash Brick Kitchen Bread Backdrop Designed By Rose Abbas
From balloons and banners to sparklers and cakes, there are many ways to make the birthday boy or girl feel celebrated and remembered.
A few photoshoot ideas include shooting the birthday person holding a sparkler or with their cake or setting up a festive photo shoot with a birthday banner and party decorations.
Family Photography
A newborn photoshoot should capture the awe of a newborn baby and the joy of being a parent.
This can be achieved by taking photos of the baby in their parent's arms or surrounded by props like flowers in a basket. The photoshoot can also feature unique shots of the baby in a onesie or wrap and close-up shots of their tiny hands, face, and feet.
Kate Pooh Cake Smash Bee Birthday Backdrop Designed by Melissa King
Preserve the precious moments of a new arrival with a baby photoshoot. From snuggles with siblings or the family pet to group shots with the whole family, capturing these first moments is a great way to remember this special time.
To help you make the most out of your baby's photoshoot, we have a whole article dedicated to this.
Kate Light Brown Retro Wall Backdrop Designed by Chain Photography
To capture the bond between siblings in photos, have them in a relaxed pose, cuddling or intertwined, or photograph them during a fun activity or game to show a candid and natural side.
Another idea is to have the siblings wear matching outfits to emphasize their sibling connection.
To emphasize the bond between sisters in photos, have them hold hands and gaze into each other's eyes. Another option is to capture them in a playful activity, such as jumping on a bed, to show their fun and energetic relationship.
Photo by b-finity on shutterstock
To capture the love and connection between a couple, focus on a loving embrace with the pregnant belly as the main subject.
Alternatively, dress the couple in matching outfits and highlight their connection by holding hands or gazing into each other's eyes. Include other children in the photo for a special touch.
23. Couple Photoshoot Outfits Ideas
Photo by btchrs on shutterstock
Coordinating your outfits can make your couple's photoshoot even more special. From matching colors to visually pleasing textures, there are many ways to ensure that your love shines through in every shot.
As a starting point, why don't you try to consider using earlier photos from your relationship as inspiration? It also helps to avoid bright colors and busy patterns. With the right outfits, your love will truly be the focus of the photoshoot.
For a creative maternity photoshoot, consider having the mom-to-be submerged in a pool of warm milk with surrounding colorful flowers. Another option is to capture her cradling her baby bump while surrounded by bright and vibrant balloons.
Photo by Natalya Zaritskaya on Unsplash
The beach is all about fun. Capture the family members building a sandcastle or playing beach games together. For a more laid-back photoshoot, capture the family members watching the sunset together.
To capture the love between a mother and her baby, take a photo of the mother kissing the baby's cheek, standing hand-in-hand in a beautiful outdoor setting, or enjoying a picnic in the park.
Kate Deep Green and Brown Texture Abstract Background Photos Backdrop
For a mother and son photoshoot, capture the moment as they go for a ride on a tandem bike. Another option is to photograph them exploring the outdoors like a museum filled with interesting artifacts.
Preserve your family's love and bond with a photoshoot that captures their unique personalities and interests.
You could coordinate your outfits to create a cohesive look or go outdoors to take advantage of beautiful natural settings. Don't forget to include pets and encourage everyone to have fun by playing games and making silly faces.
Show off your hobbies and passions, and capture spontaneous, candid moments that reflect who you are as a family.
Location Photography
Photo by Natali Hordiiuk on Unsplash
For a picnic-themed photoshoot, have your subjects dress in matching outfits that reflect the season and choose to shoot during the beautiful golden hour light to capture the perfect scene.
Kate Summer Seaside Backdrop Floral Surfboard Tree for Photography
For a beach photoshoot, use the sand and ocean as a backdrop and incorporate props like beach chairs and umbrellas. Experiment with long exposures to highlight the beauty of the waves.
Photo_by_PH888_on_shutterstock
For a bathtub photoshoot, fill it with colorful flowers and let your subject pose, getting creative with bubbles and foam. Another option is to set the bathtub outdoors and include natural elements like leaves and flowers in the shot.
Styles of Photography
Photo by Look Studio on shutterstock
Accessories play a key role in any photo shoot. Try adding classic 90s accessories. For a 90s-themed photoshoot, add classic accessories like oversized sunglasses, chunky jewelry, and hair scrunchies.
Consider incorporating a locally-owned record store, an old-fashioned diner, or a vintage arcade for a nostalgic feel. For a fun touch, include posters of popular.
Photo by Dariusz Sankowski on Unsplash
For a vintage-themed photoshoot, use old film cameras and film stock to create a classic look, or take a series of Polaroid photos in a dimly lit room to add atmosphere.
Photo by Filip Fuxa on shutterstock
For diptych photography, create two images that complement each other, such as two close-up portraits with different backgrounds, two photos of the same item from different angles, or two photos of the same location from different perspectives.
Photo by Kinga Cichewicz on Unsplash
For lifestyle photography, take photos of street-style fashion in your local area or people engaging in outdoor activities like biking, skateboarding, rollerblading, etc. You could also visit a cafe and take photos of people enjoying drinks and snacks.
Bonus: DIY Photo Backdrop Ideas
Transform your photo shoot into a work of art with a DIY photo backdrop. From a geometric backdrop made of lines and shapes to a plate backdrop using colorful plates.
Create a unique setting with a paper backdrop using cutouts, or add some texture with a ribbon backdrop in different colors and patterns.
Conclusion
Having learned some creative ideas, you can start planning your photoshoot right now. Whether it is a portrait session, family photoshoot, or themed photoshoot, you can make it special and unique by adding a little creativity.
If you like this article, please share it! Be sure to join our FB Group: https://www.facebook.com/groups/Katebackdrops/. to share your ideas! You can also receive free articles, updates as well as discounts information from https://www.katebackdrop.com/ and our FB Group.